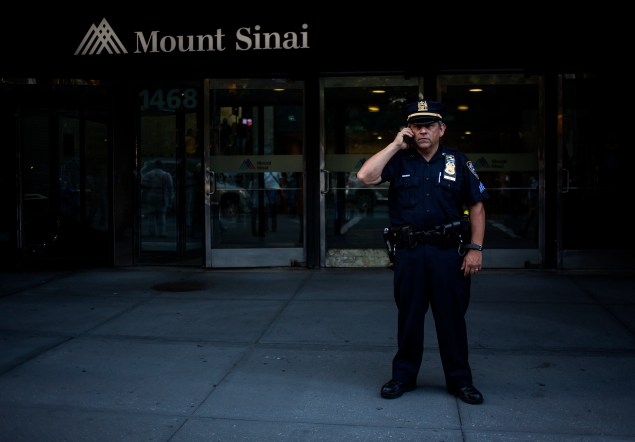 A patient at Mount Sinai Medical Center on the Upper East Side most likely does not have the Ebola virus — but if it were a case of the deadly illness, Health Commissioner Dr. Mary Bassett said the city would be ready.
"I think what we learned from this is that people who are potentially affected with Ebola are rapidly identified, action is taken rapidly to ensure that they're isolated, and the public's health is protected," Dr. Bassett told reporters Tuesday during an unrelated press conference at the Office of Emergency Management in Brooklyn.
A patient who recently traveled to West Africa — where an Ebola outbreak has killed nearly 900 people in three countries — was admitted to the hospital with fevers and gastrointestinal systems. But echoing statements of hospital staff Monday night, Dr. Bassett said it was "highly unlikely" the illness was Ebola, based on the patient's history.
Still, there are plenty of precautions in place to safeguard against the disease, which is spread through bodily fluids.
"When somebody is appeared who potentially has Ebola, they're initially isolated. There are even isolation rooms at Kennedy Airport, which is of course an important portal of entry for people from all over the world, and then there – infection control precautions are taken," Dr. Bassett said. "That means the people who have contact with them wear protective gear, and so on."
But she emphasized there was no risk to the general public of contracting the deadly illness.
"It should be really clear that Ebola is not highly infectious. It's not spread through the air. It's not spread by standing next to somebody with Ebola. It's contact with body fluids that are the risk of Ebola transmission – that, and infected wildlife, which of course we don't have in this country," she said.
For the first time, doctors in the United States are treating cases of Ebola — two medical missionaries infected in Liberia are being treated at Emory University Hospital in Atlanta, near the offices of the Centers for Disease Control.