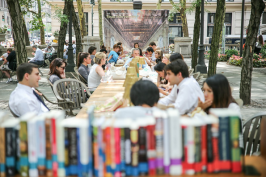 The New York Public Library knows we're still not over the Rose Reading Room's six-month hiatus. Finally they've figured out a way to make it up to us. And hipsters, rejoice! It looks like the kind of thing you can bring your mason jar to.
Today, the New York Public Library is taking its services to the streets and unveiling its pop-up outdoor reading room, "The Library Inside Out: Read Everywhere."
Open through August 15, the Fifth Avenue and 42nd Street en l'air space is a tribute to the grand reading rooms of the Stephen A. Schwarzman Building. Staffed by a group of volunteers, it offers public free WiFi, seating and a specially curated selection of books.
It might also be considered a waiting room for Murakami's impending novel.
"The New York Public Library is being used more than ever, with branches packed full of people enjoying our free and irreplaceable services," said NYPL President Tony Marx. "Why limit that vital work to within the walls of our libraries? We invite New Yorkers to take a break, take a seat, and pick up a book on Fifth Avenue."
The opening of the reading room is accompanied by the launch of an online social media campaign, #IReadEverywhere, which hopes to celebrate the power of reading. It asks people to post photos of themselves online reading in their favorite places. Several authors have already participated, and Seinfeld actor Philip Baker Hall posted a particularly dignified looking image of himself reclining on a swing.
We can't all look this good reading, but we can certainly try.