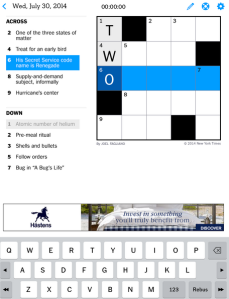 There's nothing more daunting than the New York Times crossword puzzle. Who actually knows what a three letter word is for the "Queen of Thebes, in myth"? Kim Kardashian is a queen, we guess.
Today, the newspaper is releasing a refreshed version of its Crossword app that offers a less anxiety-inducing version with a free 5×5 puzzle that is designed to be actually solved within in minutes, and not weeks. The app, which is available for only for iOS users, can be played on iPhone and iPads for both newspaper subscribers and non-subscribers.
(A Windows 8.1 version is scheduled for a September release, so you're out of luck for now Android users.)
But if that's too easy, the Crossword app will include the same daily puzzle that's in the newspaper. That, however, is not free and will cost you $6.99 a month or $39.99 a year.