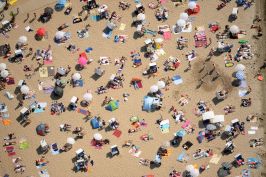 Don't get mad. Get naked.
When Hurricane Sandy hit New York a couple years ago, it took down some of Fire Island's dunes that once provided privacy for sunbathers in the buff on Lighthouse Beach. Accordingly, park officials announced a ban on the clothing-optional niche, reported the New York Post.
But nudists, or naturists as many like to be identified, won't be hopping back into their bikini bottoms and swim trunks so fast. Some impassioned naked beach-goers have formed an initiative called Save Lighthouse Beach to push back against the ban. Last Saturday, hundreds of nude bathers joined them and hit the sand in solidarity. In addition to fighting for their right to shed their clothes on the Fire Island shore, many hope to remove the stigma associated with public nudity.
"Just because we're naked doesn't mean we're lewd," said Marianna Grace, a woman at the forefront of the coalition.
With Fire Island boasting a century long tradition of nude beaches, it seems history is on their side. Yet park officials insist that recently "lewd, lascivious and voyeuristic behavior" has been on the rise.
To us at the Observer, the solution is stark: Get rid of the creeps and let bathers get back to the basics.