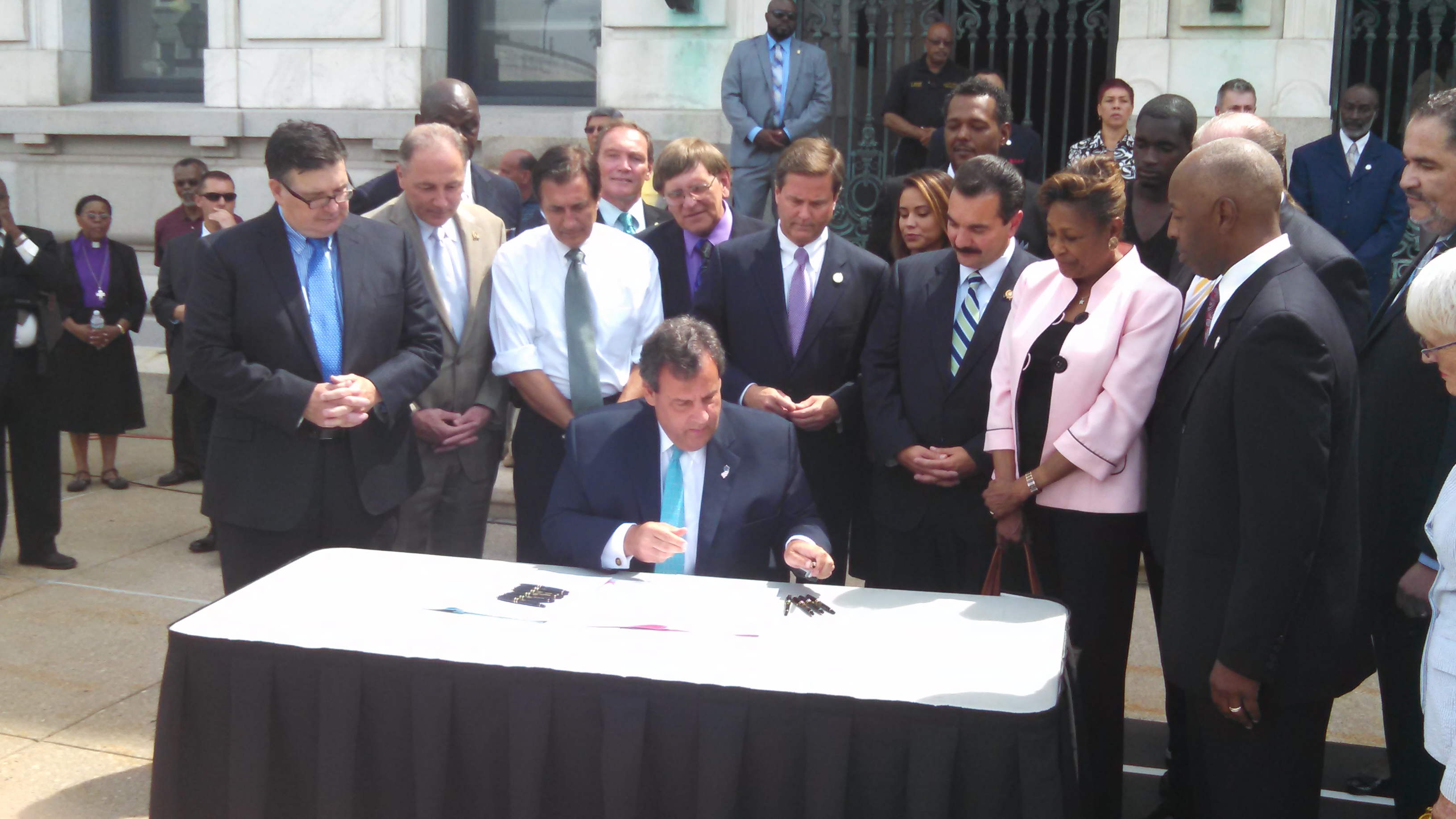 TRENTON — On the steps of City Hall here today — just a brisk walk down West State Street from his usual haunts in the front office — Gov. Chris Christie signed a long-awaited and hotly-debated bail reform package two years in the making.
"Today I'm proud to stand here with so many people, from across political parties, across geography, across different advocacy groups, to get this important work done," Christie said, flanked by fellow political heavyweights, including Senate President Steve Sweeney and Assembly Speaker Vinnie Prieto, from up and down the spectrum. "We couldn't have gotten here today if it wasn't for the willingness and the good faith of the leadership in the senate and the assembly .. or the so many groups that are represented here today in common cause."
That leadership included Sweeney and Prieto, but also legislators like State Senators Sandy Cunningham (D-31), Donald Norcross (D-5), and Tom Burzichelli (D-3), and Assembly members like Vince Mazzeo (D-2), Maria Rodriguez-Gregg (R-8). Those advocacy groups inlcuded organizations like the ACLU, NAACP, Drug Policy Alliance, Volunteers of America.
All were gathered on the small stage where Christie sat and signed, page by page, the package, which included a constitutional amendment to allow judges to deny bail to defendants they consider dangerous and a companion bill that establishes bail alternatives for individuals charged with nonviolent offenses. But it also included a third "ban the box" bill, which would prevent an employer from asking about an applicant's possible criminal history until after a job offer is actually made.
Christie heralded the passage of all three as part of an ongoing, bipartisan effort to "to write a [criminal justice] system that demands fairness."
"New Jersey is once again leading by example, showing how it is possible to break out real bipartisan progress when we focus on doing our jobs for the people who elected us. Today is more proof of that. We knew we had a job to do and a responsibility to the people that we represent," he said.
But the road to victory was not without its bumps. The signing today marked the end of a nearly two year struggle over passage of the bills in the state's two house, where the Assembly hesitated behind the upper house in posting and approving the bill. At a special legislative session two weeks ago, convened by Christie on the issue four days before its deadline, the Assembly failed to post the package, but later reconvened and passed it.
Sweeney noted that struggle, and lauded advocates of the package who "showed the courage to stand and push and fight — because there was a fight."
Among those who fought for the legislation, Sweeney said, was NAACP President Richard Smith, who was also present.
"The Governor is right – we can work together on some things. Because we need to put the people first, and when we fight, we fight because we don't agree, but we don't lose focus on the people of the state of New Jersey," Sweeney said.