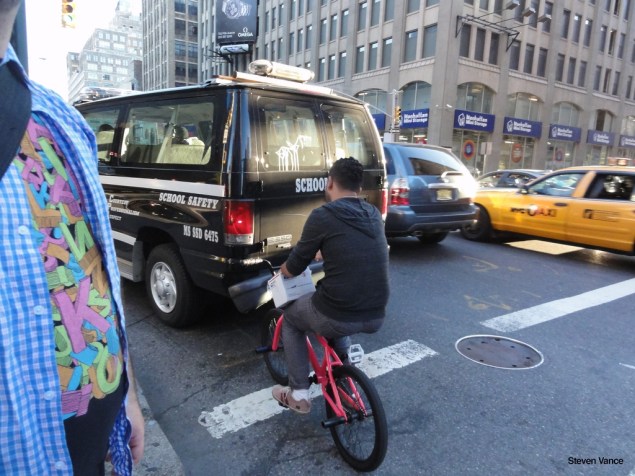 Good news! Bellevue Hospital will get $117 million in FEMA aid, reimbursing the Health and Hospitals corporation for extensive repairs that were made after 17 million gallons of water flooded the basement, the AP reported, via Crain's.
Bad news! The Shakespeare & Co. in Noho is shuttering at the end of August due to–what else?–rising rents, Gothamist reports. At least the store by Hunter College is staying open (for now), but places to by real physical books are vanishing fast. How is it that New York can support a seemingly endless quantity of frivolous boutiques but bookstores?
Police commissioner Bill Bratton was caught parking in a bike lane today, shortly after the launch on a crackdown on bicyclists. Gothamist has the proof and a host of other photos of police officers using the lane for parking. So bike lanes, while they can reduce sidewalk riding, as Atlantic Cities argues, are not a panacea if people keep parking in them. Though as The Washington Post recently found, they certainly can help: "The reason that cyclists use the sidewalks is that they don't want to die… If and when they are provided with dedicated bike lanes that are not accessible to drivers, they will be only too happy to use them."
The Wall Street Journal interviews people fed up with their palatial homes: Carolyn Mullany-Jackson lives in a 20,000-square-foot Paradise Valley, Ariz., home with her husband, Craig Jackson, the CEO of car-auction company Barrett-Jackson. The home has an intercom system if Ms. Mullany-Jackson needs to reach her husband or a guest several rooms away, but she doesn't bother with it: "Sometimes I'll just text them," she says.
Speaking of which, the Virginia estate of Listerine mouthwash heiress Rachel "Bunny" Mellon is poised to hit the market for $70 million. The multi-building estate feels "like a little village," in the words of the estate's executor.
In an otherwise workaday Hunt column from Times (about a couple moving back from the suburbs to the city), a near-perfect distillation of the New York real estate experience: "He went to bed angry. Ms. Todarello stayed up with StreetEasy."
A development site along the Astoria waterfront, 11-12 30th Drive, has hit the market for $60 million, Crain's reports. The parcel could accommodate up to 460,000 square feet of residential space and is located close to other burgeoning Astoria developments–the controversial Astoria Cove, which community members fear will drive up real estate prices without providing compensatory affordable housing and Hallets Point, which began the review process in April.
Do not leave your wallet unattended while watching porn: a man's Louis Vuitton billfold was snatched while he watched an X-rated movie at a Chelsea porn shop, DNAInfo reports.