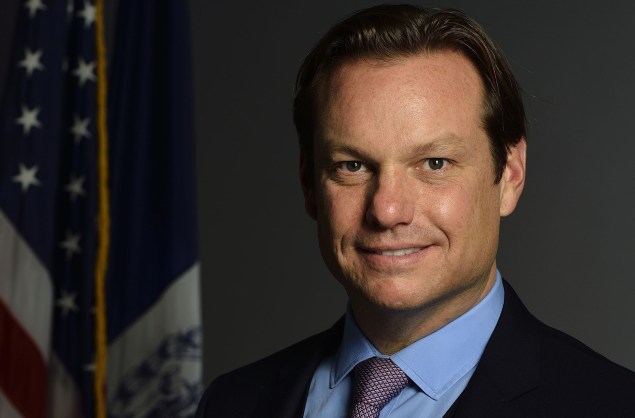 It was a very New York day for Peter Ragone, Mayor Bill de Blasio's aide-de-camp. 
The mayor was about to meet the media for the first time since he returned from his vacation in Italy. Just before he left, Staten Island resident Eric Garner had been placed in an apparent chokehold by police and died, for the crime of selling loose cigarettes.
It was Mr. Ragone who suggested Mr. de Blasio lead his City Hall press conference the day after his return with the news of three wounded officers shot that day in Greenwich Village while trying to apprehend an accused child molester. From there, he would work his way back to Garner.
The idea was to balance the simmering line between outrage in the same minority communities that elected Mr. de Blasio (Garner was black) and the police leaders who feel City Hall doesn't respect cops. It worked, at least for a moment. While pitfalls remain, Mr. de Blasio earned early praise for his handling of a potentially defining controversy without alienating either side.
Mr. Ragone, Mr. de Blasio's senior advisor for strategic planning, has been described by City Hall observers as the "guy in the shadows," that super-staffer with a nebulous job description who "carries an ice pick." He is the man the mayor turns to first for help in navigating the city's ever-choppy political waters.
"Peter instinctively knew what the breaking news was and what people needed to hear about," said Rachel Noerdlinger, the chief of staff to Chirlane McCray and a former top aide to Rev. Al Sharpton.
Mr. Ragone, 44, is not the gray mandarin tugging at the strings of the gawky de Blasio puppet, dictating the mayor's every move. Rather, he's more of a $212,614 consigliere, perhaps the most listened-to voice in Mr. de Blasio's ear.
Even City Hall watchers aren't sure what exactly Mr. Ragone does for the mayor. He is not Emma Wolfe, Mr. de Blasio's demure political "fixer," or Anthony Shorris, the first deputy mayor with the wealth of high-level governmental experience that critics said Mr. de Blasio lacked. When Mr. de Blasio appointed Mr. Ragone in January, a New York Times reporter bluntly noted that "his exact job description was not made entirely clear."
***
"I have the greatest job in the world," Mr. Ragone told the Observer at a favorite downtown haunt, Ecco! "I actually wake up every day and think that: I have the greatest job in the world. It makes the hard days easier to handle."
Mr. Ragone is a regular at the old-school brass and mahogany eatery which looks like the sort of place where Fiorello La Guardia could have gnawed on veal chops. Mr. Ragone elected for the salad. In person, he's self-effacing, evincing the demeanor of a kid who stumbled into the greatest of all municipal candy stores, New York City.
The former Cuomo, Gore and Clinton operative has known Mr. de Blasio intimately since the 1990s, passing out leaflets for the Park Sloper's first school board race in 1999 and lending advice from California when Mr. de Blasio tried and failed to become speaker of the City Council in 2005.
"Figuratively, we've walked through fire together," Mr. de Blasio said when introducing Mr. Ragone at a January press conference.
Their biggest—and only—arguments are over baseball: Mr. de Blasio, a Massachusetts native, grew up a Red Sox fan and Mr. Ragone is a Yankee diehard. When Mr. Ragone, in 2007, was profiled in the San Francisco Chronicle, Mr. de Blasio, a little-known Brooklyn city councilman at the time, was called to lend an effusive quote.
They are, in the words of Mr. Ragone, "ideological soul mates." The duo can be found side-by-side at City Hall, swapping all the inside jokes you were never around for.
What Mr. Ragone ultimately amounts to, beyond being one of Mr. de Blasio's most trusted aides, is a field general guiding the likely eight-year battle Mr. de Blasio, a liberal Democrat, must wage to enact his far-reaching agenda. Mr. Ragone is helping to shape the long-term trajectory of the de Blasio administration, plotting attacks on issues like affordable housing construction and prekindergarten expansion in the months and years ahead.
"He's the keeper of the flame in terms of the mayor's branding and overall strategy," Ms. Wolfe explained. "He is responsible for executing the mayor's message every day.
In his own words, Mr. Ragone's principal job is to take the "long view" for the administration.
"Getting a policy from the mayor's brain through the government and then out into the public realm is actually a lot of work in a large organization," he said. "From its inception in the mayor's brain to its realization out in public, I'm involved in that entire process."
Aides say the selection of venues for certain key press conferences—bill-signing ceremonies outside Grand Army Plaza or beneath Bushwick railroad tracks—are all suggested by Mr. Ragone to reinforce Mr. de Blasio's everyman image. Any major rollout has to underscore the benign, yet crucial, Ragone-crafted mantra: progressive, effective, diverse.
He also helped shape Ms. McCray's image. "He has always encouraged us to look at the first lady as our best asset," Ms. Noerdlinger said. "But to use her in a way that is strategic and sensible and sparing, you know, not to just throw her out to the wolves."
Mr. Ragone suggested Ms. McCray model herself after Eleanor Roosevelt and her popular newspaper column "My Day," reborn as a Tumblr known as #FLONYC (pronounced FLOW-NICE and short for First Lady of New York City.) Ms. McCray posts her own poetry and apparently candid shots of her family on the blog, furthering the aura of intimacy central to the mayor's image.
Where Mr. Ragone has also been helpful, administration observers say, is in forging Mr. de Blasio's complex relationship with Gov. Andrew Cuomo, a centrist Democrat unwilling to cede the spotlight to anyone, in particular a high-flying New York City mayor.
On the day Mr. de Blasio traveled to Albany to rally for his pre-K plan, Mr. Cuomo staged a massive rally for charter schools, hijacking the mayor's media moment. Never warm to the idea of publicly financed private schools proliferating in the city, Mr. de Blasio found himself in a flurry of stories that depicted Mr. Cuomo as the ruthless yet brilliant tactician ably foiling the downstate lightweight. In off the record conversations, Cuomo aides delighted in flaying Mr. de Blasio.
But Mr. de Blasio didn't take the bait; he never had a bad word for the governor. In the end, Mr. Cuomo allotted Mr. de Blasio the money he needed to fund his campaign vow and the two have not crossed swords since.
"There were several instances with people in the press saying Bill was getting rolled by the governor, the governor is pushing him around—people were saying to Bill, 'you gotta push back, go harder, get more aggressive.' Ragone was the voice of reason," a de Blasio observer said. "If the mayor had started directly attacking the governor, it wouldn't have gone well. The thinking was that we're not gonna get lost in the daily scrum. If we're getting kicked in the head for a couple of weeks, no one is going to remember in six months when we're opening pre-K centers."
***
Mr. Ragone grew up in Merrick, a predominantly white, middle-class suburb on Long Island. His parents divorced and he spent a good deal of his childhood in Sheepshead Bay, Brooklyn, where his mother lived.
He attended the State University of New York at Albany and leaped into the political fray post-college. Eventually, he served as the New York press officer for the 1996 Clinton-Gore re-election campaign, meeting a crack Democratic operative named Bill de Blasio.
"I think people who tend to be good at this stuff don't come up in a conventional way," said Christopher Lehane, who served as Mr. Gore's press secretary during his 2000 presidential run. "He stumbled into the business: he began early on in the Cuomo world and was one of guys handed more and more responsibility in a campaign context. Campaigns are the ultimate meritocracy—people who succeed in that atmosphere tend to be successful."
Mr. Ragone, still in his 20s, continued to rise. He was appointed the national press secretary for Mr. Cuomo when he was secretary of the U.S. Department of Housing and Urban Development. It was at HUD where Mr. Ragone reunited with Mr. de Blasio, who was HUD's regional director for New York and New Jersey and several years away from becoming an elected official.
After a stint as a consultant on Mr. Cuomo's first and failed bid for governor in 2002, Mr. Ragone was off to California, where he fell in with San Francisco mayor Gavin Newsom. Originally a campaign volunteer, he was hired when Mr. Newsom became mayor and quickly climbed the ranks of the administration, becoming Mr. Newsom's press secretary and later director of communications and planning. 
"He earns $118,468 a year, and many believe he is the most powerful member of the mayor's staff," the Chronicle wrote in 2007.
Mr. Ragone gained a reputation as a controlling, details-obsessed aide. Almost anything in Newsomland had to run through Mr. Ragone. He could be bumptious with San Francisco's press corps. "He had a playbook he wanted to run. There was a story a day. He wanted the administration to show something was going on every day," said Phil Matier, a political columnist for the San Francisco Chronicle.
Mr. Newsom's right-hand man would often call a reporter into his office, where he'd preach the Gospel of Gavin. Mr. Ragone had a habit of picking up a baseball bat and taking half swings. "It wasn't menacing," Mr. Matier insisted.
For Mr. Newsom himself, the intensity was refreshing. Mr. Ragone debuted weekly "whiteboard" sessions, laying down in fine detail what the new administration hoped to accomplish in coming weeks. During rough patches, Mr. Ragone could be surprisingly serene, ambling into tense staff meetings while calmly chewing his gum.
"The more intense things were, the calmer he was," Mr. Newsom told the Observer. "Peter was never at his best when things were going perfectly well. He felt he wasn't as necessary … In New York, every damn day you have a crisis. In the lulls between crises [in San Francisco], we had to keep Peter busy."
If Mr. Newsom's peak was the decision to marry same-sex couples in violation of California law, the valleys for the mayor and Mr. Ragone came in quick succession a few years later. In January of 2007, Mr. Newsom revealed he had an affair with a staffer. That same month, Mr. Ragone finally admitted he had been defending his boss, on a variety of fronts, by posting comments to local blogs under the alias John Nelson.
At first, Mr. Ragone indignantly told reporters that Mr. Nelson was his friend. No, they couldn't meet him, but he stayed over at Mr. Ragone's house "all the time." A television reporter confronted Mr. Ragone and in a cringeworthy clip immortalized on YouTube, Mr. Ragone insists twice that he is "absolutely not" posting blog comments under phony names.
"This Rita chick is kind of weird with her angry infatuation with gavin newsom," Mr. Ragone wrote in one thread as Mr. Nelson, referring to a critical blogger at SFist, Gothamist's San Francisco counterpart. "sfist is a fun read—save her kooky and snarky attempts to make the mayor look bad."
Repeated lying eventually gave way to the truth: he was posting under Mr. Nelson's name. (Mr. Nelson, a real life friend, would later defend Mr. Ragone and speak with reporters.) 
"It was a stupid thing to do at a time when that medium was completely new, and I made a mistake," Mr. Ragone said. "It's made me even more careful than I was before that. I was always pretty careful, understanding that when you're a staff person, your actions reflect on the person you work for."
"It was traumatic for me. The truth of the matter is, everyone in this business, sooner or later, makes a mistake and it gets amplified and scrutinized in the public."
Was he worried that the controversy could ruin him permanently?
"Who wouldn't be?" he offered. "But I always thought, I always believed that you can make mistakes, learn from them, and move on … Gavin and I got closer after that. He stood by me the entire time."
Mr. Newsom served two terms and eventually became California's lieutenant governor in 2011. Mr. Ragone, post-Newsom, spent time in the lucrative private sector, taking a moment to found a start-up called Exiles Inc. that helps connect sports fans living far away from the teams they root for. (Think networking for Yankees fans in San Francisco).
When Mr. de Blasio won last year, Mr. Ragone knew he wanted to go back East to work for one of his closest friends, now the most powerful man in New York City. His wife and two children still live in San Francisco, though distance is not the only sacrifice he has had to make for his dream job. Another is money; he could do far better in private sector PR. 
Which means he may or may not last the full de Blasio ride, assuming he wins re-election in 2017.
"I don't know if I'll be able to. I love working for him and I love being around him and Chirlane," he said. "Whatever the course takes over the next eight years, I will always be around them."