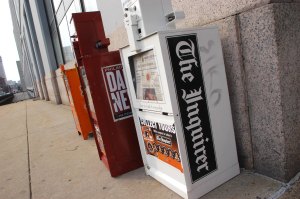 The Philadelphia Inquirer is fighting an uphill battle.
The once-great news source has been making headlines itself, after a judge ordered a top editor be reinstated after he was wrongly fired and a jet carrying the owner crashed in May, killing all six on board. Layoffs have hindered the Inquirer in recent years as well. The troubled newspaper, which has changed hands over six times in the last ten years, is now losing business as it struggles to stay competitive in its advertising prices.
A spreadsheet detailing the finances of the Inquirer's owners over the years, posted online on Sunday, shows that the advertising revenue has plunged over over $300 million to just under $113 million between 2000 and 2012, Philadelphia Magazine reports. Even with layoffs, the media company went from a multimillion dollar profit in 2000 to losing more than $5 million in 2012.
While the London Times declined to run the Elie Wiesel ad for reasons of community standards, the Philadelphia Inquirer failed to land the ad for a very different — and very American — reason: cash.
The Inquirer, whose finances have been decimated along with the entire industry, demanded $60,000 to run the ad. According to the media firm that placed the ad for Jewish Values Network, that's exactly the same figure that the New York Times charged, while offering many times the circulation and the prestige of being the nation's paper of record.
The age of digital circulation and the fact that the Inquirer publishes under a Joint Operating Agreement with its sister/rival the Philadelphia Daily News makes apples-to-apples numbers hard to come by. But the official referee of newspaper circulation, Audited Media, lists the print circulation of the Times at 1,254,506 and the Inquirer at 362,752. With less than 1/3 the audience, it is perhaps surprising that the Inky thought it could command an equal page rate. (It should be noted that the Times rate of $60,000 for a full page is only for its "standby rate," which means they won't guarantee that it runs on the particular requested day, only that it runs.)
Confronted with this disparity, the Inquirer agreed to cut its price to $50,000 — still a way higher price-per-reader than the Times, a source with knowledge of the Jewish Values Network's ad-buying practices told the Observer. The media firm countered with $30,000 — half the money for about a quarter as many readers. The Inquirer declined.
"We made every effort to accommodate the ad, but the agency was ultimately unable to provide client approval to run with us," Inquirer Advertising Director Jeff Stachowski told the Observer. "The Inquirer has since been in contact with the advertising agency with the intent of publishing the ad, should the client be interested for any future date."
Mr. Stachowski declined to comment on the Inquirer's advertising prices.
Think about this the next time you read that a reporter earning $30,000 a year at the Inquirer had to be fired as a "cost-cutting move."