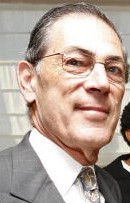 Five years out of the hallowed halls of the Metropolitan, Philippe de Montebello can finally admit what turns him on.
We got an early copy of the longtime Met czar's new book,  Rendez-vous with Art, and in it de Montebello describes the "quasi-libidinal charge (you might even call it lust, albeit of a higher order); the irrepressible need to win, to have taken possession of that object of desire" that griped him at the Met's 2004 acquisition of Duccio's Madonna and Child. At about $45 million, it was the institution's priciest purchase ever.
The venerable director, who retired in 2008 after 31 years, confesses to a surprisingly venal motive in his desire for the work: "There is no question that a part of me wanted my institution to own it, over and above its importance…simply to have it as yet another major work that would confirm the stature of the Met."
In Rendez-vous, published by Thames & Hudson and coming out Sept. 23, de Montebello sits down with London writer and critic Martin Gayford for a series of talks about art and his own life, many of their conversations taking place while strolling galleries and cafes of museums all over the world. (Yes, we know, rough life, but the sprawling-yet-intimate structure works.)
In a few cases, the director, currently a professor at NYU's Institute of Fine Arts, is full of advice for museums on how he might have done something better. On the steps of the Mauritshuis Museum, for example, he blusters compellingly that the institution created a "Vermeer non-experience" by reproducing the image of Girl with a Pearl Earring endlessly. "Now I don't even want to see the actual painting, they've ruined it for me. I've seen her image ten times before entering the museum. It's really a travesty to do that. They should take every one of the posters down!"
He praises the Bargello in Florence, however, for it's slightly "messy" presentation of art: "On occasion, there is something too orderly about modern
museums: the object perfectly aligned, pinpoint lit, that bellows out, 'Admire me'."
Contemporary art gets short shrift, there is no debate (at least, in a fast initial skim) of de Kooning vs. Warhol but a furious one about the forgotten genius of 16th-century painter Bartholamaus Bruyn and the romantic appeal of its subject. "Look at the deep-set eyes, the endlessly high forehead, perky mouth..I want to take her home and live with her, not sleep with her, just look at her."
Many of the chapters feature de Montebello's trademark excessively tony tone but some highlights are more prosaic. In the well-titled chapter "Hieronymus Bosch and the Hell of Looking at Art with Other People," the two authors discuss why photographs never quite capture art — they boost red and fade yellow — and the two art lovers mourn, as they run into a crowd at the Prado, that the more famous a picture is, the harder it is to see.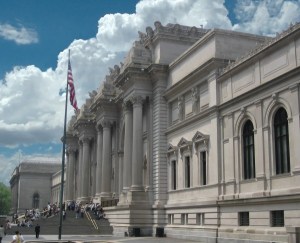 As for the art market, an entity the director curled his lip at for much of his Met tenure, he notes "I've often wondered where the market fits in, leader or follower? …The market does tell us what moneyed collectors will pay for a work of art, right across the price spectrum. These figures are not an abstraction: Real money changes hands. So, in the moment [and with some caveats], it is the market that informs us of the real value of things."
Never far from his old haunts, de Montebello will give a talk on the book, with Gayford, at the Met Wednesday, Oct. 8.