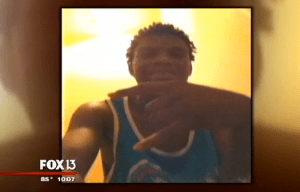 Today's episode of 'Dumb Criminals' comes from — where else? — Florida.
Courtney Jiles says her car was broken into on Sunday by a thief who didn't think this one through. See, he spotted an iPhone 4 in the center console and took a selfie with it. But, problem: He accidentally posted the picture to Ms. Jiles' Facebook account, which inadvertently gave her the supposed criminal's face.
"Earlymornin selfy lol," the brazen criminal captioned it.
Needless to say, Ms. Jiles wasn't pleased. "Yeah, smug is a good word for it," she bristled to Fox 13 Tampa Bay."Very dumb criminal but works out for me I guess."
The picture was forwarded to the Hillsborough County Sheriff's department who are investigating.