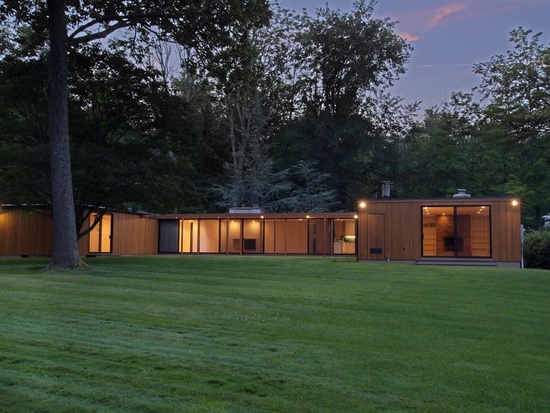 Phillip Johnson's Glass House may be the architects' most admired work, but it's a little on the precious side. The house does not, for example, permit children under 10 years of age—and even older kids must be in the company of an adult. And of course, being a museum, it is not a place where a person can live, though via Nieman Marcus one can buy a one-night stay at the house for $30,000—a rather princely sum even for an evening in what is perhaps the most famous modernist residence.
Especially considering that in the very same town, that town being New Canaan, Connecticut, you can buy another Phillip Johnson house for a mere $1.57 million—the cost of roughly 53.3 nights at the Glass House—and have all the sleepovers you want. Of course, the Wiley Speculative House, a three-bedroom, three-bath spread on 2.4 acres which was listed with Diane Jenkins at Sotheby's Real Estate last week, is covered in somewhat less glamorous plywood. But what a bargain! (Only slightly more than a high-end mobile home!)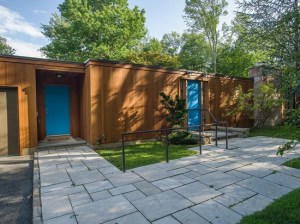 Located at 178 Sleepy Hollow Road, the Wiley Speculative House is one of several that the famed architect built in the posh Connecticut town. It was commissioned by Robert Wiley, the head of the Wiley Development Corp., whose own Phillip Johnson-designed house was located down the street.
The house bears more than a passing resemblance to Johnson's most famous design, with floor-to-ceiling windows set in a rectangular structure that "relates man and dwelling to nature."
Unfortunately, the house does have a few things that might account for the discount: according to Curbed, a 1963 addition that sadly changed the L-shaped house into a U-shaped house and, as the website puts it "horror of horrors, a granite-topped, stainless-steel plated kitchen. The post and beam house was also, in the words of a 1970s assessors' report, made of "inferior materials," though it seems to have weathered the last 60 years fairly well.
Of course, for Phillip Johnson fans with about a million more to spare, there's also the Alice Ball House, located at 523 Oenoke Ridge, which has been listed at $2.79 million a year, although it's a more diminutive 1,773 square feet.