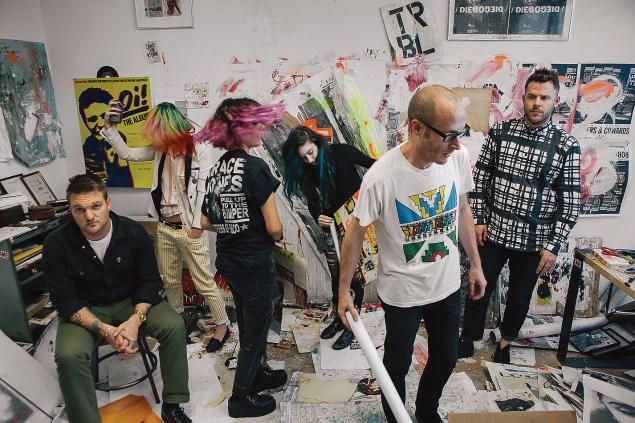 For Matt Maust and Nathan Willett, half of L.A.-based soul-rockers Cold War Kids, the decision to start a side-project came as naturally as the tunes that sprang from a late-night jam session between Mr. Maust and longtime friend drummer Nathan Warkentin.
"The allure is that it isn't our main thing," said vocalist Mr. Willett about the trio's new band, French Style Furs. "It's new, fresh and exciting."
On a sun-splashed midsummer afternoon, I sat down with the Furs for a beer before their show at Houston Street's Mercury Lounge. "It was really a spontaneous thing," said bassist Mr. Maust, sipping an Indian Pale Ale and chomping on bar snacks.
Following an evening of inspired musical sparring, the friends realized what they had wasn't half-bad (and also that neither of them could sing), and invited Mr. Willett over to their Greenpoint studio.
Mr. Willett arrived carrying a book of poems from 20th century mystic and poet, Thomas Merton. "These poems were saying something that felt like it was more profound than what I could be writing," said Mr. Willett. So he added melody to the stanzas and used them as lyrics.
Merton, dubbed "the conscience of the 1960s peace movement," was a Trappist monk, a sect of ascetic Catholicism. He famously embraced race equality and peace as the most important issues of the day, themes that permeate the band's material in songs like "Solitary Life": "White collar man, blue collar man, I am the no collar man," sings Mr. Willet, lifting words from Merton.
"There's something that you can't communicate about what attracts you to music and poetry," said Mr. Willett. "Thomas Merton working for French Style Furs … I can't even wrap my head around it. It's such a strange marriage but it works so well." So well, in fact, that the band decided to release an album, Is Exotic Bait?, and play a few shows.
To open the set at Mercury Lounge, the Furs started with the album's second track, "All the Way Down," which gallops out of the gate with a punk drumbeat followed by Mr. Willett's distinctive yelps and poignant cries in running, slam poet form, with all of it marinated in oohs and ahs from Haley Dekle (Dirty Projectors), Zina, and Marika Dahlin. The crowd, just fewer than 100, couldn't help but bob and bounce on the dimly lit dance floor.
Along with recycling the poems of a deceased parable poet as lyrics, French Style Furs incorporate other peculiar elements in their sound. Known for their raw, bare-knuckled sound in Cold War Kids, the Furs often choose bombast over garage band basics; many songs on their debut album feature electronic drumbeats, synths and even roaring brass.
"Turn or Burn" begins with an electronic loop suggesting a robotic songbird that gets drowned out by a sluggish bass line soaked in reverb—evocative of "Hang Me Up to Dry," Cold War Kids' first-ever hit.
"It's not really experimental music," said Mr. Warkentin, who also produced the album. "It's pop music, but I think we took an experimental approach." On "Man the Master," Mr. Warkentin looped the sound of him slapping his hand on a table rife with cups and keys, and used that as the drumbeat. The Furs even experimented with basic synth-simulating apps on an iPad.
"All of us have been in bands that you're relying on to pay your bills or there's just so much pressure from people expecting certain things," said Mr. Warkentin. "[But] when you get the luxury of turning all of that off, it becomes a pure art project."
Before ending their set at the Mercury Lounge with a jam session launching from the funky bass and horn-heavy "Solitary Life," French Style Furs covered Iggy Pop's 1977 hit, "Nightclubbing."
For a band that has no preconceived expectations, no rolling obligations, French Style Furs can cover songs like Iggy Pop's honky-tonk, drum machine ballad while also exploring a whole realm of strange ways to make music.
Inspired by everything from 1980s German and American protopunk to Kanye West, the band's no-strings-attached sonic fascination affords them multitudes of avenues for approaching how they write songs. So, it should come as no surprise that even though the Furs are technically a side-project from the band members' day jobs, Mr. Warketin and company find that stylistic freedom undeniably invigorating.
"This one was a gimme," Mr. Warkentin added. "You don't get too many gimmes."
[youtube https://www.youtube.com/watch?v=rOfWAQqt48M&w=420&h=315]