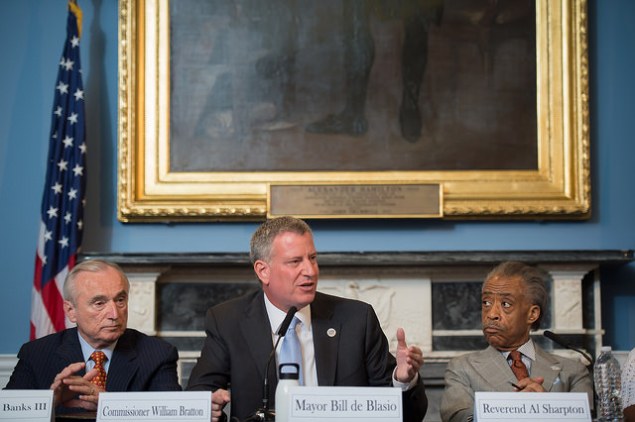 Sergeant's Benevolent Association President Edward Mullins lashed out at the de Blasio administration for a second time today, arguing that its reaction to the death of Eric Garner has left cops constantly afraid for their jobs.
Mr. Mullins–who yesterday blasted Mayor Bill de Blasio for his closeness to Rev. Al Sharpton–told listeners of the Geraldo Rivera radio show that the administration's lack of support for police officers has left the force in terror of facing criminal prosecution any time they do not follow the NYPD handbook to the letter.
"They are leaving us in a situation we are jeopardizing our own safety and our own careers," Mr. Mullins told Mr. Rivera. "You can't expect a guy to come to work today and not be afraid."
The union head said that the administration's public discussions—held with Mr. Sharpton—about the cops who appear to have put Garner in a chokehold that led to his death on July 17 have denied the officers a fair hearing. He also criticized suggestions that the investigation and prosecution be turned over to U.S. attorneys rather than Staten Island District Attorney Dan Donovan.
"There's a difference between a homicide and a murder charge. The only thing anybody is asking for is due process," said Mr. Mullins. "You're overstepping you're boundaries when you're calling in the feds."
The mayor's office would not directly respond to Mr. Mullins' comments, but instead referred to Mr. de Blasio's remarks yesterday responding to criticism from police union heads.
"Union leaders will say what union leaders say. That is historic, that's been going on for decades," Mr. de Blasio said. "We have a job to do. We are going to do our job. I don't let the rhetoric of union leaders stand in the way of getting the job done."
As yet, no charges have been filed in the incident that led to Garner's death, though a medical examiner has declared the death a homicide.
Updated to include response from the mayor's office.