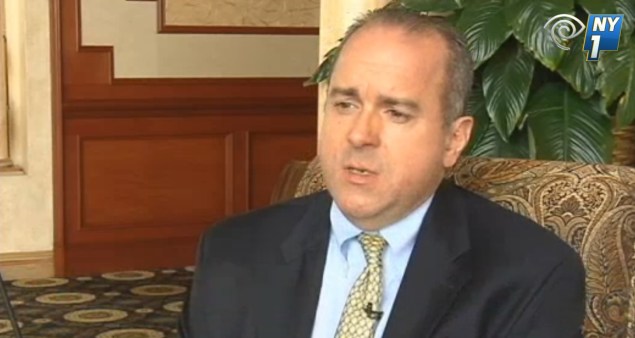 A prominent police union president infuriated Mayor Bill de Blasio this week when he urged Democrats to keep the Democratic National Convention out of Brooklyn.
That president, it turns out, is a registered Republican.
Edward Mullins, the president of the Sergeants Benevolent Association, is a Republican who lives in Port Washington, Long Island, a Nassau County Board of Elections spokesman confirmed to the Observer. In a letter published in the New York Times and New York Post on Tuesday, Mr. Mullins blasted Mr. de Blasio's DNC bid, arguing that the city was now too dangerous to host the 2016 convention and the mayor did not support police enough.
"While the Barclays Center is still new and glistening, the great city in which it stands is lurching backwards to the bad old days of high crime, danger-infested public spaces, and families that walk our streets worried for their safety," Mr. Mullins wrote. "Mayor de Blasio has not earned the right to play host to such an important event."
Mr. de Blasio, who has made bringing the DNC to the Barclays Center a top priority, dismissed Mr. Mullins' letter as a bargaining ploy to secure a better contract for his union. The mayor, a staunch Democrat, said Mr. Mullins' letter was "irresponsible" and "fear-mongering."
Mr. Mullins never mentioned in the letter that he is a Republican. Campaign finance records show Mr. Mullins has been an active political donor in the past, funneling $1,000 to a campaign committee for Ed Cox, the chairman of the State Republican Party, and a couple of out-of-state Republican politicians.
Jon Kyl, a former U.S. senator from Arizona, took $1,000 from Mr. Mullins in 2006. Will McBride, an unsuccessful candidate for the Senate in Florida, received $500 that same year. A 2012 story in a Florida newspaper about Mr. McBride said he supported privatizing prisons.
A spokesman for Mr. Mullins said his GOP ideology had nothing to do with his move to block the DNC from the overwhelmingly Democratic Brooklyn. (New York hosted the Republican National Convention in 2004.)
"In the letter Sgt. Mullins wrote in the New York Post and New York Times, he was expressing frustration that the NYPD has not received the support they needed from Mayor de Blasio since inauguration," said the spokesman, Jordan Bieber, in an email.
But Brooklyn Borough President Eric Adams, a Democrat and ex-police captain who ripped Mr. Mullins' letter on Tuesday, said he would "hate to think" partisanship played a role in Mr. Mullins' aggressive stance.
"I would hate to think that President Mullins' closed-minded open letter to the DNC, on top of all of its fallacies and histrionics, was a stunt guised in one's personal partisan politics," Mr. Adams told the Observer. "That would truly be unfortunate and irresponsible behavior."