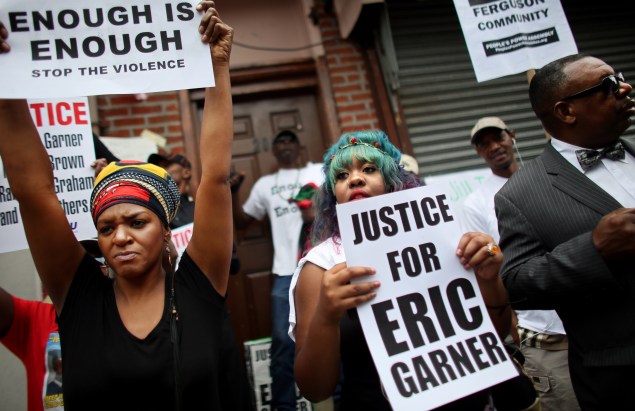 A new Quinnipiac University poll released today found that 68 percent of New Yorkers believe there is "no excuse" for the tactics police employed that led to the death Eric Garner last month–even though the "broken windows" policy that some have blamed for the homicide remains popular among all ethnic groups.
The survey found that 52 percent of whites, 71 percent of Hispanics and 90 percent of blacks believed that the application of an apparent chokehold to the Staten Islander suspected of selling untaxed cigarettes, and the subsequent failure to administer CPR, was inexcusable. Sixty-four percent the 1,021 New Yorkers involved in the study favored filing criminal charges against Officer Daniel Pantaleo, who forcibly subdued Mr. Garner.
"The Eric Garner tragedy dominates the news and city voters think there is no excuse for his death. White and black voters overwhelmingly think there should be criminal charges against the officer involved," said Assistant Director Maurice Carroll.
Opinion, however, splits considerably along party lines. Sixty-four percent of Republicans called the cops' actions in the incident "understandable," compared to just 14 percent of Democrats.
The widespread anger over Mr. Garner's death in July, however, does not extend to Commissioner Bill Bratton's strategy of targeting low-level offenses like selling cigarettes. The poll showed that 60 percent of city residents believe the "broken windows" approach improves quality-of-life and discourages more serious crimes, with little difference between whites, blacks and Latinos–and a full 50 percent specifically said they supported police cracking down on the dealing of so-called "loosies."
Similarly, 58 percent of those polled believed police have a right to employ force against anyone resisting arrest–with African-Americans saying they supported cops using any measures necessary by a margin of 45-23 percent. Mayor Bill de Blasio and Mr. Bratton have both insisted that citizens must submit to arrests even when they believe they are unfair.
"Hardly anyone thinks the cops should back off if someone resists arrest. Use whatever force is necessary to make the arrest, voters say, echoing what Mayor Bill de Blasio and Police Commissioner William Bratton both have emphasized," said Mr. Carroll.
Just 50 percent of those who participated in the survey said they approved of the job the NYPD is doing citywide, but 67 percent said they supported the practices of the police in their specific community.
Nonetheless, 74 percent said they considered police brutality a "very serious" or "somewhat serious" concern–the highest the poll has found since 2001.