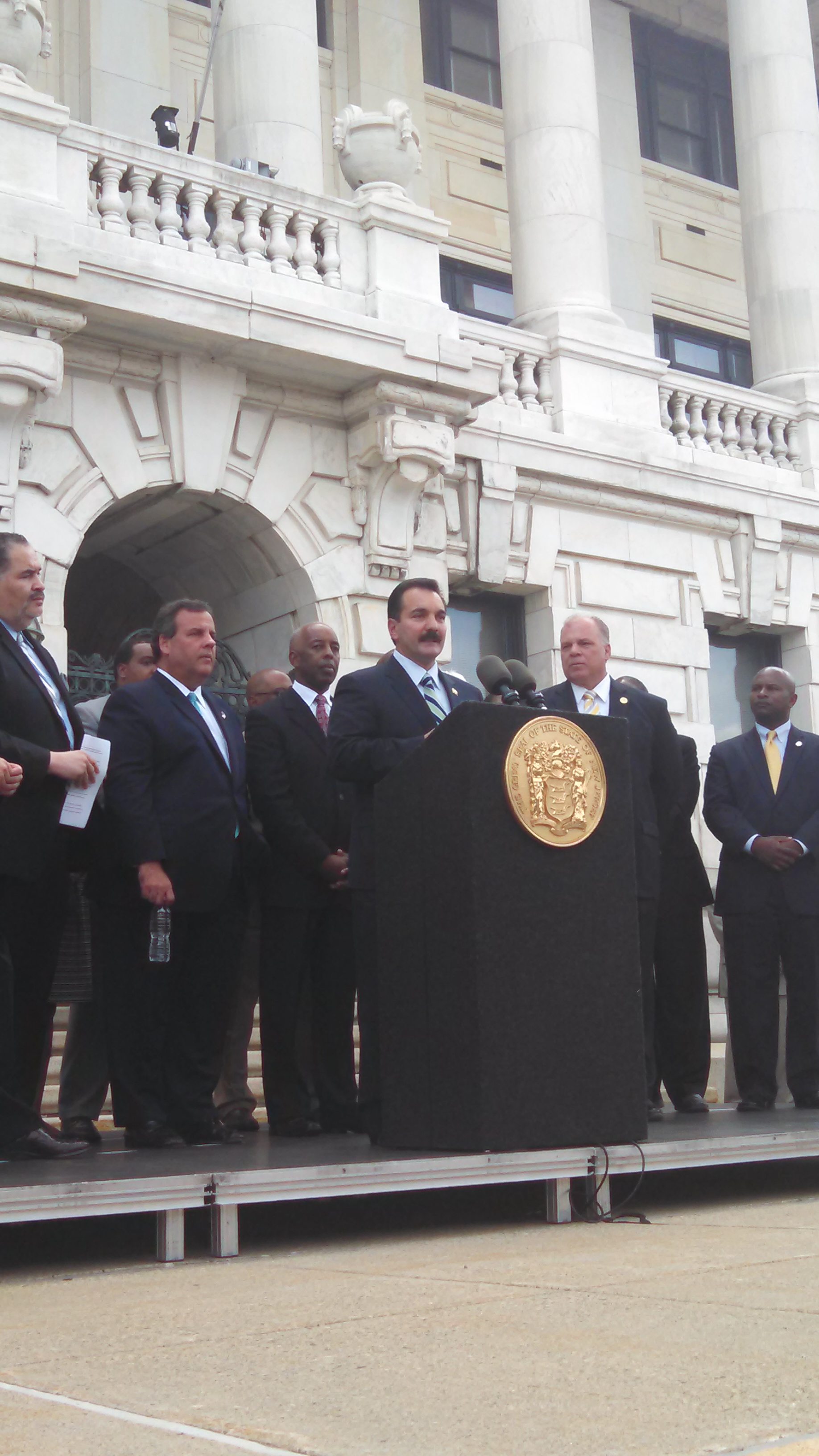 TRENTON – Responding to recent revelations that he's been doing consulting work for a Camden County-based firm with major donor ties to some South Jersey Democrats, Assembly Speaker Vinnie Prieto (D-32) told PolitickerNJ today that he sees no problem with straddling the public-private career fence, given the nature of New Jersey's legislature.
"The only thing I can tell you is, listen, there's many people like me — you have a part time legislature, and this is what happens," Prieto said following a bail reform signing on the steps of City Hall in Trenton this afternoon. "I can hold my head up high and say that everything I do is ethical above and beyond anybody."
According to a recent Star Ledger article that exposed the Hudson County native, Prieto recently began consulting for All Risk Property Damage Experts, a disaster recovery firm that deals largely in South Jersey. It's the same company that employs state Sen. James Beach (D-6), and whose owner, Frank Messina, is tied up with South Jersey's political machine (Messina routinely supports the favored candidates of that machine's political boss, insurance magnate and power broker George Norcross, with political donations).
The news is especially damning for the Assembly Democrat, given his ties to North Jersey political bosses like Nick Sacco (D-32) and U.S. Senator Bob Menendez (D-NJ).
Critics have pressed Prieto to disclose the nature of the work he does for the company, as well as name other private organizations he works for, but he's refused. Today he shrugged off the sudden scrutiny, defending his dual role as private consultant-slash-public servant as a necessary by-product of a political system that employs its legislators only part-time.
In addition to his consulting work and speakership position, Prieto also holds two other public posts, which together net him over $200,000 a year.
"Listen, somebody likes to throw some rocks, that's part of what this game is, and I understand that," Prieto said. "But at the end of the day, you can ask a million people that are not being asked if that's what they do for a living, and I don't want to point anybody out, but until there is a full-time legislature, then that's part of the game, that's part of the nature of the beast."
Prieto accompanied Senate President Steve Sweeney, Gov. Chris Christie, and other lawmakers in Trenton at today's bill signing following a two year struggle over bringing the package to the governor's desk. Prieto found himself caught in the middle of that struggle, facing down Christie and Sweeney as the Assembly debated whether or not to get behind the legislation.
If this is the only negative feedback he has to deal with after finding himself in the spotlight and applauded for standing up to the front office and the upper house during that battle, Prieto said he doesn't mind.
"I guess that's partly because I've been getting too much good press," Prieto said. "So something bad had to be written about me. And if this is it, I welcome it."