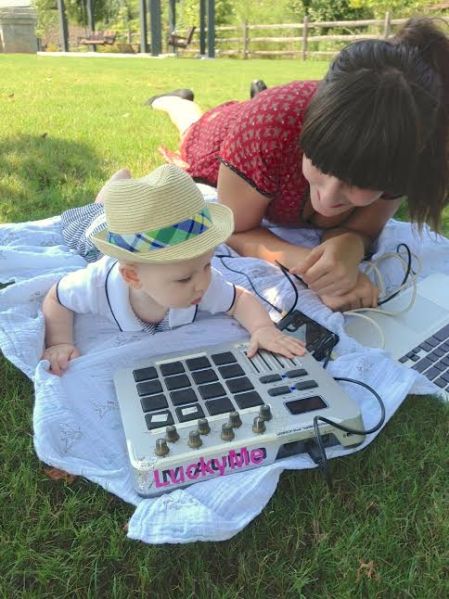 We're all familiar with stories of upscale parents cracking under the strain of Dalton's Pre K-requirements, but desperation is mounting. Parents are turning to adult-style courses to help their tykes build a resume of hobbies and interests, necessary for admissions interviews into top schools. This is New York City, people.
The demand now is for kids with rounded skills, aside from purely academically focused advantages. Forget the flash cards and Mandarin Chinese on the headphones, parents who want their tots to develop a spiritual side dispatch the wee ones to Yoga classes instead. Targeted classes for tinies provide lessons where they can get the full zen experience, minus, presumably, the smug looks of the overly-yogafied that plague grown-up sessions, via Little Flower Yoga. The company gives private sessions to families for $95 a pop. The instructor works with the child or children for 45 minutes and then comes the all-important this-is-where-the-money-is 15 minutes of time with the parent afterwards, to answer questions on the child's performance.
"Private sessions are based on our framework of Connect, Breathe, Move, Focus and Relax, with a lot of flexibility for the teacher to be tailoring the sessions to the child's individual needs," said Jennifer Cohen Harper, Founding Director of Little Flower Yoga. Their affiliate studio, Prasanthi Studio, offers group classes of the same theme, as well as a special Mindful Moments program for summer.
Kids can also head to Yoga Vida for a kids-only class with Kat Schamens (ages 5-8).
"At the end I give them some time to build their savasana pad and I'll come around and give foot and hand rubs," said Ms. Schamens.
The yoga tykes, who have of course done enough yoga to know their favorite pose, will often push themselves by propping themselves up on block or with a beanie baby on their head for an extra challenge. Ms. Schamens says that lately, they have been obsessed with practicing their tripod headstand with different leg variation. Could the popularity of this class be associated with the Hilaria Baldwin effect that's been obsessing Mommy lately?
Ms Schamens also teaches Aerial Yoga, where acrobatic poses are composed with the aid of elastic fabric suspended from the ceiling – for those who are ready to take it to the next level.
Less worthy but surely more fun is hard-party-training. Forget the freeze dance—these kids work hard and want to play hard, so they're going clubbing. At hot spot Pink Elephant, FUZIPOP! a creative collective hosts a dance party for kids who want to experience the nightclub environment in a safe and controlled daytime setting. Some might ask the question 'why?' Possibly, more than one parent of teenagers in the city might argue a case for not trying to familiarize urban offspring with a nightclub environment but this is about creativity, folks. The next event date is still TBD, but rest assured that Silly Billy is not going to strum his guitar while the kids wiggle round adorably. We're talking DJs, strobe lights, and serious atmosphere.
And, for those who want their kids to BE the DJ, there are classes for aspiring young disc jockeys—as young as 3 months old.
Natalie Elizabeth Weiss, a composer and DJ, offers classes for $200 a pop to tots who like pressing buttons and their hip parents who want an excuse to hang out—and learn to mash up their favorite tunes.
"Many of the parents love club music and are interested in learning to DJ themselves. The parents and babysitters are learning something for the first time right along with their little ones," she said. "They want to expose their children to that part of their lives in a family friendly environment."
The modern parent's need to share every aspect of their lives with their small children could be perceived as extreme. It is hard to imagine, say, Don and Betty Draper taking their kids to Saturday supper club classes. Meanwhile, back at the DJ classes, each child gets their own headphones and tinkers around with the records, utilizing a software called Traktor and a sampler called an SP404.
Cool might not cut it in an entrance interview though. Cultural gravitas is what counts. ArtMuse is a company that works with art historians and art educators to provide curated experiences covering everything from classical art to impressionism and abstract expressionism in museums and galleries around New York.
"I educate them on how to look. You don't just pass by a work of art, you have to get something out of it," said Natasha Schlesinger, Founder and Curator of ArtMuse and leader of the art tours. "Most parents don't want to drop their kids off, they want to come. The parents always learn so much on these tours with the four year olds." Or stick around to ensure they don't nod off, run away or destroy anything priceless, more like.
Rory Teitelbaum, who's six-year-old daughter Sophie, a Horace Mann student, attends Ms. Schlesinger's Kindergarden class, loves attending the class. "As an adult, I learn so much," she said.
Aylin Brenna's daughter, Margo, began taking Ms. Schlesinger's classes when she was 3 years old, going to nursery school at Resurrection Episcopal Day School and became a huge fan.
"Because of the classes, Margo already knows Ancient Egyptians, how they lived, what they put in their tombs, Chinese art and history, in 17th century how people would live, and dress what they house looked like."
After a long art tour or yoga class, stressed-out kids can then stop over at Allure Spa, where they can get pedicures, massages and facials from certified therapists. There are special treatments for little boys and girls including pedicures and coconut facials, with free chocolates thrown in, of course. There is even a $230 'Daddy and Me' package that includes a peppermint mani/pedi, massage and facial.
Perhaps this comes under the banner of 'shows a strong interest in health and well being'.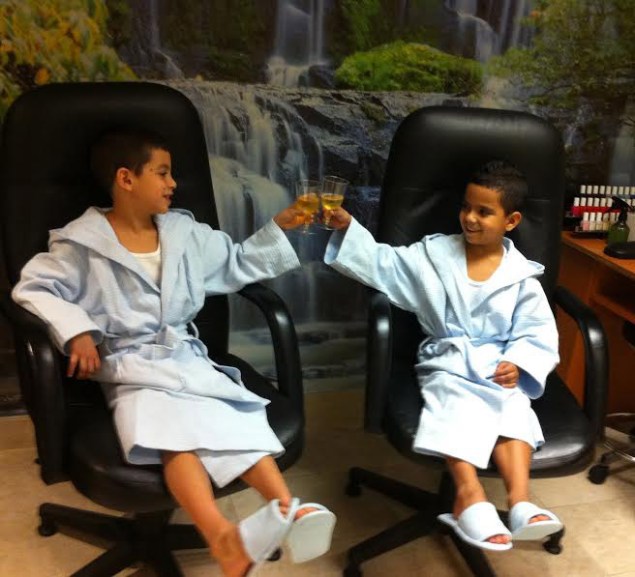 Finally, dotted around the city are various young business skills clubs or classes, feted to be the next big thing, toddler-wise. At one downtown occasional class, kids learn presentation skills and much more. "These kids were so young and they were all asking questions about how you find rental space, build a clientele base, learn how to make introductions and walk into a room." Said one parent. "They even practiced describing their own potential businesses."
Entrepreneurial skills seem to be top of the current business school graduate's most-wanted list. Ask a toddler to choose between a spreadsheet and a chocolate ice cream though and thankfully, it's still a different story.