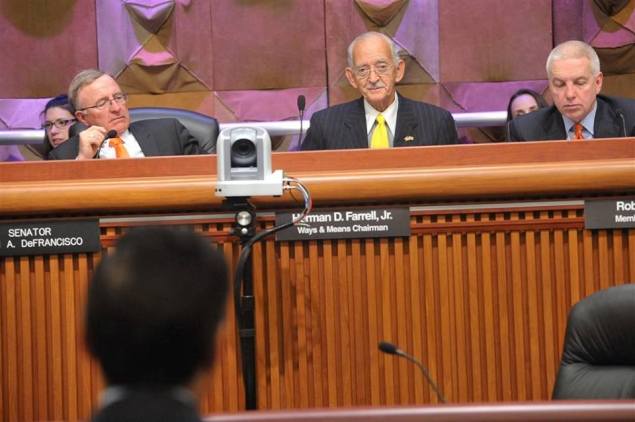 Assemblyman Herman Farrell Jr., a longtime upper Manhattan power broker, may be allied with Congressman Charlie Rangel, but he is endorsing his hated rival's re-election bid.
Mr. Farrell announced today he will back State Senator Adriano Espaillat for re-election over former Councilman Robert Jackson, Mr. Rangel's chosen candidate.
"Over the years, I have worked with Senator Espaillat to address problems in our communities including the need for more affordable housing, the air pollution that causes asthma and other health issues, and to improve the quality of our education programs," Mr. Farrell told the Observer. "I will continue to stand with Adriano as we work to improve the quality of life in Northern Manhattan. He does the job, and he deserves your support."
Mr. Farrell, who was first elected in 1974, endorsed Mr. Jackson for his unsuccessful borough president race last year. Mr. Jackson was also hand-picked by Mr. Farrell to run for the City Council in 2001, his first race. He went on to win and serve in the council for 12 years.
Mr. Farrell's endorsement appears to be a rebuke of Mr. Rangel. The 84-year-old lawmaker fended off aggressive challenges from Mr. Espaillat in 2012 and 2014 and in both contests Mr. Farrell was in Mr. Rangel's corner.
At a fund-raiser last night for Harlem Councilwoman Inez Dickens, Mr. Rangel had no comment on Mr. Farrell's endorsement. Mr. Jackson's campaign was unmoved, however, by Mr. Farrell's defection.
"Just like in his losing campaign for Congress last month, no amount of endorsements can hide the fact that NYPIRG reported that Espaillat has the worst attendance record in the entire Senate, missing more than 60% of the votes," said Richard Fife, a spokesman for the Jackson campaign. "Robert Jackson is picking up support across the district because people want a full-time senator, who wants to be Senator and will put the people first."
After this story first appeared earlier today, Mr. Farrell complained to the Observer that his endorsement of Mr. Espaillat should in no way be read as a "rebuke" of Mr. Rangel.
"I do not see how my endorsement of a sitting Senator for re-election could possibly be interpreted as a 'rebuke' of Congressman Rangel," Mr. Farrell asserted. "I have always supported Charlie and will continue to do so, even if he runs for the next hundred years. Adriano Espaillat's service in the senate is an entirely separate matter, and I do not understand how, in any way, my endorsement of his bid for re-election can be interpreted as a negative against Congressman Rangel."
Will Bredderman contributed reporting. This story has been updated to include additional comments from Mr. Farrell.