Yesterday's Real Housewives of Melbourne episode began like any normal day: with a trip to the Botox clinic. "You've got to put your best face forward," Janet says, as she as she and Psychic Jackie head to the Botox clinic run by Andrea and her husband.
Psychic Jackie's just there to watch, but Janet's there to smooth out her "bunny lines." Andrea attempts to rationalize the women's obsession with Botox by making it into a feminist thing: "Once upon a time, women wouldn't even admit to dying their hair," she points out. "Now they admit to having Botox, including me."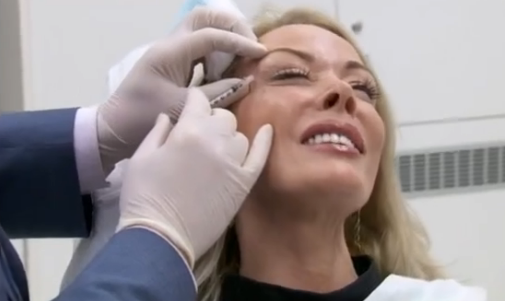 Of course, no trip to the Botox clinic is complete with out an intense post-injection conversation about all the recent drama: namely, the rumors that Gina doesn't believe in Jackie's psychic ability, and her belief that Jackie's "sources" are "demonic." Get ready for this to be the ONLY TOPIC OF CONVERSATION FOR THE ENTIRE EPISODE. Anyway, because the producers demanded it Jackie believes in second chances, she's still going to invite Gina to her upcoming housewarming party.
Meanwhile, Lydia meets Andrea at an artsy-looking boutique to buy a housewarming gift for Jackie and her not-so-famous rockstar husband, Ben. We don't find out what the gift is just yet, but we're promised it'll be something c-c-craaaaaazy.
Lydia's awfully busy, for a housewife! After shopping with Andrea, she heads to Gina's new apartment to give her some interior design advice. Based on Gina's outfit, she should probably just make it look as much like a Barbie Dreamhouse as possible?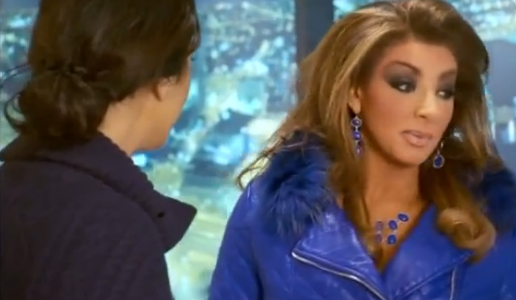 Like in the Botox clinic, this rendez-vous isn't complete without a discussion of the Jackie-Lydia-Gina psychic drama. Lydia apparently told Jackie that Gina doubted Jackie's psychic powers, but Gina clarifies that she doesn't doubt Jackie's powers — only Jackie's prediction that Gina's long-distance partner was cheating on her. The woman attribute all the confusion to "Chinese whispers," which is a preeeeetty racist way of saying "broken telephone," and we're significantly uncomfortable. Lucky for us, they'll use the phrase about 8374209357 more times this episode.
In other news, Gina has broken up with her long-distance partner, but clarifies that it had nothing to do with Jackie's prediction. "It doesn't take a genius to work out that I may dump his ass," she reasons.
Political correctness must REALLY not have spread to Melbourne, as we learn from the next segment, wherein Jackie and husband Ben are meeting with party planners to plan their housewarming affair. Ben says he wants the party to have "hints of Mexico," explaining he doesn't want it to be gimmicky — no sombreros or ponchos — but tequila shots are okay. Later he says it should be "definitely Mexican heavy." "We almost want them to walk in and feel like they SHOULD have worn a poncho — like a cool poncho," he explains to the baffled party planners. Jackie adds that there should be a sexy, chic "Puff Daddy vibe." Uh, did we mention Jackie and Ben are freaking insane?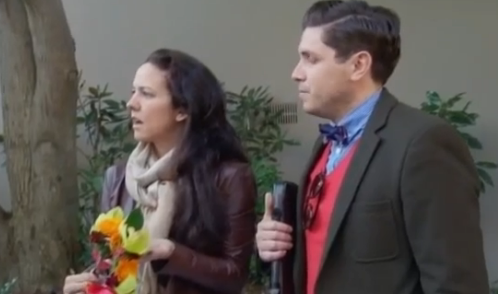 Next, Lydia and her husband Andrew board their private plane, and fly to some remote island so they can buy cheese. "Some people drive to the store. We fly," Lydia says. Samesies!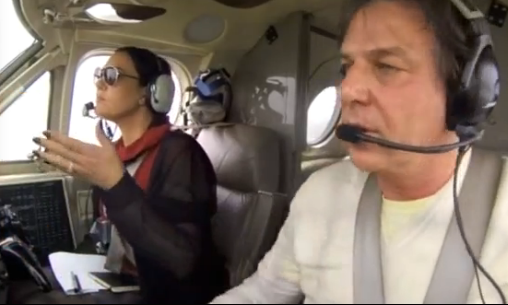 Back on the mainland, Chyka and Jackie meet at Chyka's fancy-looking grocery store place so that Jackie can get some advice the beverage line she and Ben plan to launch. Jackie claims her "psychic awareness" told her to change the line from tequila to cocktails. "The angels were saying, 'Yes, Jackie, do it,'" she says. Er, in the physical world, we're pretty sure that's just called business strategy?
Unsurprisingly, normal human Chyka doesn't think Jackie has any idea what she's in for. "It's going to take more than angels to get it off the ground," she tells the camera. Amen, sistah.
Meanwhile, Gina visits with Andrea to talk EVEN MORE about the Jackie-Lydia-Gina psychic feud. Somehow, their discussion about the psychic drama leads to Gina giving a tearful recounting of her harrowing experience with abdominal cancer, which is somehow supposed to prove she does have faith in the spirit world… or something. Really, the only thing we take from this segment is that Gina's outfits are over-the-top and FABULOUS.
At long last, it's time for the slightly Mexican-themed housewarming party! Woohoo! We thought this episode couldn't get less politically correct than it already was, but then we watched what happened when Lydia and Andrea revealed the mysterious housewarming gift they purchased earlier in the episode: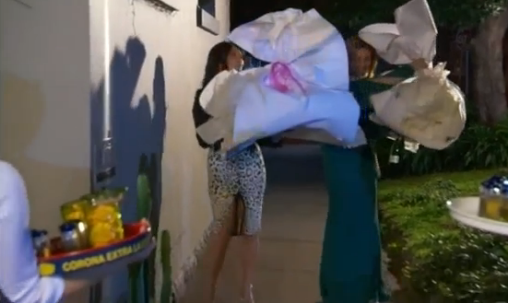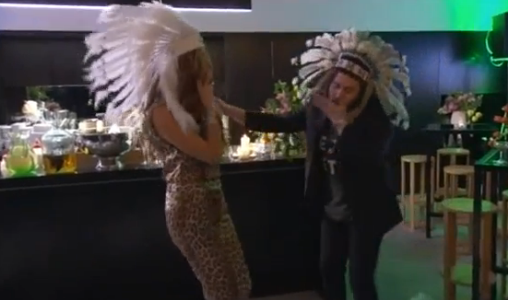 While Jackie and Ben appropriate Native American culture, the other housewives wonder if all the Jackie-Lydia-Gina psychic drama will rear its head at the party. Um, it's all we've been talking about this whole damn episode, so IT BETTER. Thankfully, it doesn't take long. Jackie's going off on some spiel about how all the celebs for whom she does readings don't believe in her powers, and of course, that leads her to call out Lydia for lying when she said Gina didn't believe in her psychic ability.
Meanwhile, sad that she's had basically no role in this episode, Janet invites Chyka and Gina to come to some hotel with her in the near future and help her get ready for a date. She says she's feeling really nervous for the date, but it kind of gets lost behind all that Botox.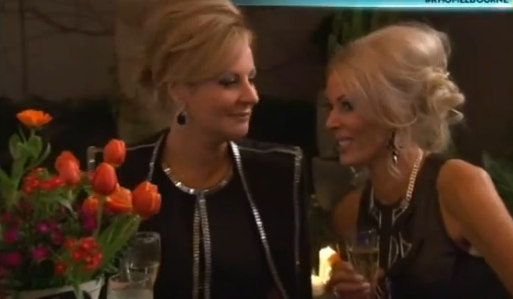 Elsewhere at the party, Jackie's husband Ben FOR SOME REASON thinks it'll be a good idea to bring Jackie and Gina together to talk about their animosity toward each other. Are we still talking about this? At this point, Jackie is perfectly embodying the way we feel about having to listen to this argument again.
Lydia somehow takes Ben's place in the argument, and the three women argue some more. Gina eventually storms out of the party alone, and it's kind of depressing. "Gina and I have definitely not resolved our feelings toward each other," Jackie tells the camera.