AMC recently announced that Halt and Catch Fire would be coming back for a second season, and the world literally exploded. Okay, not literally. That's crazy. But people were pretty upset about it. Or maybe more surpised, and with good reason. The show limped into its season finale and pulled in a mere 574,000 viewers for the final episode. For comparison, that's worse than a show AMC did cancel, Low Winter Sun. And also for comparison, Low Winter Sun was the worst shit ever.
So, what does a show have to do to get that coveted season two? Here's a look at some of the other shows that recently were renewed — and yes, Halt and Catch Fire too — and whether or not they deserved another go-around.
Renewed Show: The Leftovers
Does it Deserve it? Yes (but also no).
Oh, The Leftovers. A show that flip flops between depressingly terrible and pretty amazing so much that I'm pretty sure it drove our own Drew Grant insane enough to go get married. HBO gave the thumbs up for a second season a couple days ago, and I'm okay with it for a couple reasons. One, with only episodes left in the season we basically know nothing what is going on. Yes, we know everyone is sad about what is going on, but that's about it. Ratings and reviews aside, I refuse to let this show just dwindle away without at least knowing where everyone went and Departed to. Now I know Tom Perotta, the author of the novel, says that this isn't "the point" of the story. But personally I read the book, and I think "the point" is he wrote a book about people being depressed and realized "oh, shit no one is going to read this," so he tacked on an overarching Rapture-ish story that never gets resolved. This is TV land now, Mr. Perotta, we need answers. Also, I'm pretty sure Damon Lindelof needs to bring a show to a satisfying conclusion in order to stay alive, so for his sake I'm glad this show is getting a second season.
But why that added on "but also no?" Well, for one this show is consistently bleak to the point of being un-entertaining. I find it hard to reward that. On a much more personal note, Justin Theroux said a Leftovers renewal might hurt the chances of the Zoolander sequel happening, and the high school freshman in me cries at the thought.
Renewed show: The Strain
Does it deserve it? Yes
I, like many people, gave up on this show making any sort of sense when that one dude's dick fell off. But that is apparently what the people want because this show is killing it in the ratings. The Guillermo del Toro directed pilot brought in 12.7 million viewers, and has been averaging around 11 million ever since. Despite the million that left, probably due solely to the horrific creature that sits on Corey Stoll's head, it is still on top weekly with adult viewers.
And, though it pains me to admit it, I still like this show. It's not a good show by any stretch of the imagination, but at the same time it doesn't really pretend to be. Even though I support the Leftovers getting its second season, that show thrives on things not happening and people not talking. Literally, when it comes to these weirdos. Then over on FX you have Walder Frey wielding a giant badass sword and chopping off what has to be a record amount of vampire heads per episode. Maybe that is very telling of the American population's attention span and what we want in our entertainment industry and blah blah blah bring on another season, dicks falling off be damned.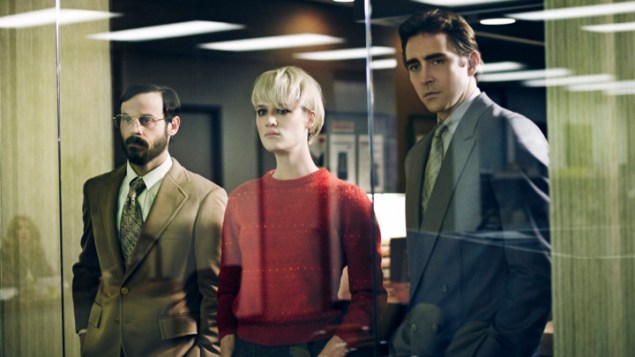 Renewed Show: Halt and Catch Fire
Does it Deserve it? No, God no.
If anyone out there thought this whole piece was an excuse to come to the defense of the much maligned Halt and Catch Fire, I have some bad news. In no way should AMC have kept this show around. Those ratings alone should have been enough to send this show the way of the Rubicon. But you know its bad when Lee Pace himself tells you "the point of the show" comes out in the season finale. Which yeah, I understand slow build but give us "the point" around at least episode five. Its even worse that AMC is justifying the second season with "We have a history of demonstrating patience through the early seasons of new shows, betting on talent and building audience over time."
Let's translate that, and see what AMC is banking on. Mr. Pace just starred as a big scary alien in Marvel's Guardians of the Galaxy. GOTG raked in an estimated bajillion dollars at the box office. Scoot McNairy, also a major Halt player, is set to be in Batman v Superman: Dawn of Justice which is expected to make an estimated bajillion times two dollars at the box office. AMC is hoping the meteoric recognition these two are about to receive will bring with it more viewers. Like, millions of more viewers hopefully.
Renewed show: Finding Carter
Did it Deserve it: ???
Since I like covering all my bases, I'll mention that MTV announced recently that its newest drama would be getting a season two. I've never seen a second of this show, so how would I know if it deserves it or not? Let's go to the GIFs!
SICK BURN. Yes, give this cheeky little devil a second season.