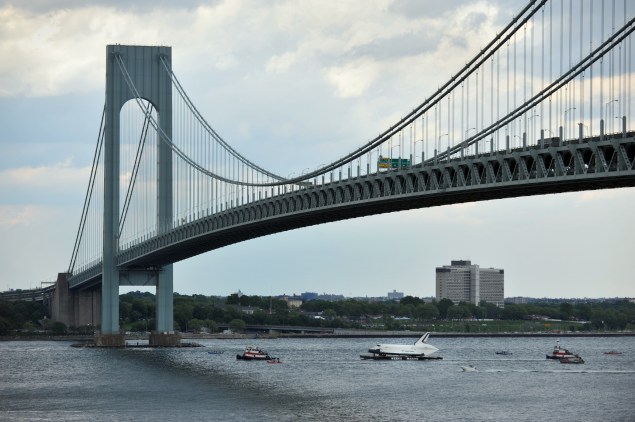 Republican pols really don't want Rev. Al Sharpton marching across the Verrazano-Narrows Bridge.
Congressman Michael Grimm — who represents both sides of the span — sent a letter to Mayor Bill de Blasio Wednesday urging him to deny any permits that may be filed to allow the planned August 23 march, though it's unclear whether Mr. Sharpton will seek such permission. He joined several other Republicans in calling for the march to be relocated from the bridge, which has no walkway.
"Staten Island already bears the burden as the traffic and pothole capital of the country, not to mention having the most exorbitant toll in the nation. To close our only direct passage to the rest of the City on a summer travel weekend is a recipe for total disaster," Mr. Grimm said in a statement.
The march, set to step off about a month after a Staten Island man died in police custody, does not appear feasible unless the bridge is closed down to automobiles, a highly unlikely event. Mr. Sharpton is also likely to be arrested if he marches across the bridge without permission.
Mr. Grimm, who called for a "fair, unbiased review" of Mr. Garner's death, said there's a reason the bridge has been closed rarely — doing so burdens a borough already dealing with high tolls and traffic, and cuts off Staten Island from FDNY and EMT facilities in southern Brooklyn that serve north shore neighborhoods in major emergencies.
No friend to Mr. de Blasio, Mr. Grimm took the bridge controversy as an opportunity to tweak the mayor.
"The fact remains: the people of New York elected Bill de Blasio–not Al Sharpton–and it's time for the Mayor to stand up, show some true leadership, and deny these permits to close the Verrazano bridge," he said.
Rob Astorino, the GOP candidate for governor, meanwhile, took a swipe at his rival Gov. Andrew Cuomo over the planned march across the iconic span, saying he must put a stop to it.
"Al Sharpton should immediately cease his plans to protest across the Verrazano Bridge and I'm calling on Governor Cuomo to prohibit closure of the bridge, which would have a catastrophic impact on the safety, traffic and livelihood of thousands of New Yorkers," Mr. Astorino, the Westchester County executive, said.
"Reverend Sharpton has a right to protest in a public place appropriate for demonstrations, but the Verrazano Bridge is not one of them. There is no pedestrian walkway and a protest could not occur without complete closure of the bridge and massive inconvenience to the people of Staten Island and Brooklyn," he added.
More locally, Staten Island Borough President James Oddo and the borough's two Republican council members also expressed opposition to the march.
"We should be building bridges in our community, not marching over them," Mr. Oddo wrote on his Twitter account.
Staten Island Councilman Steven Matteo also said the Verrazano Bridge is not a suitable protest venue.
"We're concerned about the negative impact on Staten Island, safety concerns, how much it will cost for the bridge to be shut down. And we're not saying don't protest, we're just saying we don't believe the Verrazano Bridge is a suitable location for any kind of protest," Mr. Matteo told the Observer. "We don't think that shutting the Verrazano Bridge is something that should be allowed for any protest."
Mr. Matteo said he thought it was doubtful Mr. Sharpton would be able to legally close the bridge in order to cross it.
"I don't even know if there's a process to get a permit to shut it down," he said. "I don't even believe there is a process."
Councilman Vincent Ignizio, a fellow Staten Island Republican and minority leader of the council, tweeted today that a march on the bridge should not take place and called on the mayor, along with the NYPD and Metropolitan Transportation Authority, to stop it.
Mr. Ignizio called on the mayor specifically to ask organizers to march in a "safer less disruptive place" that won't negatively impact Staten Island or set a precedent for closing the bridge.
The span–heavily trafficked by Islanders and trucks moving through the area–is typically only shuttered for the New York Marathon.
He declined to elaborate on his Twitter comments by telephone, saying the comments spoke for themselves.