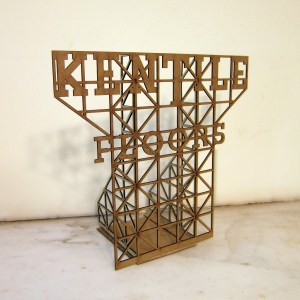 The breakup was hard. We thought everything was going great and then one day it was just… just gone. And we've been doing okay, like, we guess. We need some more time to cope. But you know what really helps? Making a 3D model of it and adorning our house with the result.
Oh, you didn't know we were talking about the Kentile Floors sign? (This is awkward.)
Brooklyn mourns you, Kentile Floors sign, but according to Curbed, Boundless Brooklyn has a small reprieve from our collective grief: a Kentile Floors model kit. The kit includes materials to make an eight-by-nine-inch sign to act as shelf chatchke, candlelit shrine, whatever.
Our everlasting love will be preserved in this project that we will probably be too lazy and/or inept to finish, but you know what? We'll try for you, Kentile Floors sign. Goodnight, sweet prince. You are missed.