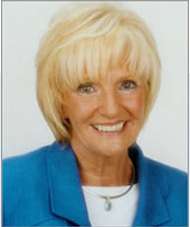 PolitickerNJ extends condolences to the family of retired Morris County Clerk Joan Bramhall, who was found dead in her home today, the victim of an apparent murder-suicide, according to published reports.
A longtime leader in the Morris County GOP, Ms. Bramhall of Denville was 75.
Law enforcement officials said that they found two people dead in the Bramhalls' Arden Road home on Thursday morning.
According to a Star-Ledger report, "It said one was male and the other female, but did yet not disclose their identifies or the circumstances of their deaths."
We do not yet know the details of this awful and shocking news.
But over the years, PolitickerNJ often called Ms. Bramhall at the clerk's office.
She was the ultimate pro on her job, always to be counted on to return a phone call to deliver timely information to help our readers.
She was also friendly and kind to a fault. That smile you see in the picture is the way she often looked as she worked.
Hers was a special public greeting.
We will remember the clerk with affection, and we will miss interacting with her, one of the pleasures of this job, in fact, which is now no more.
RIP, Joan Bramhall.
Friends grieved on Facebook on Thursday night.
"Our condolences on Clerk Joan Bramhall's passing," said state Sen. Joe Pennacchio (R-26). "She was a tireless, dedicated public servant and a close friend. We will miss her greatly. RIP my dear friend."