At 83, there's only one event that totemic paparazzo Ron Galella bothers to cover. It is the Metropolitan Museum of Art Costume Institute Ball. "The Met gives me a good spot next to the TV crew. That's where the stars stop and talk. And while they are talking to the TV, I get natural expressions. Because they are not posing for me, they are not aware of me."
Some might find Mr. Galella's low-key attitude a tremendous surprise. Mr. Galella was once the most notorious New York representative of a hardboiled profession. A telling shot in his new book, Ron Galella New York, shows a garbage pail lid, whizzed U.F.O.-like in his direction by the throwing arm of Elaine Kaufman. "She missed," he says. "It hit a limousine."
But there were several surprises in my recent chat with the photographer, particularly in what he thinks the strategic mistakes the generation of paparazzi inspired by him are making—how they are "ruining it for the good photographers." After I did a Q & A with him at the Strand last week, we sat down and chatted about old and new times—and about some of his more notable celebrity chases through New York City.
At the end of one, Mr. Galella had five teeth knocked out by Marlon Brando. He had taken off in his Pontiac Firebird after the actor and Dick Cavett as they were leaving the ABC studio uptown and Mr. Galella had brought a friend along on the chase, an apprentice pap, Paul Schmalbach. Mr. Cavett and Brando stopped at a Chinatown restaurant, Brando beckoned Mr. Galella over and sucker-punched him. "I didn't even see it coming." But his great regret is that Mr. Schmalbach didn't get the picture. Mr. Galella mourns, "He had his mouth open. With surprise."
Brando was stitched up in Bellevue. "What is good about it is that his knuckles were infected with my paparazzi germs. And he was in hospital for three days recovering. Someone got a picture of him coming out with the bandage."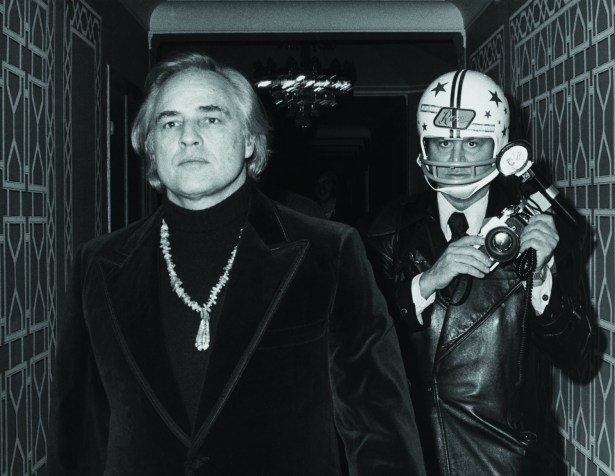 Most significantly and famously, Mr. Galella had an injunction in 1972 taken out against him by Jackie Kennedy. She won in court. He was ordered to keep his distance. When he blithely ignored this, she sued again.
"At the second trial I was found guilty," he says. "It was a short trial. One week. I could not photograph Jackie … John Junior … and Caroline forever … and to this day I cannot photograph Caroline. If I photograph her she can take me to court … $120,000 fine … seven years in jail." But Mr. Galella nonetheless calls one of his books Jackie: My Obsession and he is transparently sincere. His single most famous picture of the icon, Windswept Jackie, needs no description from me. 
And when she died?
"I didn't cover her funeral or anything. I had Windswept Jackie colorized. And in my book I super-imposed her with da Vinci's Mona Lisa. Because it was the beginning of a smile. You see most photographers shoot too late. They show the teeth. It's too late! It's over. Over!"
Somewhere here, in Mr. Galella's iffy and variable relations with his subject matter, you can see an early, more benign version of the Celebrity Culture as we now know it. There's even a body language. Like an equivocal gesture, at once welcoming and pushing away, from Tom Cruise and the Duchess of Windsor. Or Dustin Hoffman, who mimics a viewfinder as assent.
But there's not much in paparazzo work that interests the pioneer today. "I think it's ugly and vulgar," he says. "I think to provoke stars to do something unusual is wrong. It's unethical. I never did that. I capture beauty on their faces.
"Most of these photographers are not even trained in the art. I'm an artist. These people are just doing it for the money. And they even do it wrong. A good paparazzo will hide." Mr. Galella will stay in his car and shoot. But these photographers will all gather in front of, say, the Ivy in Beverly Hills," he fumes. When a Madonna comes out with say a Michael Jackson, he says, the stars will split because they don't want to be seen together.
"If [the paparazzi] hid behind the cars or behind a tree across the street and they used a long lens they will get them together. They would get a good romantic picture. But they ruin it."
If Mr. Gallella is consumed by celebrity of the appropriate dimensions, that does not mean he pays much attention to what that individual is famous for. "I didn't often see their movies," he says. Stars below a certain level of magnitude interested him little. Art stars, for instance. "Andy Warhol was an exception. Not because of his art. To me his art was secondary. I think his personality and his physical make-up were very unusual. He had a pasty white face. And his wigs. He talked soft. So he was a character that was interesting physically. That's why I photographed him." Warhol called Mr. Galella his favorite photographer. Indeed, Mr. Galella found his targets a fairly friendly bunch. "Most stars like me," he says. "They know me.
"I once got a tip that Paul McCartney was taping at a studio on Beverly Boulevard with Michael Jackson. So I went there and knocked on the door of the studio … The security man says, 'Oh, no, Ron! You can't shoot.' I went to my car and scribbled a letter to Paul McCartney. I said, 'Remember what you said in the Hamptons. "Ron, all you have to do is ask." Well, I'm asking now!' " The answer was yes. But he got only Mr. McCartney and Linda. Jackson had already slipped out the side door.
A documentary about Mr. Galella, Leon Gast's Smash His Camera, which won an award at Sundance in 2010, is so called because that is what Jackie yelled to a bodyguard. Nonetheless, Mr. Galella feels the former first lady was ambivalent on the subject of his craft. He brought "a whole stack of pictures" of her to his second trial. "I said, 'Look! Jackie's smiling!' She didn't mind my taking pictures."
Whether or not this is an accurate reading of windswept Jackie's frame of mind, Mr. Galella clearly believes it. Ron Galella's Fameworld has lasted several decades. It was fun. The darkening Celebrity Planet with its stalkerazzi, swarming trolls and interminable pages of 50 Worst Beach Bodies is another story.