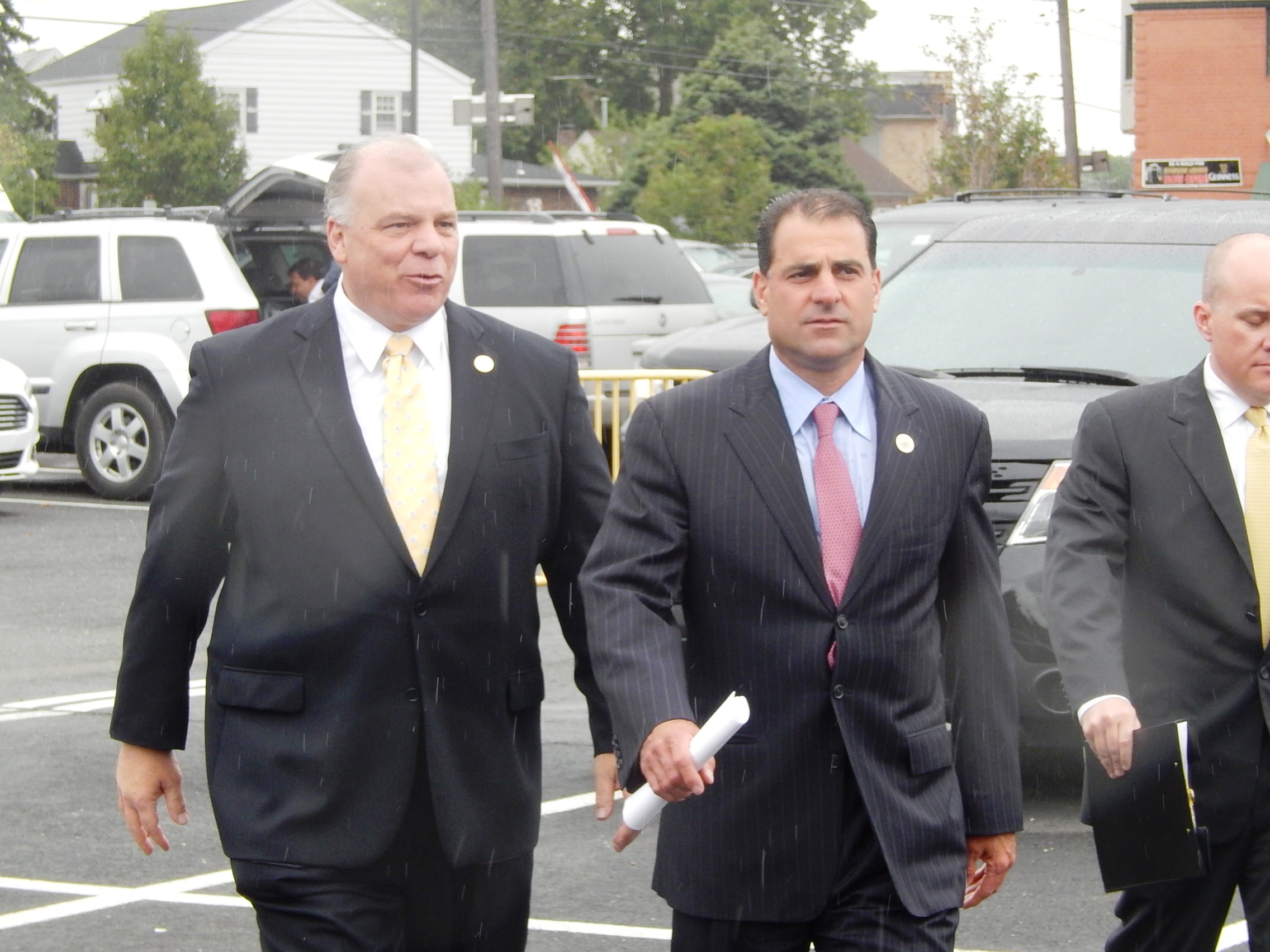 LYNDHURST – They came in waves of black sedans through the rain with young men, umbrellas in hand, leading the way on foot across the drab post industrial parking lot, the local diner a mashed accordion of metal across the street and the bridge in the background looking like the soon-to-be-demolished set piece in a Ben Gazzara movie.
A post lunchtime crowd of thickset males in black and blue suits joined state Sen. M. Teresa Ruiz (D-29) and Bergen County Executive Kathe Donovan under a hastily erected tent while a battered troop of reporters huddled on the outskirts, notepads fast disintegrating in the rain.
Coming off his Hurricane Sandy tour, state Senate President Steve Sweeney (D-3) provided the focal point in this set-piece designed as a platform for the fledgling Democratic candidate for governor to kick-start another issue: namely the absence of a funding source for the state's Transportation Trust Fund (TTF).
"I do bridges for a living," said the ironworker turned lawmaker. "We have to push to get a funding source. If the governor isn't on board, there's no use thinking about it."
Democrats haven't sufficiently pressured Gov. Chris Christie, said Sweeney, which is what he intends to do, he said, in every corner of the state: bringing attention to aged structures like the local bridge in question.
"We do need the DOT [Department of Transportation] to act, and that's where the senate president comes in," said state Sen. Paul Sarlo (D-36), who appeared to be taking the lead role squiring Sweeney around North Jersey this rainy afternoon.
A leading candidate to replace Sweeney as senate president if Sweeney wins a 2017 governor's race, Sarlo later noted, "We needed the political muscle of our senate president, which is why he's here today."
The supporting cast included powerful Essex County Executive Joe DiVincenzo, Assemblyman Gary Schaer (D-36), Freeholders James Tedesco and Steve Tanelli, and local officials, the mayors of Nutley and Lyndhurst at the forefront. Built at the beginning of the last century, the two-lane bridge in question links their two towns and is routinely jammed with commuter traffic.
Locals want a new bridge, and they want their state legislators to partner with the governor's office and congressional reps (including U.S. Rep. Bill Pascrell, whose office staff made an appearance today) to get it done.
They need that state funding source, however, and "The TTF is broke," Sweeney said. "As a former freeholder director I know [counties can't do it alone]. The state has to act.
"I haven't seen a bridge look like this in a long time," the senate president added. "It belongs in a museum."