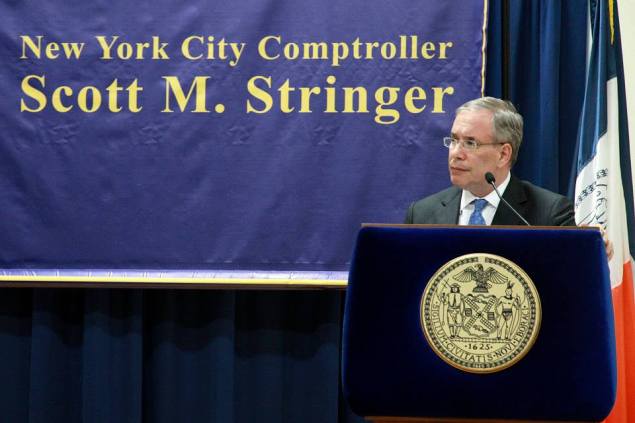 Even as other elected officials rallied around Mayor Bill de Blasio, Comptroller Scott Stringer continued to criticize the mayor for failing to hand over universal prekindergarten contracts for review–and vowed to go it alone in holding the administration accountable if necessary.
"Sometimes it's going to be lonely. Sometimes the establishment is going to criticize me. I understand that. I knew that when I ran for this office. And I said the following: I will work with the administration, and believe me I have, but I will also be fiercely independent. I am not going to back down or shrink from my charter-mandated responsibilities," Mr. Stringer told the Observer during a press conference in his offices Thursday.
Mr. Stringer sounded the alarm yesterday afternoon when he announced just 141 of more than 500 new universal prekindergarten had been sent to his office for review, just a week before school is set to begin. The mayor's office has dismissed the issue, pointing out contracts are routinely reviewed after school starts and that several agencies have reviewed pre-K sites for safety. This afternoon he rallied Democratic politicians to stand beside him in lauding pre-K and downplaying Mr. Stringer's concerns.
But in what is the first significant break between the mayor and a prominent Democratic city elected official, Mr. Stringer doubled down on the issue today.
"I am calling on City Hall to tell me when we will be receiving the 500 contracts. I want a due date. I want it now. I want them to stop playing games. I want them to stop trying to tell you what you don't want to hear," Mr. Stringer said. "I appreciate the hard work that's gone on, but now we need the work, we need the work product. We need it now. We need to have the documents and I'm demanding to receive the documents."
The pre-K centers can legally still open next week even without the contracts being registered by Mr. Stringer. But he vowed his fight wouldn't end with the first day of class–and repeatedly emphasized his independence and his willingness to push back against City Hall on the issue.
"At the end of the day, I don't work for this mayor. I think you know that now, and I think you know that I'm independent," he said.
At Mr. de Blasio's press conference, just before Mr. Stringer's, the mayor was joined by the Department of Investigation and other agencies that are tasked with pre-K oversight. But Mr. Stringer said internal investigation isn't the same.
"Folks, they all work for the mayor. I work for the people of this city being the independent watchdog," Mr. Stringer said. "That's how it's always been, and there's a reason for it: we cannot allow a situation where we don't put fresh eyes to these contracts."
Mr. Stringer–who said not making public the contract issue would be "malpractice"–said though contracts have gone without review by the start of school before, he didn't think that should have been allowed. He also called comparisons to prior years "apples and oranges," since many of this year's agencies are new to UPK.
"I have to tell you, I can't sign off on it in a serious way unless I see those contracts," Mr. Stringer, who has been a supporter of the mayor's pre-K program, said.
While Mr. de Blasio argued that Mr. Stringer's review had not turned up any serious violations the administration did not catch, Mr. Stringer said to argue that his review is not necessary "does not suggest a full understanding of what checks and balances are about."
Though he vowed to be independent in his own relationship with the mayor, Mr. Stringer did not opt to criticize by name any other elected officials who might historically serve as a check or a critic to the mayor's policies, who have rarely been out of step with Mr. de Blasio.
Public Advocate Letitia James stood alongside Mr. de Blasio Thursday, and at one point referred to Mr. Stringer as the "individual who is the author of that report."
Council Speaker Melissa Mark-Viverito did not attend Mr. de Blasio's press conference, and released a statement separate from the plaudits of other officials, vowing the council would "serve an important oversight role and will be monitoring its implementation closely."
The comptroller, who has the highest approval rating of any city elected official according to a recent Quinnipiac Poll, said he understood why so many of his colleagues were excited to participate in a roll-out of the program today, and to offer their support in a press release in which Mr. Stringer was notably absent. He, too, is excited about the program, he said–but was unwilling to be "asleep at the switch."
Beyond potential problems with contracts–Mr. Stringer has previously cited an agency whose employee was targeted for child porn charges, though the administration proved that was resolved properly–Mr. Stringer said the delay in providing contracts also suggested "a disorganization that is troubling within the Department of Education."
"When I don't get this information, when 70 percent of the contracts have not gotten to my office and nobody has told me when they're coming–come on folks, come on," Mr. Stringer said. "Maybe you can get me the timeline, but it certainly wasn't answered today."