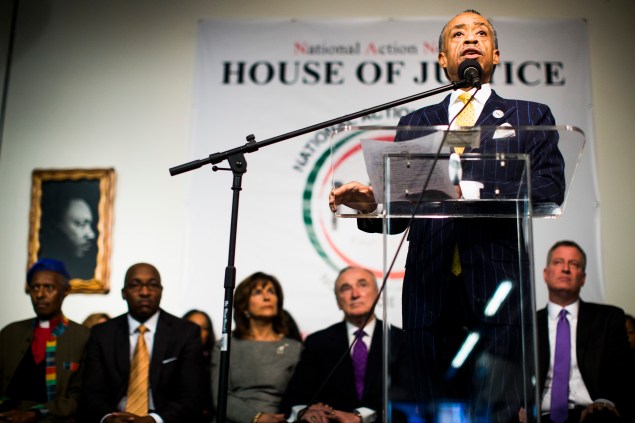 Rev. Al Sharpton said critics of his plan to march across the Verrazano Bridge haven't bothered to ask what that plan is  — and accused them of disagreeing with him on the positions he's taking rather than the venue for his march.
"I think it's kind of absurd for them assume that leaders of civil rights groups, churches and unions would do anything that would in any way endanger the public — we're marching for the public. I think they would be better asking, what are the plans, rather than assume the plan. How do they even know what the logistics are?" Mr. Sharpton asked in a telephone interview with Observer Wednesday night.
The march against police brutality is planned for August 23, just over a month after the death of Eric Garner, a Staten Island man who police were trying to arrest for selling loose cigarettes, ignited controversy citywide.
Several elected officials, all of them Republicans and most of them representing Staten Island, argued Wednesday the march would tie up traffic and endanger public safety. But Mr. Sharpton said none of them had reached out to him or the coalition organizing the march to express their concerns or ask about the logistics before issuing statements.
"I think they would be better saying they disagree with us on the positions we're taking, even thought I don't even think they know what they are," he said.
But several of the Staten Island officials who spoke out against the planned March Wednesday said their opposition had nothing to do with Mr. Sharpton's positions.
"I am not opposed to him or anyone else exercising their first amendment right — just opposed to shutting down the [Verrazano] to do it. The issue is not the content of the march, it's the dangerous and disruptive nature of its location.  The plan would impact a whole borough and countless weekend travelers on a bridge that does not allow pedestrians," City Councilman Vincent Ignizio, the Republican minority leader, told the Observer .
Republican Councilman Steven Matteo echoed those sentiments:  "This is not about the message, it's about the location and the Verrazano Bridge is the wrong location. I fully support their right to demonstrate for whatever cause they believe in, just do it in a place that will not create traffic chaos, mass disruption and pose real public safety problems."
A march through Staten Island's North Shore last month was met with no opposition from local elected officials.
Off-Island, Republican gubernatorial candidate Rob Astorino's camp struck a harsher tone Wednesday night.
"Rev. Sharpton's track record speaks for itself. It would be extraordinarily ill advised to trust him with a bridge. The permit must be denied," spokeswoman Jessica Proud said.
But Mr. Sharpton compared criticizing his plan for the bridge march without knowing the details to police unions criticizing the medical examiner's office ruling of a homicide in the case without seeing a copy of the autopsy report.
"I think everybody needs to take a deep breath and start thinking about the logic of what they're saying. It is illogical to question a plan that you're not aware of. It is illogical to question an autopsy that you have not reviewed and don't have contrary information," Mr. Sharpton said. "I think people now are going into Never Never Land, and I think a lot of it is, they can't defend what happened."
He continued: "They're in an awkward position, that they cannot defend an illegal chokehold."
As for concerns about traffic and emergency vehicles moving between Brooklyn and Staten Island, Mr. Sharpton said his coalition wouldn't do anything to endanger people.
"We're not trying to hurt people, we're trying to stop people from getting hurt," he said.
Mr. Sharpton said others in the coalition behind the march, which he announced Wednesday alongside 1199 SEIU President George Gresham, were working on the details of logistics with the NYPD — but he was not sure how far along those discussions were.
"We would not do anything that would inhibit medical services or traffic or anything like that. That's not our goal," Mr. Sharpton said.
And while Mr. Sharpton said earlier Wednesday he personally would not be applying for a permit — the last permit he'd received was his birth certificate, he said, and he hadn't applied for that one — last night he said other members of the coalition might be. And even when he's held demonstrations without permits in the past, Mr. Sharpton said, he's coordinated with the NYPD on issues like safety.
He maintained the marchers could use the iconic suspension bridge — the starting point of the New York Marathon — without putting people at risk.
"The contingencies they use for the marathon and anything else they use on the bridge would be discussed and worked out," Mr. Sharpton said. "They bring 50,000 people across for the marathon that lasts much longer than our march."
The office of Mayor Bill de Blasio did not respond to requests for comment about the march or its planned location. The office of City Councilwoman Debi Rose, a Democrat who represents the district where Mr. Garner lived and died, also did not respond to requests for comment, though Mr. Sharpton said she attended a meeting planning the march Wednesday and was set to participate.