"If there's going to be a World War III, you want to be in shoe repair business," Lorenzo Powell remembers his late father telling him.
While the world has yet to be hit with another round of global warfare, the sentiment still rings true for Mr. Powell, 51, who has remained in the trade his father taught him over three decades ago, dodging potentially lethal bouts of recession, rising rents, and gentrification.
"When the economy goes bad, the demand for shoe repair increases, and then when the economy rebounds, it kind of levels out but it doesn't drop," Mr. Powell explained. He considers himself lucky because his recent renewal of his lease on his midtown shop, Rostelle Shoe Repair, only increased about 20 percent.
"That's when they want you to stay," he said, "when it only goes up 20 percent."
Filmmakers Duane Harper Grant, 59, and Aaron Cassara, 33, tell Mr. Powell's story in their developing documentary, "The Hardest Working Man… In Shoe Business." The pair raised $7,018 last week at the close of their Kickstarter campaign to fund the costs of equipment rental, transportation, and post-production, proving that the plight of the mom and pop shop is on the minds of at least the 75 people who backed the campaign.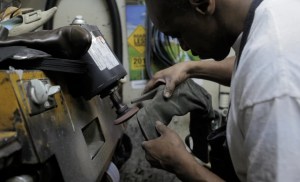 "It's a constant current in NYC," Mr. Cassara told the Observer of the changing landscape. "It's happening at such a fast, rapid rate. And there's a lot of mixed feelings among everyone about gentrification… People who are gentrifiers are also victims of gentrification. There are so many blurred lines about it."
Still, the idea to include a discussion of gentrification in the film came as a clarifying moment for Mr. Cassara while interviewing Mr. Harper Grant's mother. Although the documentary was originally planned to focus on Mr. Powell as a craftsman in a city so dependent on footwear, Mr. Cassara saw more to the story when Mr. Harper Grant's mother mentioned her fear of losing the businesses she's known for 25 years.
"The example of Lorenzo is that it hasn't happened to him yet," said Mr. Cassara. "It could."
This is exactly why Mr. Powell agreed to do the film, considering the possibility of inspiring other small business owners, or even inviting others to give him advice.
As for the tips Mr. Powell has to offer, there's really just one: work hard and well.
"With shoe repair, if you don't give quality work, it's not going to work. It's going to fall apart," he warned. "…You can compromise with food, or even clothing, but not with shoe repair." He believes cutting corners is the reason some other shoe repair shops are short-lived.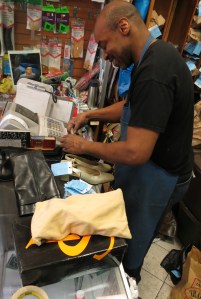 "It's easy to get into the business because you can find any space and make it work for shoe repair," Mr. Powell noted. "It can be a smaller space, it can be narrow… as long as you do good work, you're going to get good business."
"You get meat from the butcher, fish from the fisher, produce from the fruit stand, shoes from the shoe man," Mr. Cassara explained. "They're experts and they're not just mass produced products."
With good work comes good service, which means making customers feel at ease.
"If somebody says, 'Can I ask a question?' I'll say, 'You can ask two questions,'" Mr. Powell said. He recounted a time when a long time customer who was blind entered his shop after a recent storefront renovation, and she was relieved by the familiar sound of his voice.
"I'm totally flat out amazed at how important Lorenzo is in people's lives as New Yorkers, as people who wear shoes, men and women," Mr. Harper Grant mused. "It's blown me away to see how revered he is. The really amazing thing is how he actually learns his craft. How he actually could take a pair of shoes that other people have thrown away and actually fix them and give them new life."
In the spirit of reviving the old, Mr. Powell, who is also a painter and used to have a studio in Long Island City, envisions completing a project he started before Hurricane Irene hit his New Jersey home. He wants to paint portraits of influential African Americans from the 1600s-1700s on the bottom of old shoe soles in a project called "Old Soles."
"It does bring the worlds together, like my passion and my occupation. But there's something more to it," he clarified. "Just paying tribute to people who paved the way."
Today, Mr. Powell is grateful to his father who paved the way for him, and who showed him how to equip the next generation of New Yorkers with the footwear to pave their own way, even if the shops along that path are constantly changing.