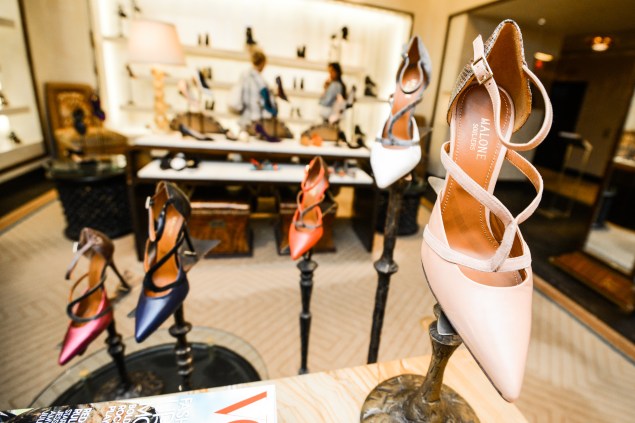 Socialites and editors gathered at Bergdorf Goodman for a late summer luncheon to celebrate Mary Alice Malone's London-based footwear collection Malone Souliers, now on display on the store's shoe floor. The Pennsylvania native and her business partner Roy Luwolt were all smiles as they greeted the well-clad group who dined on lobster salad, white wine and panacotta.
A former Junior Olympic show equestrian, Ms. Malone is statuesque in appearance, even more when so heightened by her footwear, on this particular day, a pair of magenta and blue mules. Ms. Malone's design aesthetic is reminiscent of Manolo Blahnik in form, with the bright, bold patterns and colors that skew slightly younger. Make no mistake, however, these shoes are constructed thoroughly from the inside out. Her process imitates that of a furniture designer, offering careful construction for comfort. From welding to carpentry, to upholstery, Ms. Malone considers herself a "maker" over designer.
"It starts with the technical aspect, understanding the technology behind footwear, playing with the lines and form and function and realizing the difference between what's covered and what's revealed and the sexy elements that go into creating a high heel," said Ms. Malone. "It's going back to an older tradition of shoes, though with a modern edge."
Malone Souliers styles range from a gray open-toed mule to bright yellow and pink mary-janes. Two-toned boots offer a geometric appearance in mixed medias of suede and exotic skin. The brand also offers made-to-measure services, by appointment only at the label's Albemarle Street showroom in London. Prices from $745.