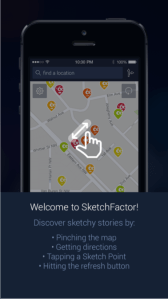 When building an app to identify "sketchy" areas, you are bound to run into some problems. SketchFactor–the app that does just that–has, so far, not been met with the warmest reception since its launch on Friday. Gothamist asked, "Are the crowdsourced interpretations of "sketchy" going to get racist as fuck? Yes, with haste." While Vice News described the app's premise as "unavoidably racist."
SketchFactor is built to detect when its user is in a so-called "sketchy" neighborhood based on a combination of crowdsourcing and available public information about certain areas in big cities. According to Crain's New York, the app–founded by Allison McGuire and Daniel Herrington–was inspired by Ms. McGuire's experience as a confused, young L.A. transplant living in Washington D.C. She pitched SketchFactor at a Lean Startup event in the city, and apparently got great feedback afterwards. Especially from Mr. Herrington. Soon after, the two abandoned D.C. for the mean streets of New York City to work on the idea.
Yet SketchFactor, a finalist in NYC's BigApps Competition, is now preparing to hit some bumps in the road due to the potential subjectivity of crowdsourced opinions on what is "sketchy" or not.
The developers are quite aware that the purpose behind their app could be skewed to suggest racism (side note: they happen to be white), but Ms. McGuire insists that SketchFactor is not aimed to be racist, or target predominantly black or Hispanic neighborhoods as the unforgivably named GhettoTracker app did. "We're about sketchy experiences, not sketchy neighborhoods," Ms. McGuire told the Observer.
However, another issue with SketchFactor is that it may turn out to be totally counteractive anyway. New Yorkers know that it does not matter whether you're in Crown Heights or the Upper East Side: whip out a $500 smart phone on a dark street at 3 a.m., and you're setting yourself up to be a target.
It's just one more app babying adults with shiny phones.