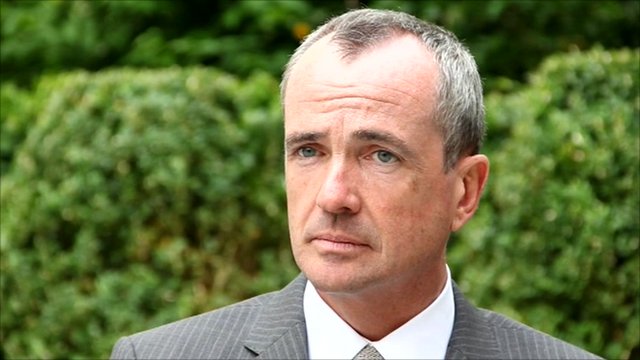 PolitickerNJ tossed the name "Phil Murphy" at a morning woman jogger Thursday and received a dumbfounded look tinged with irritability.
"The Goldman Sachs guy who wants to run for governor. Former U.S. Ambassador to Germany," PNJ explained.
"You mean Jon Corzine," said the woman.
That's a two-minute street encounter with a tortured taxpayer who has at best a gloomy interest in the Stag at Sharkey's fun house carousel called New Jersey politics.
But right now in the backrooms of the state's Democratic political establishment, Murphy (who retired as ambassador on May 29th of last year after a four-year run) continues to avidly make the rounds, gently trying to quell people's fears about his most obvious associations with Jersey's last Democratic governor, a Goldman Sachs product who in defeat dragged a storyline about how he tried to superimpose Wall Street on West State Street.
As 2017 gubernatorial hopefuls Senate President Steve Sweeney (D-3) and Jersey City Mayor Steve Fulop play a very public game of statewide bumper cars, numerous sources tell PolitickerNJ that the as-yet low-key Murphy impresses early.
Jaundiced insiders expecting a Corzine second coming are equally pleasantly engaged by a mix of Frank Skeffington urbanity to go with the requisite financial wizardry.
A Boston born married father of four with a sprawling family home on the Middletown banks of the Navesink River, Murphy has been doing this all summer – grabbing the ears of all those names you associate with the grinding gears – or septic shock – of the Trenton inside game.
It's not as absurd as old school types simply being taken by Murphy's avid Irishness – but then again, Corzine was the fledgling statewide candidate who once innocently announced himself as a French Huguenot to a tableful of feasting Irish and Italian party warlords.
In the words of someone who was there, the remark stopped the room.
Irritability settled in that evening as those pre-Internet political animals found themselves seething in search of the family Encyclopedia Britannica for a French Huguenot joke they could crack the next time they ran into Corzine.
In the words of three sources who sat with Murphy, conversely, "he has a personality."
He has no public schedule planned for now.
But this tour he's taking is making a quiet impact.
"I could see a scenario where Stephen and Steven cancel each other out," said an umbrella-touting insider at Tuesday's rain-soaked Sweeney event in Lyndhurst.
The source had something common with someone else at that same event, a few bodies removed.
They were both – separately – preparing for meetings with Murphy, and – based on buzz – already looking forward to them where a month ago the encounter with another Goldman Sachs guru seemed like a pointless chore.
Where it goes is anyone's guess, but sources say the candidate's just as in it as Sweeney and Fulop, albeit with an underground for now – yet exceedingly personable – approach.