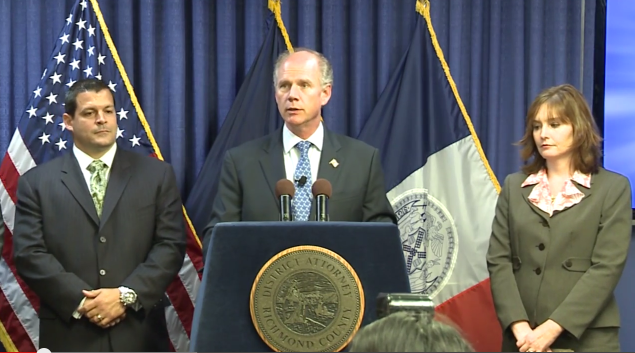 Staten Island District Attorney Daniel Donovan announced today he will hold grand jury proceedings to determine if the police involved in the death of Eric Garner will face criminal charges.
The Republican prosecutor said that the information from the autopsy that determined Mr. Garner's death–following the application of an apparent chokehold by Officer Daniel Pantaleo last month–was a homicide, compelled his decision to impanel 23 civilians to hear evidence and vote on whether Mr. Pantaleo or any of the other cops who brought him to the ground will be tried in court.
"Based upon the investigation that my office has conducted to date regarding the July 17, 2014, death of Eric Garner, and after a careful review of the recent findings of the Medical Examiner regarding the cause and manner of Mr. Garner's death, I have determined that it is appropriate to present evidence regarding the circumstances of his death to a Richmond County Grand Jury," Mr. Donovan said in a statement.
Despite claims from several Democratic members of Congress that the GOP DA is too close to the force to properly pursue charges against police, Mr. Donovan vowed he would conduct a complete and impartial investigation of the incident and those involved.
"Mindful of the solemn oath to enforce the law that I took when I was first sworn into office as District Attorney in January of 2004, and with a full appreciation that no person is above the law, nor beneath its protection, I assure the public that I am committed to conducting a fair, thorough, and responsible investigation into Mr. Garner's death, and that I will go wherever the evidence takes me, without fear or favor," Mr. Donovan said.
Mr. Donovan, however, refused to give any details about who will be called to testify, what allegations will be weighed or even who will potentially face those charges during grand jury proceedings, which are secret by law.
"I will make no comment now, or during the period of time that the grand jury is convened, regarding the days that the grand jury will be sitting; who may be called as a witness before the grand jury; what any witness has or will testify about before the grand jury; when the grand jury will conclude its investigation; what criminal charges will be considered by the grand jury, or against whom the grand jury might consider any such criminal charges," said Mr. Donovan.
Several Staten Island Republican lawmakers–including Congressman Michael Grimm, Borough President James Oddo, and Councilman Vincent Ignizio–have spoken out in defense of Mr. Donovan's integrity and ability to investigate Mr. Garner's death. Mayor Bill de Blasio, a liberal Democrat, also vouched for Mr. Donovan yesterday, saying "he is taking it very seriously and doing his job."
And Council Speaker Melissa Mark-Viverito applauded the district attorney's decision in a statement this afternoon, saying it showed he was taking the matter seriously.
"As a City we must always strive for fairness and justice and it is my hope that the legal process plays out New Yorkers will continue to come together rather than allow our city to be divided," Ms. Mark-Viverito said.
Police union leaders, who have been outspoken in their defense of the officers involved, did not immediately respond to requests for comment.