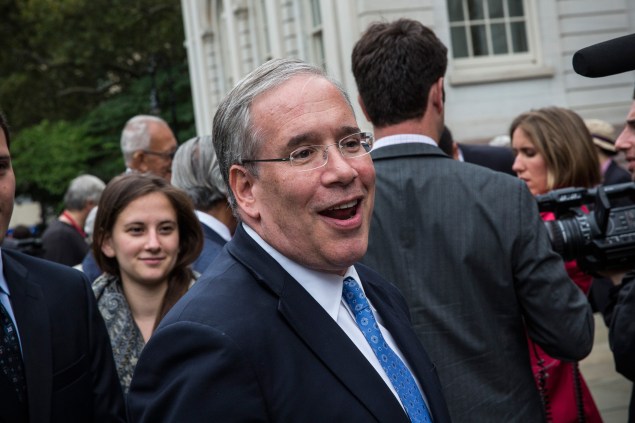 Comptroller Scott Stringer said today his office has not received more than 70 percent of the city's contracts with new universal pre-kindergarten service providers — leaving him little time to review them before school starts in eight days.
The Department of Education has provided only 141 out of more than 500 contracts for Mayor Bill de Blasio's signature education proposal — which will make use of hundreds of community-based organizations to provide pre-K to children.
"I am a huge supporter of UPK, and I praise this mayor for taking on the initiative. This has an amazing potential to transform the educations of so many kids," Mr. Stringer said in a telephone interview with the Observer. "And UPK is that historic opportunity, which is why I think the Department of Education has not lived up to the mayor's expectations."
Legally, the contracts do not need to be reviewed by Mr. Stringer's office before the programs can open — but Mr. Stringer argued that his job is to ensure the integrity of the procurement process and the safety of the programs chosen.
"The comptroller's office provides the only independent review," he said.
Mr. Stringer said he met with the mayor for a "long time" today and Mr. de Blasio assured him the Fire Department, the Health Department and the Department of Investigation were all conducting oversight — something his administration pointed out to reporters last week. But Mr. Stringer noted those are all mayoral agencies.
In a statement, Mayor Bill de Blasio reiterated those same assurances — touting oversight from the FDNY, DOH and DOI.
"Parents can rest assured: these high-quality programs will be ready, they will be safe, and they will meet the very highest standards. We will, of course, make sure the Comptroller has the documents he needs to register contracts in a timely way. But make no mistake, we are pushing forward aggressively to launch our programs this September and will not allow administrative paperwork to stand in the way of educating thousands of children," Mr. de Blasio said.
A spokesman for Mr. de Blasio said handing over many of the contracts to the comptroller's office after the school year had begun is nothing new — and that only 19 of 86 new pre-K contracts, or 22 percent, were registered by the start of school last year.
But Mr. Stringer's office argued his review can turn up significant problems in pre-K programs that can put kids at risk — and already had done so among the 141 contracts he had reviewed. One vendor had a former employee charged with conspiracy to commit child pornography, and another with a vendor that had six violations for failing to screen employees through the New York State Central Register of Child Abuse and Mistreatment, his office said. Mr. Stringer's office noted the administration was able to prove both issues had been addressed.
But the mayoral spokesman said the employee accused of the child porn charge had been promptly fired and the agency employing him had done nothing wrong. The violations for failing to screen employees were corrected in April, the spokesman said.
Still, Mr. Stringer said his review had made a difference thus far.
"We have had cause for concerns. Contracts have been withdrawn, contracts have been changed — much credit to the administration," he said, for doing so when it was needed.
Review is even more important than usual, Mr. Stringer said, because this is a new program, and some of the vendors have not worked with the city before.
"A lot of these new vendors — it could be hundreds — have never been part of this process. So it's important that we have fresh eyes," Mr. Stringer said.
Mr. Stringer's statements represent a rare criticism of Mr. de Blasio's administration by a sitting Democratic elected official in the city. But Mr. Stringer has been willing to differ from the mayor before. He previously questioned the accounting practices used to include the settling of a  teacher's union contract in the city budget, leading to it being changed. And Mr. Stringer was one of the few officials to criticize Mr. de Blasio's call to police about the arrest of his friend and donor Bishop Orland Findlayter, calling it "troubling."