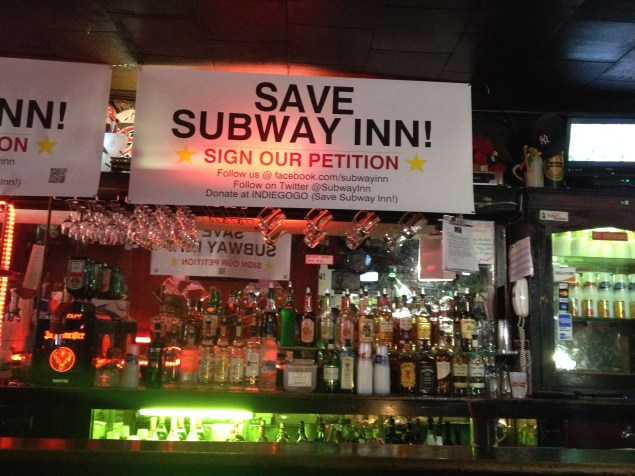 It's the kind of place that has all the domestic beers on tap, where weary travelers can pull up a stool and have a cold one on their way home from a long day of work. But Subway Inn, the 77-year-old family-owned business, is now in danger of closing and they're not going without a fight.
New York City-based development firm World-Wide Holdings Corporation recently completed its ownership of 200 feet of storefronts across the street from the Bloomingdale's flagship store. This includes 143 E. 60th Street, otherwise known as the iconic Subway Inn. Last month, the company gave the bar owners, Marcello and Patricia Salinas, until August 20 to vacate so that luxury condos can take its place. That's when their son, Steven Salinas, 34, stepped in.
"When he was told he had until the 20th to get out, my father came to me out of desperation," Mr. Salinas said. "I have to be here to help my family."
Mr. Salinas, who helps out around the bar, posted the closing announcement on the Subway Inn Facebook page last month. Almost immediately, the community gathered and offered their support to save Subway Inn from relocation.
"As soon as I put the post up that we were closing and it got that many hits, that's when I realized, 'Wow, I can do this.' "
Mr. Salinas started an old-fashioned paper petition and keeps it at the worn-in oak bar for patrons to sign. He says it has received 2500 signatures in the past five days. He also started an online version at Change.org, adding another 1,078 supporters to the cause. Now, he's enlisting the help of a PR firm and a lawyer, and has turned to crowd funding site Indie GoGo to raise money to pay for representation.
"I wanted to do something," Mr. Salinas said. "I'm a fighter by trade and by nature, so I told my father, 'let me do this'."
Michael Shapiro, the lawyer representing the Salinas family, is prepared for a fight too. Mr. Salinas said that World-Wide has made it clear that they were not open to speaking with the family, and he is leaving it to Mr. Shapiro to negotiate.
Mr. Shapiro has been a real estate lawyer in New York City for 35 years and remembers being friendly with World-Wide's president James D. Stanton, after working with him 28 years ago. But when he reached out to Mr. Stanton over the phone, he refused to comment.
"I try to reach out to people and talk, instead of having to go to court, to try to suggest solutions," Mr. Shapiro lamented. "But now, the gloves are off and we're going to litigate."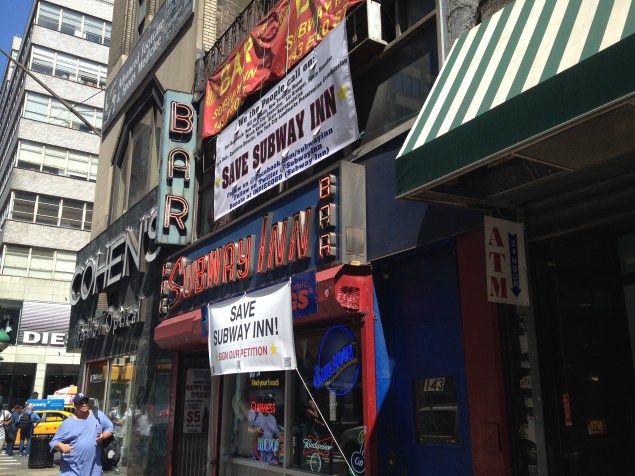 Mr. Shapiro said he hopes Mayor de Blasio and the New York City Landmarks commission will get involved, considering the bar and its neon sign has been an Upper East Side beacon since 1937, when it opened its doors on the corner 60th and Lexington. A photo of Marilyn Monroe, who used to hang out at the bar with Joe DiMaggio, hangs on a wall.
"The sign outside is the original sign, these are the original booths where Marilyn Monroe sat," Mr. Salinas said. "And Tony Bennett came in a few weeks ago."
The Landmarks Commission confirmed that they have been in touch with the family and issued the following statement via an email to the Observer.
"The Commission is reviewing the landmark eligibility of 143 East 60th Street," the statement reads. "However, the Landmarks Commission, by law, cannot regulate the occupancy or use of any building or site."
According to the criteria that the commission uses to determine whether a building is eligible to become a landmark, it must have a special character and be at least 30 years old. With its vintage sign and black and white checkerboard tiled floors, Subway Inn may be a good candidate. But even if the building is landmarked, the commission has no control over what type of business resides there.
The Salinas family has owned and operated their dive bar for more than forty years, after original owner Charlie Ackerman passed away, leaving his bar to Mr. Salinas's father. A portrait of Mr. Ackerman still hangs on the wall behind the bar.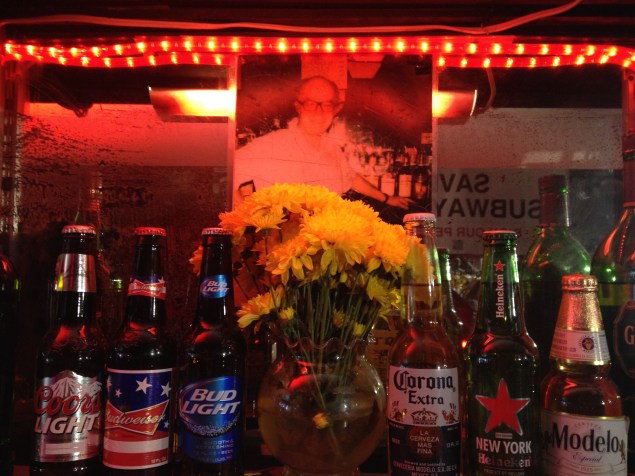 "He started as a porter, then bar backing, then moved his way up to bartender and eventually manager and owner," according to Mr. Salinas.
The elder Mr. Salinas proudly addressed reporters in Spanish at a news conference this morning, explaining what the bar meant to the Lenox Hill neighborhood. His son stood by his side and translated.
"This bar is for the working man, the working woman, the working person, where people come to have a good time," he said. "It's the place they call home."