BuskNY, a union of sorts for freelance street performers, met on the steps of city hall today to protest the crackdown against subway performers, Gothamist reports. These include wrongful arrests, jailing and related legal costs.
The protesters read a passage from the MTA "Rules of Conduct" that lawfully allows for "artistic performances, including the acceptance of donations" with the provision that "they do not impede transit activities." Despite this, NYPD often arrests buskers on the train platforms and this has resulted in the performers taking their shows on the road, or tracks as the case may be, to perform inside the train cars; this particular practice is illegal, however.
Many performers expressed that they had hoped for the bullying to stop with the election of Mayor de Blasio, but instead Police Commissioner Bratton and his "broken windows" policy have started a harsher crackdown on minor offenses than ever before.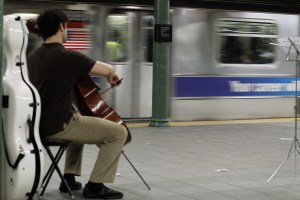 "We dance. We sing. We're not criminals," said Zenon Laguerre, 34, a dancer who busks in MTA subway cars. "You're locking me up for dancing while there's criminals on the street."
Mr. Laguerre said that if a performer receives six violations, it becomes a misdemeanor and five misdemeanors is a felony–he expressed his sentiment that to be charged so harshly for dancing is ludicrous.