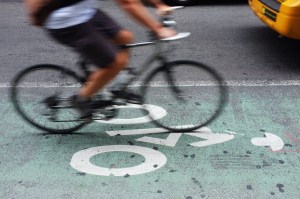 "[For us,] this is like a generic summer job. It's like mowing the lawn but for kids who don't have lawns," Brian James*, 18, told the Observer, while taking a break from his full-time job as a Postmates courier.
A San Francisco-based start-up, Postmates offers delivery from any store or location for a minimum $5 delivery fee. The app offers a selection of store items and the option to create a custom shopping list. Once choices are made, the service will match the customer with a nearby Postmate, already on his or her way to pick up the requests.
"It just seems to be dudes my age who like riding their bikes and like cash," 19-year-old Marcus Lyle*, a native New Yorker, said.
These couriers are Stussy-wearing college kids, from places like Wesleyan and Penn, who, instead of applying for a token internship this summer are pedaling through the city to bring goodies to New York's busiest and laziest. Deliveries range from the outrageously gluttonous—Mr. James once delivered $355 of Blue Ribbon fried chicken—to the bafflingly idle. He once took a package up two floors in a residential building.
"In orientation, they did say we would be shocked by how lazy people in New York are. I 1000 percent am," Mr. Lyle said. "I had a client order a milkshake from some place in Bloomingdales. She lived two blocks away. The delivery fee was like twice what the milkshake was, plus tip, and I literally just walked a tiny, tiny milkshake to her house."
 * * *
Postmates are not making all their money from burgers and milkshakes though. Not only are the city's summer-jobbing teens working for the service, they are clients too.
The Happy Hour deal—two six-packs for $15.00 if you order from the app between 4 p.m. and 7 p.m. highlight's one of the service's flaws, or possibly best features for users under 21. Only over 21-year-old couriers can pick up alcohol but with no training or experience checking IDs, Postmates is becoming the premiere service for minors hoping to score some booze.
Since he is underage, Mr. James purchases his alcohol through Postmates. He and some friends ordered the Happy Hour special with no issues. "We get Postmates like all the time and we've never been carded. It's kind of easy," he said.
Mr. Lyle agreed, admitting that he too orders alcohol from the service. "It's just like a dude. It's pretty chill," he said, later mentioning that while they spoke about the issue during Postmates orientation, it seemed to be considered up to the courier's judgment whether or not to card.
According to Postmates spokesperson Laura Bargainer, "it is each Postmate's responsibility to check IDs prior to drop-off.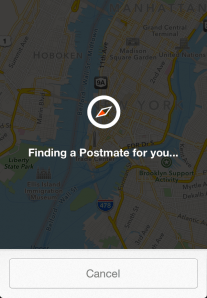 If an ID is not shown, the Postmate is instructed to notify us, and drop off the alcohol at the local Postmates office."
In reality, though, it seems as though Postmates have taken that as a loose rule. When asked while delivering a bottle of wine to an Observer reporter, a Postmates courier admitted he does not card when he drops off alcohol.
"We had the same exact question to ourselves but I don't think I have any authority to check people's IDs," Mr. James said of when he turns 21 and can deliver booze.
With no way to regulate the alcohol delivery process internally, the job seems to fall to the NYPD, who did not respond to repeated requests for comment about steps being taken to prevent minors from acquiring alcohol from the service.
What is the boiling point for Postmates, which launched its service in New York mid-2013? With no training in place to ensure that the deliveries are being made to of age New Yorkers, there seems to be no limit on what can and cannot be delivered. Mr. James said he had never delivered illegal substances before but he quickly added, "to my knowledge."
The service is now the third largest on-demand transportation space, after Uber and Lyft. Its potential for door-to-door delivery only continues to grow. Registration to be a courier is a relatively simple process and only requires that couriers be over 18, have a car or bike and pass a background check. Mr. James got the job only three days after registering online.
The delivery service, like Uber, allows both the customer and the courier to give ratings on their experiences. Mr. James usually accepts and enjoys every job, but sometimes, things don't go as well as planned. "I didn't really look at the shopping list, I just accepted," he said. "I got to CVS and… the first thing I see is a box of Tampax, like a 52-piece box of Tampax. The next item was two bags of large M&Ms. Another item was two large tubs of Vaseline."
"The guy at CVS is giving me the weirdest stare I've ever gotten. I went to [the customer's] apartment, I'm not kidding but this guy was pushing 400 pounds and he comes out in tighty whiteys and a wife beater," he said, noting that the delivery was from a store in the bottom of the customer's apartment building.
Postmates' delivery of alcohol, along with copious amounts cigarettes, Shake Shack and 16 Handles seems to have no end, or regulation, in sight. For Mr. James and Mr. Lyle, their jobs will continue after the summer. Both plan to rejoin Postmates during their winter vacation and on the occasional weekend in the city. From screwdrivers to gyros, the young couriers are willing and ready to transports New Yorkers' odds and ends, keeping the city's residents fed and comfortable without making them leave their couches.
"[Without Postmates,] I would have to throw on pants and shoes, but think how dramatic that would be," frequent user Brian Trunzo said.
* * *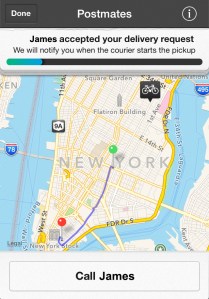 Mr. Lyle, who works an office job at City College during the day, earns extra cash through Postmates at night. Once he is on his bike, he opens the app, clicks "On Duty," and jobs pour in. After checking the customer's shopping list to make sure it's not too extreme (or heavy), he accepts or rejects it as necessary. He picks up the items, charges them to a Postmates temporary credit card, and drops them off at his destination, stopping only to let the customer add a tip and authorize the charges on his phone.
To make more cash, Mr. Lyle usually takes the longer runs, around four miles, to get a larger delivery fee, which ranges from $5 to $25 depending on the distance from the store to the customer. "Sometimes there just aren't that many people ordering, but the couple of days it's been pouring rain, I can make $100," he said.
Mr. Trunzo uses the service to order those specialty items that cannot be delivered through traditional services. Sitting at his apartment in Williamsburg one night, craving Momofoku, which does not deliver, the co-founder of Carson Street Clothiers was introduced to the service when a friend suggested he order from the Noodle Bar via Postmates. An hour later, he had his dinner.
"I drank the Kool-Aid," said Mr. Trunzo, who uses the service at least twice a week. "So far I've only used it for food, I can imagine that if I'm jonesing for a video game, they would go to Best Buy and pick it up. Now that I'm saying it aloud I just might do that."
Standing as proxies for customers craving Shake Shack (Mr. James says he stops by the Shack at least three times a day), Five Guys and Pinkberry, the couriers spend half their time standing in lines and the rest dodging traffic. He estimates he flies through Central Park at 30 miles an hour, veering around taxis, pedicabs, and pedestrians, with his delivery goods strapped to his back.
"If we all had GoPros somewhere on our body and there was a live feed so the person on the other side could see us dodging cabs and shit, we would get like so many tips," Mr. James said, adding that a friend broke his arm while shadowing a Postmate's route.
 * * *
Mr. James and six of his friends jumped onto their bikes once a friend posted about the opportunity in a Facebook group. "It's kind of like I'm having fun all day, riding my bike, and I wouldn't be able to do that with an internship or a normal job," Mr. James said. He and his friends are part of Postmates' 300-strong New York crew.
The service now makes over 15,000 deliveries across seven cities, including Boston, Los Angeles, and Chicago. Postmates allows couriers to pick their own hours and choose which deliveries they would like to complete, making it an ideal jobs for the young collegians. "It's great because I'm not on a set schedule" Mr. James said.
According to the company's website, Postmates riders can make up to $20 per hour on weekdays and $25 per hour on weekends, far more than the standard $8 minimum wage. From the Upper West Side to the Financial District to Brooklyn, the app indicates the hottest for jobs as the couriers rush around the city to make deliveries big and small.
Mr. Lyle notes that he checks the customer's list before he accepts the job. "Thankfully I haven't gotten any weirdoes, who are ordering, like, handcuffs and rope," he said.
New Yorkers may not be ordering from Postmates to hide from the shame of their obscure requests, but the city's reliance on the delivery app to pick up a pack of cigarettes from the bodega downstairs may be even more telling. With the push of a button, New York never has to leave the couch.
*Granted anonymity