Have you ever seen the executive chef of your favorite restaurant in the city and wondered how they don't weigh 500 pounds when they're surrounded by steak, pasta and lemon meringue pie all day?
Us, too. So we took to the green carpet at last night's Taste of Tennis Gala to grill them on how they do it. (Of course, all their tips about walking and portion control went out the window as soon as we entered the event and chowed down on gnocchi bolognese from Davio's, tandoori chicken and biscuit sliders from Suppa and, okay, fine, a few mini cheesecakes from the Cheesecake Factory.)
We also questioned some tennis pros about their diet routines and favorite foods. Aga Radwanska, Dustin Brown, Heather Watson and Svetlana Kuznetsova gave almost identical answers: before a big match, they down giant bowls of pasta — the kind that has gluten, remember that?
Sushi, chicken and rice also hold special places in tennis pros' hearts. And Mr. Brown has a pretty hardcore Chipotle habit. He goes for the burrito bowl with chicken.
The chefs, on the other hand, varied wildly. Here's what they had to say:
Masaharu Morimoto, Iron Chef America
Do you work out?
I do, I do. Stretch and walking, and if I have time, I do yoga. I'm 59 years old so each single joint [is] tight. If I run too much, all the joints are getting hurt. So faster walking, stretching and yoga.
Where's your favorite place to walk in New York?
Actually, my family's lived here since 1985, but I have a lot of travel. Last year I counted, I stayed only two months in my own bed here. I mostly live in airplanes and hotel rooms. So if I have time, I'm using the gym. I do like tennis. I spend more time on golf.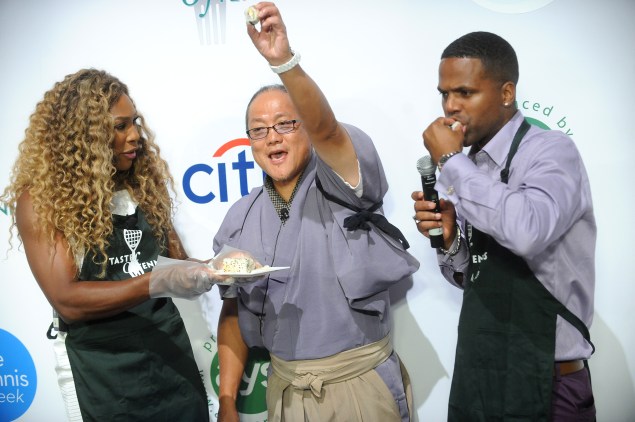 Zac Young, pastry chef at David Burke restaurants
Do you have a fitness routine?
My fitness routine is my daily schedule in the kitchen [for 16 hours a day]… We have four restaurants in the city right now and I basically run between them to whatever is on fire. Besides that, we just got out of Restaurant Week, which is really a month, and I've lost like 10 pounds doing nothing other than that. It's like a built-in routine.
What do you eat all day?
In pastry, I'm surrounded by sugar and fat all day long. At the end of the day, I'll look at what I ate all day and I didn't have any protein or vegetables. My trick has been moderation. My cooks make fun of me because I'll eat everything with a little cocktail fork, but it helps. If you can't shovel it in your mouth, it makes it a lot easier.
How are you a pastry chef? [Mr. Young is in great shape.]
That's, like, the number-one comment people make to me… And I'm like, yes, and I'm also 5'5″, so 10 pounds on me is massive. So I have to be very careful about what I eat and it's really hard to do when you're surrounded by fat and sugar and carbs all day long. My schedule keeps me so busy that I don't have time to sit down and eat. I have to run up a bunch of stairs, whether it's in the hotels or in the subways.
Marc Murphy, founder and executive chef, Landmarc Restaurants
Do you have a fitness plan?
Have you seen this temple? Of course. I mean really, what I do is I try to walk a lot in the city. I'm a true believer in getting off the subway two stops earlier and walking if I'm early. I started running recently. It's the only time I'm by myself. Yesterday, I ran six miles in a loop around the park… I have a house in Long Island. I like to go surfing all the time.
I have my Landmarc restaurant in the Time Warner Center and I'm a member of Equinox there. Mostly I do, like, the elliptical thing because it's less pounding on the body [than running]. I try to life some weights and stuff and go back to work. No classes, but somebody's told me maybe I should do that yoga thing. I might look like a fool in there.
Nobody's supposed to look at each other in yoga!
It's New York, come on. Everybody's making sure of what they look like. I know how it works.
Do you find it tough to stay in shape when you're surrounded by delicious food all day?
No. I like to eat and drink. It's not that difficult. I mean, I eat food. A lot of people don't eat food. That's the problem. They eat like crap. And if you just eat food, you're okay. If you're going to have Twinkies and shit all day… Or bars. Everyone's eating these bars. What plant does that come from? If you eat things that don't come out of boxes or bags, you're fine.