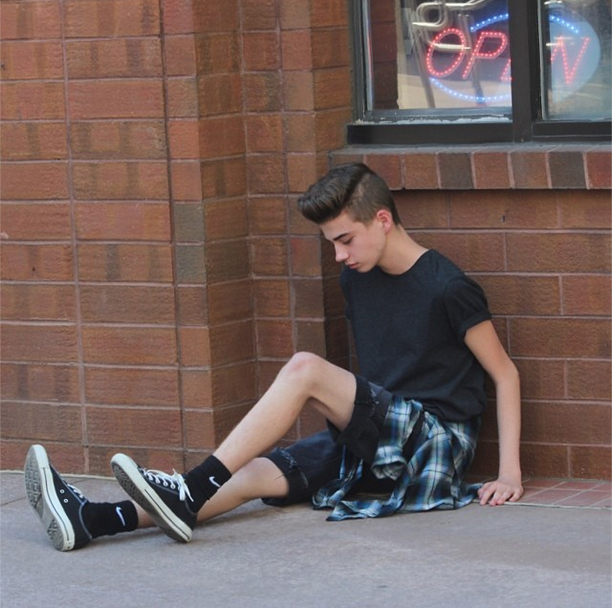 When I was in middle school and high school, the popular kids' followers were their less cool classmates. To be considered cool, you just needed your classmates' seal of approval. You were cool or you weren't; it wasn't quantifiable.
Now, though, the Seth Cohens and Aaron Samuelses of yore have nothing on teens like @SpencerGoulding. Not only is he young, good-looking and stylish — he also has 130,000 Instagram followers endlessly praising his every digital move.
We haven't been able to glean what, exactly, got him to his coveted spot as one of the most-followed teens on social media, and he didn't respond to an interview request. So let's do a deep dive and try to figure this one out.
He lists his name as Spencer Goulding. But for teens on the Internet, a surname is a mutable vehicle best used for showing loyalty to your favorite musician. It's anyone's guess whether this is his real name or a tribute to Ellie Goulding.
Spencer is a social media jack of all trades. He's most popular on Instagram, where he's amassed 129,989 followers, mostly by posting pictures of himself brooding in trendy '90s-throwback outfits:
http://instagram.com/p/qXc5MoQkr4/
He tweets to his 4,900 followers:
Yes, 30 retweets and 56 favs on that puppy. And he makes some pretty interesting Vines, too:
He also announced yesterday that he's starting his own YouTube channel. He'll be posting weekly… or biweekly… he's not really sure. Despite his constant air of ambivalence, his fans are rabidly excited about every single thing he does online:



He even has fans from across the pond.

Each photo gets thousands and thousands of likes. Some of them even cause controversy among Spencer's fans. Just like in a high school cafeteria, bullies abound. But eff the haters, this post is about Spencer.
His massive popularity and devoted fans could draw parallels to the teen idols of yesteryear. The concept of the teenage girl was practically a by-product of the Beatles' popularity in the 1960s. After they stepped aside, other bands like the Rolling Stones were there to corrupt 14-year-olds' impressionable minds.
Fast forward a few years, and the music industry powers-that-be realized they could manufacture the same hysteria by throwing some dudes together and licensing their images. From this, we got New Kids on the Block, 'NSync, the Backstreet Boys, Hanson, the Jonas Brothers, One Direction.
There have been solo artists, too, who occupied the place of the teen heartthrob, like Aaron Carter or early Justin Bieber. And no Bop or Teen Beat retrospective would be complete without the actors: Leonardo DiCaprio, Johnny Depp and, uh, Jonathan Taylor Thomas all got their start in the pages of the teen mags.
Of course, One Direction is still integral to the 2014 teen's DNA. But Spencer Goulding's popularity, like that of the Instagram witches, is just proof that Instagram is supplanting the traditional print magazine. The network seems to be most teens' go-to space for visual inspiration. If teen mags like Bop and Tiger Beat want to stay relevant, they should be combing Spencer's feed for inspiration, too.
So what's next for Spencer Goulding? He's likeable on camera and he's got a built-in fanbase that most TV presenters won't bring with them; he'd make a great host on MTV. He just might have to pep it up a little bit for the cameras, because no one likes a sad VJ.
He also clearly has an eye for fashion, so maybe he'll go into that world. But even if he, for whatever reason, chooses to shut down his social media stardom as he grows up, there's nothing wrong with that. I think we all know not every teen heartthrob ends up being John Lennon.