Moments before speaking with Athena Reich, a Lady Gaga impersonator, something big happened: the star herself re-tweeted her.
Ms. Reich sounded breathless on the phone. "Hold on. I'm freaking out," she said. "This is kind of amazing."
The tweet was about #Artbirth, Ms. Reich's one-woman Lady Gaga tribute show, which finished its New York run this past weekend. With the re-tweet, Gaga was blessing the production.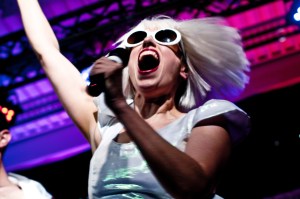 Celebrity impersonators are often misunderstood. As a trade, it started appearing in the late 70s, as MTV and SNL began fueling our interest (and obsession) in celebrity culture. The first thing professional impersonators–or tribute artists, as many prefer to be called–will tell you is that they approach the job like any other performer.
Elaine Chez, one of the first celebrity impersonators to appear on the scene in the 80s, is a charismatic blonde who was training to be a Radio City Rockette when she fell into the role of Marilyn Monroe. She performed as her for the first time at Studio 54, when the scheduled act bailed out. A friend studying at FIT whipped up a gown for her that day.
"Doing impersonations wasn't as trendy then. It just fell in my lap. I got completely thrown into the mix," she said.
Shortly after, a then little-known blonde diva named Madonna (who sought early inspiration from Ms. Monroe) was competing with Ms. Chez in the nightclub circuit. While Madonna went on to pursue other endeavors, Ms. Chez remained a downtown fixture.
As the years went on, Ms. Chez found her impersonations were becoming increasingly popular and lucrative. She began, as she still does now, to perform at private parties and events, and her acts have expanded to include Madonna, Joan Rivers, Cher, and Ellen DeGeneres, among others.
"I do all the middle aged divas!" she said.
A career highlight came in 1999 when she modeled the actual dress Ms. Monroe wore in the 1959 film Some Like it Hot at a Christie's estate action. Ms. Chez attributes her curvy frame–much like the bombshell herself–for the reason she got picked.
Though she found success before the era of the internet, Ms. Chez has fully embraced it. A few years ago she joined GigMasters, a site that's revolutionized the once disparate business of celebrity impersonations. Think of it as a Craigslist for entertaining; the website aggregates companies and performers who can be booked for events. In their 'variety acts' section celebrity impersonators appear in the dozens. Users can upload a profile with details about their act including photos and videos, as well as ratings.
Like Ms. Chez, Athena Reich, the Lady Gaga impersonator, uses GigMasters. Since joining in early 2013, she has been booked for parties and events and even flown across country to perform–on one occasion, to a party in Napa Valley, California and another when a father booked her to perform for his daughter's pre-school class in Atlanta.
Ms. Reich, who has lived in New York City for 14 years, has a background in performing arts, especially improv. Years ago, when Lady Gaga was first rocketing into our cultural consciousness, people started telling her they looked the same.
"People were like, 'Oh my god, you really look like Gaga!' 'You sound like her, too!' 'Could you come and perform at my party?'" Ms. Reich told us. "I was like, okay, wow, I'm getting offers for money. Usually it's hard for people to give you money."
With the look and the performing chops already there, Ms. Reich set about becoming one of the first, and most professional, Lady Gaga impersonators. After posting a demo reel online, she started getting gigs. And since joining GigMasters they've risen exponentially.
"I do every kind of party you can imagine. Weddings, birthdays, bat mitzvahs, corporate events. Theaters hire me. Colleges will hire me to do a big show. It's remarkable," she said.
Mike Caldwell, the CEO and co-founder of GigMasters, told us it's all part of the growing trend of parties that push the envelope.
"There are so many high-end event planners who are being asked by their clients, 'Look, I want to do something that my guests have never seen before. I want to come up with something that's extraordinary.' And that's where we [GigMasters] come in," he told the Observer.
Mr. Caldwell started GigMasters back in 1997 with two partners, envisioning the website as a launch pad for musicians to book gigs. What it blossomed into though, was a gathering place for talent that goes far beyond the three-piece jazz band. On GigMasters you can find everything from snake charmers and human statues to tarot card readers, all at your disposal. Mr. Caldwell was surprised at the community of impersonators that formed on the site, but says that it's now invaluable to their operation.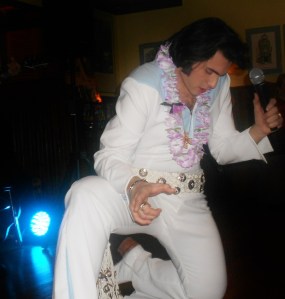 Lamar Peters, who is a second generation Elvis tribute artist, told us that even with GigMasters finding a sense of community among other tribute artists can be hard.
"Well there's a lot of competition, of course. Just like any other job. It's like a car salesman–you look at who's selling more cars. In this case, it's who's selling more shows," he said. "And I perform four nights a week."
Mr. Peters said he fell effortlessly into the role of Elvis. For one thing, his father was among the first and most preeminent Elvis entertainers on the East Coast. It also doesn't hurt that, with his olive complexion and coiffed black hair, he shares a striking resemblance to the King of Rock and Roll himself.
"I can't go one day without people telling me 'Hey, you know you look a lot like Elvis,'" he said.
Mr. Peters, a Queens native who was raised among entertainers and has a background in dance, also steps into the shoes of many rock and roll superstars. As part of "The Rock & Roll Review Show," the 90-minute show he conceived, Mr. Peters performs as Sam Cooke, Johnny Cash and Jerry Lewis. But Elvis remains enduring.
"Elvis wasnt a joke. Simply put, he was the best he ever was," said Mr. Peters. "And so I try to deliver that to my audience."
Of the three impersonators approached, all shared a reverence for the people they lovingly pay tribute to in their performances. But, as Ms. Reich pointed out, one must be mindful of the line between reverence and obsession.
"Sometimes you'll see people who come at it more from the place of over-zealous fan," she said. "And that's not what I do."
And they all agree they can't imagine doing anything more thrilling.
"I'm so privileged," said Ms. Chez. "I've been to the top of every skyscraper in Manhattan for the best VIP parties. I've met Henry Kissinger. I've lived so many lives."