"It's a part of the gestalt of the Upper West Side, and I like to go where the gestalt is," said Gail.
She was not speaking of Lincoln Center, the Museum of Natural History or Riverside Park, all intrinsic elements of the area. Gail, who was in the midst of hunting for the perfect peach, was referring to Fairway, the grocery store she has shopped at almost exclusively since moving to the neighborhood 28 years ago.
In a city rich with corporate imports like Whole Foods and Trader Joe's and expensive gourmet markets like Dean & DeLuca, Fairway manages to walk a tight line: It balances the advantages of a chain supermarket, such as a wide selection and moderate prices, with the benefits of a family run, smaller business—famed customer service, gourmet products and, perhaps most notably, a certain New York sensibility.
The business is a city classic. Though it has since expanded, the store's Upper West Side flagship sits on the original Fairway's footprint at 74th and Broadway, where Nathan Glickberg, a Russian immigrant who started a produce stand in the 1930's, and his son Leo first opened the market's doors in 1954.
"We have pictures of my grandmother in a white uniform, working in a store. I grew up with sawdust on my hands," reminisced Howie Glickberg, Leo's son, who now serves as the company's vice chairman of development.
Despite a short interim during which the Glickberg's sold and repurchased the store, Fairway remained a single storefront on the Upper West Side for 40 straight years. This has changed in the past twenty years, with the market growing to become a mini-empire in the tri-state area, beginning with the opening of its Harlem store in 1995. Since then, the brand has expanded to the suburbs and outer boroughs, with each opening promising long lines and traffic jams. Its sixteenth store, which will open in Tribeca this fall, marks the company's furthest foray downtown.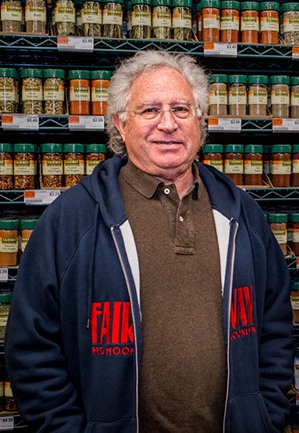 With a sense of neighborhood charm characterizing many of its stores, Fairway maintains the identity of a family-owned market, despite becoming a public company in 2007. At the time, one of Howie's partners was moving to South Carolina and the other was ready to retire, so the company began seeking outside investors, with the private equity firm Sterling Investment Partners LP finally buying control of the company.
"The partners at Sterling had all been investment bankers in New York City and all knew Fairway," said Bill Sanford, Fairway's interim CEO. "They understood the brand, and they thought it would be a great brand to try to expand."
This understanding of the brand was very important to Howie, who wished to maintain a sense of intimacy in the stores he inherited.
"It's always been a family business," said Howie, who wore a casual polo and nostalgic smile as he spoke in a spirited New York accent—"I'm a real Manhattan kid"—of growing up in a grocery store. "When I was seven, eight, nine years old, we used to sell Christmas trees outside. It was my job to take the broken branches and make wreaths out of then."
Judging by the several adoring employees who stopped by the Fairway Cafe table where we sat, the Glickberg family has remained an integral part of the company in a way that extends far beyond business titles.
Howie is all hands-on-deck, never afraid to rearrange disheveled apples or jump in at a cash register. He works full days for weeks on end when a new store opens, treating each with as much care and attention to detail as one would imagine his grandfather treated his fruit stand 80 years ago.
"We are in the stores. We make sure everything in that store is perfect," Mr. Glickberg said of his hands-on approach.
He stays true to the Glickberg's original formula for success:  "A store that could sell conventional groceries—tunafish, toilet paper—cheaper than everybody else, and all of our specialty items, nobody can touch us on that. If you give people good food at a good price, they will find it and shop there."
Of course, prices have gone up since the original stand: a 1930's price-list on the wall of Howie's office has rolls selling for one cent each and sirloin for 37 cents per pound. But Fairway still draws customers in with its famous deals and moderate prices, he said.
"I have yet to find cheaper prices," said Richard Smith, a writer who has shopped at Fairway for 30 years. He held up a bottle of seltzer: "Fifty cents," he boasted, proudly beaming at the good deal.
Yet despite these big box store prices, customers still get the quality and variety of goods usually reserved for gourmet markets or high-priced chains.
Though the store started out specializing in produce, Howie and his father worked to expand the original vision.
"We brought in organic products—it was '94, just the beginning of that. We brought in specialty items," he said, describing other additions such as comprehensive meat, seafood, bakery and cheese departments.
"We hired Steve Jenkins, he went over to Europe and would bring back items nobody else had," Howie added, referring to Fairway's infamous cheesemonger who began working for the company in 1980, was the first American to earn the French-certification of "maitre-fromager" and whose book won a James Beard Award.
Today, a shopper can get lost amidst the aisles of exotic condiments, freshly made baked goods and organic produce, and the prepared food section offers a global array of dishes.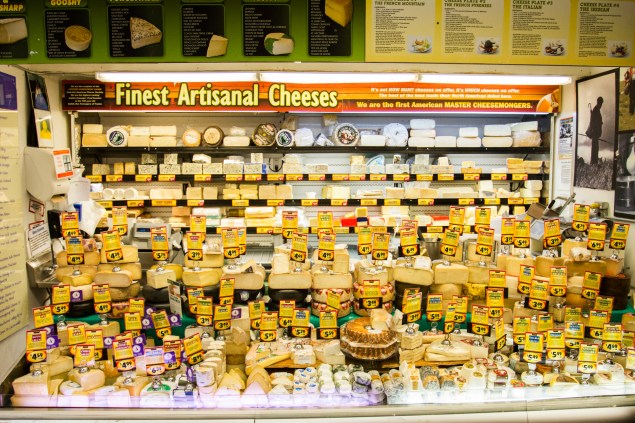 "It's an ordeal to shop here, but part of the ordeal is the fun of finding stuff that you won't find anywhere else," said Mr. Smith, referencing a zucchini diavolo that, he said, would "seduce anybody."
But it's the quality, not just the variety, which keeps Fairway thriving. Howie ensures an expert in the field runs each department, attributing part of the store's success to hiring the best people and "always someone who knows more than [he does] about their field."
This mantra has proved useful, with shoppers noting the knowledgeable staff—from the cheesemonger to the fishmonger—and high quality of the foods.
"You see that brownie," said Mr. Smith, pointing to one of the more simple looking desserts in a case full of elaborate cakes and pastries. "If I had to go to an emergency room, I'd want the brownie on my chest, so it would leak the goodness into my body and make it all better."
But Fairway has always strived for more than just offering the best products, the brand seeks the best customer experience, which is partly found in the friendly, familiar service its employees provide. To guarantee this top notch customer service, the company made some heads of departments junior partners when Sterling bought the company, giving them an invested interest in the brand's success and identity.
"Running into the same cast of characters, it feels like a neighborhood place, a New York place," said Hillary, who shops at Fairway for the wide selection and competitive prices.
In order to provide a neighborhood feel to stores outside the city, the company had to create location-specific identities for each store so it could become an integral part of the community it serves.
"Each store has its own personality. New York City stores, because of rent, you put as much product as you can and make the aisles as narrow as possible," said Mr. Glickberg, referring to a feature with which Fairway shoppers are all too familiar.
The suburban stores, he continued, have wider aisles, but the same recognizable, descriptive signage—though Mr. Sanford added these are no longer done by hand as in the shop's early days.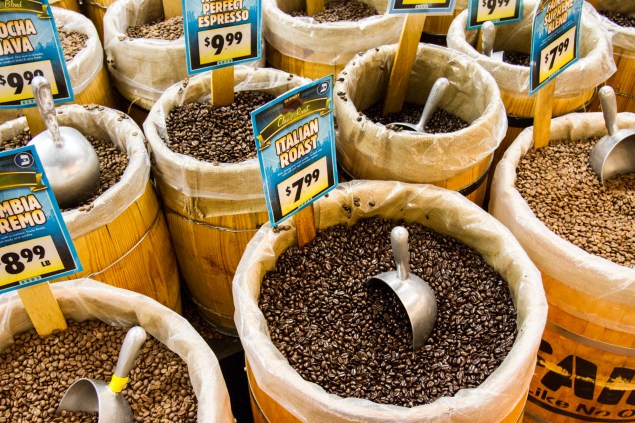 Over the years, the company has grown to become an intrinsic part of the city by helping local communities get back on their feet after a disaster, with its heroic efforts after September 11th and Hurricane Sandy perhaps the most notable examples of this.
"Two days after September 11, [firefighters] came in the store to go shopping, and these guys were covered in soot. I told them, go back to the fire department, we'll bring you food, make sure you get everything," Howie said.
And despite the Redhook store's complete destruction in Hurricane Sandy, the company threw itself into helping the community.
"It dawned on me that as bad a shape as we were in, the neighborhood was in worse condition," said Howie. "All of these little stores in the neighborhood… they were finished, their whole life savings were gone."
So they worked with the City government to donate truckloads of food to various areas of the city. And, furthermore, the store ensured its Redhook employees, many of whom were local residents, were not out of work by providing them with jobs at–and transportation to–other store locations, creating a connection that would last long after the rebuilding efforts ended.
"It paid off. When we reopened the store, the employees were so happy," Howie said.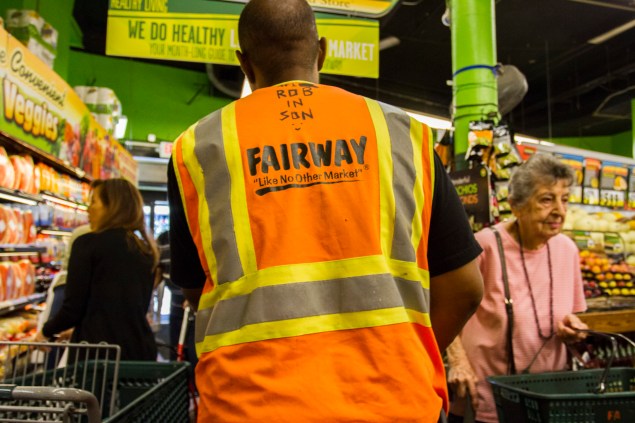 But the brand does not wait until disaster strikes to become involved in the community. The stores regularly support food banks, donate to local charities and hire veterans.
Additionally, the stores host community events benefitting local firefighters, police departments and community organizations, leaving customers feeling valued and connected.
One of the most celebrated of these is the annual firefighter barbeque challenge, an event which almost every store holds that pits teams of firefighters against each other, with the prize of a donation of 25% of the day's proceeds to the winning team's charity of choice.
These cook-offs, which also include children's activities and local vendors, bring together many aspects of Fairway—quality food, community service and, perhaps most notably, a neighborhood spirit.
For despite Fairway's many enticing qualities—low prices, knowledgeable service, high quality food—most say the store's most striking characteristic feature lies in its charm.
"I feel like it has a lot of character, more than other stores," said Eugene, who, being raised on the Upper West Side, has shopped at Fairway as long as he can remember.
"It's very New York, people pushing, things stuffed on shelves," he continued, gesturing to a precarious looking display of barbeque sauces that would impress any pit master in its breadth.
While Fairway's charm has been enough to keep it alive and growing, it has not prevented competition.
In 1998, Joe Fedele, originally Mr. Glickberg's partner at the Harlem store, left under contentious circumstances to start FreshDirect.
And that blow was just the tip of the iceberg. Most would consider Fairway's biggest rivals Whole Foods, which took New York by storm since it first opened in the city in 1997, and Trader Joe's, which opened just two blocks south of the original Fairway in 2010.
Mr. Glickberg maintains that "with the best food, the best prices and the best service" shoppers will keep coming, despite any trendy newcomers.
"We're the only store that has everything the other stores have, plus what a conventional supermarket has," he said.
But with wider aisles and displays to make your mouth water, Whole Foods promises a food shopping experience that contrasts to the New York-style cart-to-cart traffic and crowded aisles of Fairway.
And though some Fairway customers admitted Whole Foods was more "pleasant" and "less chaotic," others find Fairway's helter-skelter atmosphere alluring.
"If you go to Whole Foods, it's a very gentlemanly experience," said Mr. Smith, his smirk revealing that gentlemanly is not what he is looking for—unless he is shopping for peanut butter, in which case he confessed he visits the competitor to grind his own.
And while Trader Joe's, with its Hawaiian-shirted employees and in-house products, may offer good prices, it lacks the variety and specialty food departments that Fairway shoppers seek.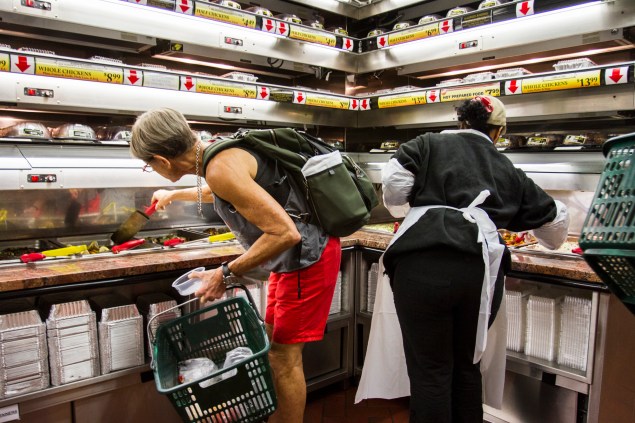 So despite these relatively new competitors, Fairway is here to stay—and grow. Though plans to expand outside the tri-state area are not imminent, moving to other metropolitan areas is a possibility, according to Mr. Sanford.
No matter how far the new stores are from the flagship, however, the company will work hard to maintain its signature charm.
"When we were a small chain, I would be in every store all the time, checking things and making sure everything's right. Now you have to train other people to do it," Mr. Glickberg said.
But while he may no longer be able to physically be on the ground of each store, a piece of the original charisma, a quality started and kept alive by his family, stays with each.
"When it's a family business, there is a lot of ego involved, a lot of pride. I work, I get my hands dirty, I love that, it's in my blood," he said with a proud grin forming on his face. "We had this one little store, and we've been able to duplicate it on a much larger scale, but we still keep it feeling like a family."