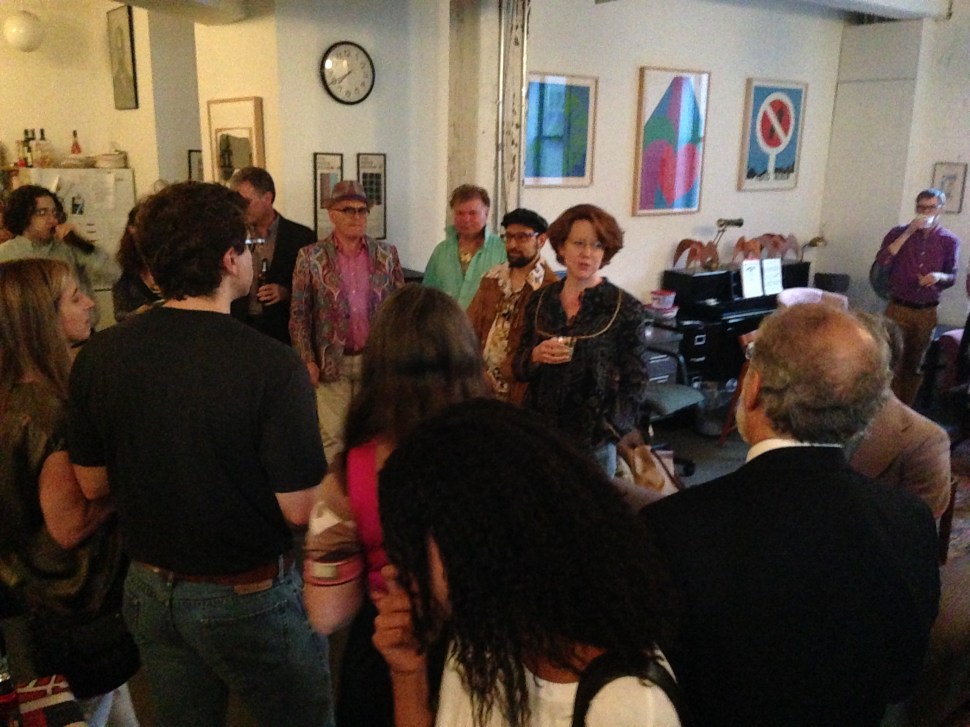 Rick Perlstein writes books big enough to hold open the heavy door in the Observer's bullpen. Last night, the Paris Review held a 70s themed party to celebrate his third installment in a four-part opus that chronicles the rise of modern American conservatism from Goldwater through Reagan.
There was the book's champion, Jon Karp, publisher of Simon & Schuster, feeding Cheerios to the cutest red-headed 14-month old imaginable. A dude from Hip Hop Weekly showed up because Mr. Perlstein "gets it." Alex Nazaryan from Newsweek came by with Paris Review editor in chief Lorin Stein. Other S&S'ers showed up, as well — president Cary Goldstein and publicist Larry Hughes. And the interns seemed to take special delight in donning 70s costumes – one called Parker from the author's alma mater, the University of Chicago, looked exactly like Cynthia Nixon's hippie character in the Kristy McNichol-Tatum O'Neal vehicle Little Darlings. Rick's brother, Ben Perlstein, couldn't make it because he manages bands; when the Hold Steady's road manager quit mid-tour, he had to zoom to the rescue in New Mexico. But his own hold steady, Jennifer Osbourne, author of The Other Hollywood: The Uncensored Oral History of the Porn Film Industry, was there. So were Joan Walsh of Salon and the comedienne Lizz Winstead. David Lavin of the Lavin Agency was resplendent in period costume and historians Julian Zelizer (Princeton) and his wife Meg Jacobs (MIT) made it, too, as did MSNBC producer Anne Thompson.
I stayed up most of the night reading The Invisible Bridge and it's excellent. Mr. Perlstein has the rarest ability—William Shirer comes to mind—to portray an era with both the immediacy of a journalist and the perspective of a historian. It's electrifying to anyone who, like me, remembers the 1970s but was too young to understand what was happening as the country went collectively nuts—remember the "Whites Have Rights" demonstrations in Boston and the mild-mannered heiress Patty Hearst turning machine-gunner with Stockholm Syndrome? The Observer published a fantastic piece by Mr. Perlstein this week marking the 40th anniversary since Nixon's resignation and it's been exciting to see this new book garner widespread praise—Bridge got a valentine from Frank Rich on the cover of the Times book review this week and George Packer loved it up for 4000 words in the New Yorker.
Unfortunately, the book's release has been a bit marred by a kerfuffle over plagiarism allegations. I've read the entire back and forth, from accusation to response and all the follow-up stories. In a sadly predictable way, all the conservative writers (Tim Cavanaugh, Matt Lewis) side with the accuser, venerable Reagan biographer Craig Shirley, and all the liberal writers (Paul Krugman, Charlie Pierce) back Mr. Perlstein. Then there's the ol' reliable New York Times, reducing it to a simple he-said/he-said, giving equal time in the same way one supposes they might to those on both sides of the climate change issue.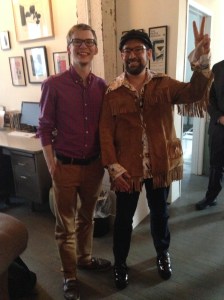 The Observer is not an unbiased observer. Rick Perlstein was a friend in college and we worked on the student newspaper together. But here's the right answer: Mr. Perlstein did nothing wrong. He wasn't "sloppy" in his research and he certainly didn't plagiarize. The case against him involves a bunch of descriptions of events that Mr. Shirley thinks too closely resemble his own previous descriptions of the same events. Mr. Perlstein abundantly acknowledges Mr. Shirley's work, over and over, in notes online and in the acknowledgements in print. But the truth is, we wouldn't be having this conversation if Mr. Perlstein hadn't chosen a single word—"festooned"—to describe a scene in Kansas City. The unusualness of that word is the only thing that gives Mr. Shirley's accusations any oxygen, but as a friend of both mine and Rick's from college pointed out, when the subject is "bunting," the verb "festooned" is not even that unusual. And really, so what? As Mr. Perlstein correctly asserted in a text to Mr. Lewis, "ordinary phrases are not entitled to copyright protection."
Mr. Perlstein, who's been a streetfighter-with-words at least since I've known him, hasn't done himself any favors by dismissing the charges with personal attacks on his accuser, calling Mr. Shirley "Ann Coulter's publicist," which is true but irrelevant.
Last night, wearing bell-bottoms, platform heels and a fringed suede jacket, the author took the high road.
He noted the juxtaposition that "Mr. Shirley has sued me for $25 million and tried to keep people from reading my book; I've told everyone to read his book."
Mr. Perlstein gave a short toast thanking everyone for support through a challenging launch and noting that the mini-controversy may have helped sales—on day 2 after publication, the book was already #20 on Amazon.
Then he closed with a joke. "You like my outfit? I stole it from Craig Shirley."