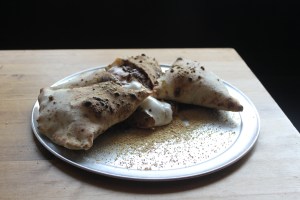 The s'more, the archetypal, all-American emblem of childhood, is currently in the midst of a renaissance. In recent months, this unsophisticated campfire classic has bid goodbye to its roots and begun to firmly establish itself as a staple on dessert menus across the city. In short, to use a phrase coined by chocolate connoisseur Max Brenner, this is the summer of the Urban S'more.
The Urban S'more is an unconventional take on an old classic. Consider the S'mores Roti on the menu of the newly opened Williamsburg-based Pasar Malam, or the S'mores Pie on offer at Beauty and Essex. You can buy a S'mores Milkshake at Sugar and Plumm, or sip on a S'mores cocktail created by the confectioners Sugar Factory.  Some of New York's most exciting and dynamic chefs have fondly embraced this childhood treat, and have re-invigorated it. Its revival is testament to the culinary landscape of New York, with its constant desire to innovate, to experiment, and to have fun with what we eat.
For Paul Abrahamian, founder of Sticky Fingers Joint, fun is the fundamental contributing factor in this summers demand for S'mores. Lounging in his gourmet fast-food chicken shop with his cap askew, Abrahamian spoke of the rising cultural phenomenon that he is catering for: adult-olescence. He produced a reel of Instagrammed photos on his phone, showing hordes of crazed young professionals viciously jostling each other in their bid to get their hands on his S'mores fries.
The fries, which are golden and crispy and topped with layers of melted chocolate and marshmallows, are worryingly addictive. Apparently there is a pregnant woman who has developed an intense craving for them, and erratically stops by the shop at all hours. "You just can't go wrong with marshmallows," Abrahamian explained wisely. "The S'mores fries are so popular because they put a creative spin on an old classic."
Emily Hyland, the founder of the eponymously named new pizzeria in Clinton Hill, agreed that the increasing popularity of the Urban S'more reflects a growing celebration of childish fun. "Brooklyn is just a huge, post-college campus," she reflected. "This is a demographic that has shared memories." In response, her husband created the S'mores Calzone. Delectably sweet and delightfully messy, it encourages an inclusive, hands-on approach to dessert eating.
On first sight, the calzone appeared light, airy and suspiciously innocent. Once sliced, however, it started to ooze melted chocolate and wisps of stringy marshmallow, collapsing into a delicious mess. "Pizza gets a lot of criticism," Ms. Hyland observed. "But the great thing about American comfort foods is that they are a lot of fun. They can be however you want them to be. That is why the S'mores Calzone is our most popular dessert."
For others, however, the growing appetite for the S'more is more complex. Its appeal does not lie merely in a comforting reversion to childhood. Instead, the power of the S'more emanates from its ability to connect people. It is suggestive of a shared sense of intimacy, of excess and delightfully furtive indulgence. Vannesa Shanks, the owner of St. Mazie Bar & Supper Club, hopes that the sophisticated version of the S'more on her menu will transport diners beyond the pure, halcyon days of their youth and provide them with an experience that is lavish and opulent.
Ms. Shanks attitude is in fitting with the atmosphere of the restaurant–located in the spot of an old, illegal gambling den and boasts a patio that is heavily covered by vines that, years ago, were illegally smuggled over from Italy.
Her version of the dessert, created by chef Mike Brooks, is therefore a rich, seductive take on the S'more. Formed from a thick, syrupy salted caramel mousse, it is topped with homemade graham crackers and an artfully charred, melting marshmallow. "It's popular," explained Ms. Shanks, "because it points to something more."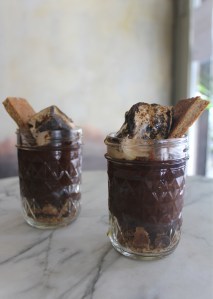 Ms. Shanks belief in the bonding power of the S'more is reiterated over at Catch in Meatpacking, where the S'mores Pizza is their bestselling dessert. Thiago Silva, the celebrated pastry chef, added S'mores to the menu because, for him, although emblematic of a shared past, they help to create memories too.
Mr. Silva wants to serve food that helps people to build friendships with one another and, upon seeing his pizza, it is not hard to see how it would strengthen any budding relationship. Thin and crispy, the base is slathered with rum ganache and coco-chocolate sauce, which is then smothered with layers of milk and bittersweet chocolate, graham cracker and homemade marshmallows. It is, of course, accompanied by a burnt marshmallow ice cream. For Mr. Silva, it is reassuring to know that he is forging relationships between S'more sharers. "Who knows what memories you are generating?" he asked. "It is all about building and sharing."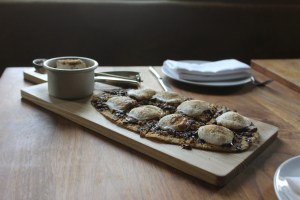 To fully understand the summer S'more obsession however, it is necessary to trace it back to the original site of its rebirth: the Dominique Ansel Bakery, home of the cronut, the DKA and the frozen S'more. Mr. Ansel came up with his S'more during the heatwave of last summer, and it has since become so coveted that queues form outside his Spring Street bakery before the store even opens at 8 am. "People will eat ice cream at eight in the morning," Mr. Ansel laughed.  Based on the consistency of the Turkish ice cream Dondurma, the ice cream is wrapped in delicate chocolate feulletine and then enveloped in marshmallow. With typical French finesse, it is served on a wooden skewer that is smoked in-house.
Not surprisingly, it is Mr. Ansel who best articulated the enduring appeal of the S'more, and explained its appearance in some of the best kitchens in the city.
"Why the S'more?" he mused. "Because it does not just have to be a graham cracker. I'm not from America but that doesn't mean I can't do it. I am adding to an American classic. I chose it because there is so much you can do with food."