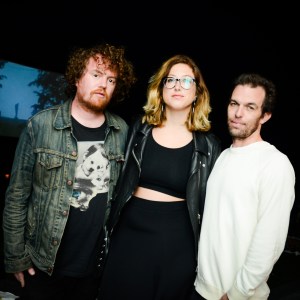 Justin Lowe and Jonah Freeman have recreated a meth lab in Marfa (Hello Meth Lab in the Sun, 2008) imagined a CIA-run LSD testing facility in a Rudolph Schindler-designed modernist house in Los Angeles (Bright White Underground, 2010) and constructed a dystopian fleabag hotel complete with a derelict OTB booth inside the swanky environs of Marlborough Chelsea (Stray Light Grey, 2012).
So an invitation to a screening of their new film project, "The Floating Chain," at the sleek art-filled Bridgehampton country club The Bridge, should give one pause. Would Messrs. Lowe and Freeman be exposing East End revelers to some phantasmagorical wasteland infecting the endless rolling lawns and winding mansion-dotted roads that is this summertime paradise?
Perhaps not. On Saturday night we pulled up to The Bridge, which is set high on a hill above the coast below, and were greeted by the giant Nathan Coley installation There Will Be No Miracles Here, 2006, that declared in giant illuminated letters "THERE WILL BE NO MIRACLES HERE. Such a text-based work could only be a downer for East Hampton-based golfers hoping to land a double eagle on 18 (or, hoping to golf somewhere without abstract postmodern art). That sense of foreboding could have hinted at more mischief from the immersive artists, but what came instead was standard Hamptons fare: an open bar, a spread of fancy veggie platters, a long lawn strewn with blankets, sweaters in August to beat the nighttime seaside chill, a bartender serving up intricate Cointreau cocktails, and a giant movie screen.
Were they toying with us still, these guys, Justin and Jonah? Soon enough everyone sat on the blankets in their sweaters with their cocktails as Kyle DeWoody, co-founder of Grey Area, took the mic to introduce the film. "The Floating Chain," so says the invitation, is a "still life movie that takes the form of a semiotic Rube Goldberg machine." It is also "inspired by the surrealistic banality of a breakfast cereal commercial."
The film began and the band Psychic Ills—whose sound, like the titles of Lowe/Freeman exhibitions, is very heavily indebted to the Velvet Underground—began to perform a live score. What followed was a sequence of warm colors fading between one another. Then came a pile of couches and mattresses, cascading dry ice, candles extinguished by gushing water, and a still shot of a cross-section of a pomegranate, all while Psychic Ills droned on in the background.
A voice on the speakers began intoning words and phrases.
"Hippie virgins are losers."
"Abstract expressionism."
"Rehabilitation."
"Monogamy is a forgotten concept."
"Chicken Caesar or a snack box."
"Family entertainment."
And, eventually, the film came to a close, leaving only a rippling black screen and the lights of enormous houses blinking down from the hill. Though the night was far from over.
"I hear there's a party at Larry Gagosian's house," a friend told us. "All these people are sending me pictures of his Koons."
We were standing near a few young artists, many of whom come out East with Max Levai, the young director of Marlborough Chelsea, Justin and Jonah's gallery. The rising multimedia artist Chloe Wise revealed to us that she'll have a piece in the Salon 94 booth at Frieze this October ("Though I really need to finish it!") and Lucien Smith, who's been a bit missing in action these last few months, told us he spent the summer  Montauk preparing to document stormchasing missions this fall,
"We're not actually going to this thing at Larry's, are we?" an artist pleaded.
Not a chance. Mr. Levai and Ms. DeWoody instead hosted a house party for Justin Lowe and Jonah Freeman at a house in East Hampton that was full of cases of Budweiser, pool-side debauchery, loud music, some shenanigans involving a taser, and not a single person approaching the age of Mr. Gagosian.