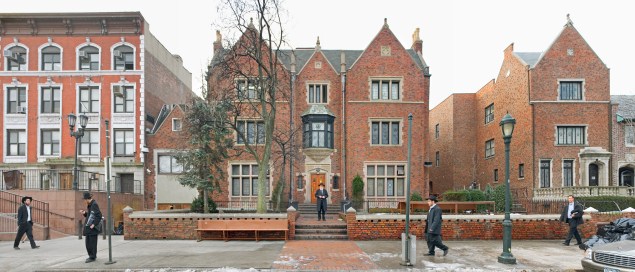 If you happened to come across a red-brick spiritual center in both Crown Height's, Brooklyn and Sao Paulo, Brazil and thought you were seeing double, you were probably right. The same would be true if you had architectural deja vu in Israel, Australia, or even Washington. This is because Brooklyn's original Chabad-Lubavitch Orthodox Jewish spiritual center has been replicated in over a dozen locations across the globe.
The original is a Gothic Revival, three story home located at 770 Eastern Parkway, Crown Heights. Known as simply 770, the spiritual center is the home of Gran Rebbe Menachem Mendel Schneerson. Photographers Andrea Robbins and Max Beecher, first began researching the home in 2003 and have traveled the world in pursuit of its reproductions. Ms. Robbin's described 770 —which functions as Lubavitch headquarters– to the Observer as "the lexicon of religious landmarks." According to Ms. Robbins and Mr. Beecher, the Rebbe set out to create a community center and inspire young people to "go to distant parts of the world to set up and manage these centers." Adding, "None of the 770s are exact replicas, all adapt to their locations in different ways, and some display local style elements. The buildings are also not all the same on the inside but a few reproduce the Rebbe's office and library."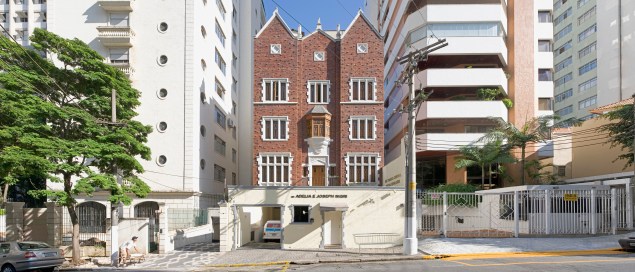 The duo–who spent six years photographing these replicas–explained that none of the buildings are marked with outward signs because they are recognizable within the Lubavitch community. DNAinfo also reported that the photographers encountered a number of Lubavitch Jews during their travels who seemed to be aware of the original 770 building despite having never been to Brooklyn.
Photographs of the replicas will be featured at the Sonnbend Gallery on W. 22nd Street beginning September 13th. The exhibit is one of three parts and will be featured along side The Ten Commandments and Vignettes with Shotguns. For more information, visit the gallery's website.