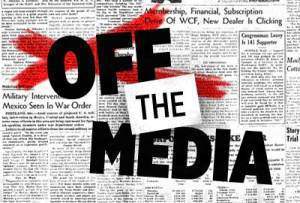 So Thought Catalog is facing a revolt. After publishing some offensive articles last week — offensive enough that Gawker called them a "white supremacist publication" — a handful of writers announced that they'd be pulling their pieces from the site.
One of the articles from Vice founder Gavin McInnis was what you would call deliberately "transphobic" and the other, by an occasional contributor named Anthony Rogers was headlined: "Ferguson, Missouri Looks Like a Rap Video." The first piece did something like 5,000 comments and the other did some 30,000 pageviews. And that's to say nothing the attention they got on other outlets.
It's the kind of media controversy I would usually write about in this column, especially considering my screeds again outrage porn and the flaws of the "contributor model." But in this case, there's another wrinkle: I'm a contributor to Thought Catalog.
I thought the pieces in question were dumb, offensive and couldn't figure out why they were written. It's not the first time I've thought that about something I've seen Thought Catalog publish. Should I pull my articles too? I thought about it for a second and decided no, absolutely not.
Before I tell you why, I should first provide some context regarding my association with the site. I'm one of a handful of paid editorial contributors to Thought Catalog (they publish a weekly column from me and have for little over a year), and I've been to their offices and gotten to know Chris Lavergne (founder) and Brandon Gorrell (co-publisher) well over that time. I've sent a handful of friends and clients to publish there as well.
But I write because I want to and because I feel I have something to say, not because I need it to eat. So if I felt that a site crossed my personal or ethical boundaries, I would leave in a second.
This controversy has its roots in Thought Catalog's reliance on the contributor model. It accepts the submissions of numerous writers—from first timers to well-known names—and does next to no editing of those pieces. As Chris said in a recent interview, pretty much just email them and they'll publish it. They'll even let you publish anonymously. Unsurprisingly, this open door policy exposes the site to people with unpleasant views. I mean, last year, they published an infamous piece titled I'm Not Going To Pretend to Be Poor To Be Accepted By You. That piece wasn't exactly racist, but the human race has had finer moments.
Some critics have pointed out that with Gavin, a regular and professional contributor, his views are essentially endorsed by the site. But Gavin is also a contributor to Fox News — he's a guy with views that people listen to, why shouldn't they publish him? I hate pretty much everything he's put up there… but I did think his piece on writing was good.
They have another paid contributor named Raul Felix who has written some great stuff on what it has been like to be a millennial and a veteran. It's great writing that touches a nerve (one of the pieces has 50,000 FB shares). But he also says a bunch of stuff that I think is intended to be offensive to women and minorities. I don't know why he does this — I even asked him when we met for drinks last year — but as far as I know, Thought Catalog isn't asking him to tone it down. That's his call. And he'll develop as a writer because of this freedom (or not understand it and crash and burn).
Over the last few years, I've gotten a handful of condescending emails asking why I would want to be published on Thought Catalog alongside these people. My answer has always been: I like that they let me say whatever I want to. (And their platform gives massive reach to that kind of writing—every day I get an email from someone who discovered my work via something I published on Thought Catalog). I actually like being part of a platform that is willing to promote viewpoints I disagree with and dislike.
The first piece I put up there pissed all sorts of people off, and you know what? Nobody at Thought Catalog hassled me about that. Nor do they hassle me when I write something obscure or personal that hardly gets any traffic. In fact, most of my stuff probably falls in the latter category relative to their other writers, but the site supports me anyway. They let writers say what they want to say. That's admirable in my eyes—even more so if it continues despite the heat they're now taking.
When I reached out to write this piece, Chris sent me a document that had some of his views on the site. One sentence stood out:
"We want to support freedom of speech, empower writers and readers on their own terms, and make Thought Catalog an online magazine that represents the worldviews and rhetorical styles of as many people as possible."
That's easy to say, but the reality is this: an open platform is going to piss people off. If it doesn't, it's failing at some part of its editorial mission. Anyone can say, "I support freedom of speech," the hard part is avoiding the temptation to put "but…" at the end of that sentence. So far, Thought Catalog hasn't done this.
Having met and spoken to the founders, I feel they are sincere in this approach—rather than doing it to troll for traffic. (I think it's also worth distinguishing that Thought Catalog is not branded as news site, but a place for commentary). But for those worried about what the site will and won't publish, the reality is that Thought Catalog has a wonderful check and balance built in. It's called self-interest. Everyone has missed it because they don't understand the site's business model.
See, I've written a lot in this column about the troubled economic models of online journalism. The complete dependence of most websites on advertising revenue means that they publish sensational, exploitative, artificial garbage that wastes everyone's time. While Thought Catalog is partially supported by advertising revenue (and I think this explains the controversial articles in question), they have also built a real revenue stream of paying customers: They sell books. ThoughtCatalog.com is really lead gen and a talent farm system for Thought Catalog Publishing, which publishes dozens of books, and sells hundreds of thousands of ebooks every year.
This explains why the site scrambled to roll out a system that flags offensive posts—not to be taken down, but just to be prefaced with some context. It's why they're rolling out a new badge system too, that identifies who is an editorial contributor that the brand stands behind, and who is just a submitter.
Why are they doing this? Because as a publisher with paying customers, their brand matters. It might not be a brand for everyone but they can't afford to offend their base. They have paying customers, not just clicks.
To me, that all adds up to seeing the site as a place that fearlessly supports writers — some good, some bad — and pays them, too. If they end up pissing everyone off and driving their customers away, that would be really dumb. I don't think they're going to do that. But they're always going to have a higher tolerance for pain and controversy because they really mean it when they say they want to publish a diversity of voices.
Ryan Holiday is the editor at large of Betabeat and the author of the recent book The Obstacle is the Way.