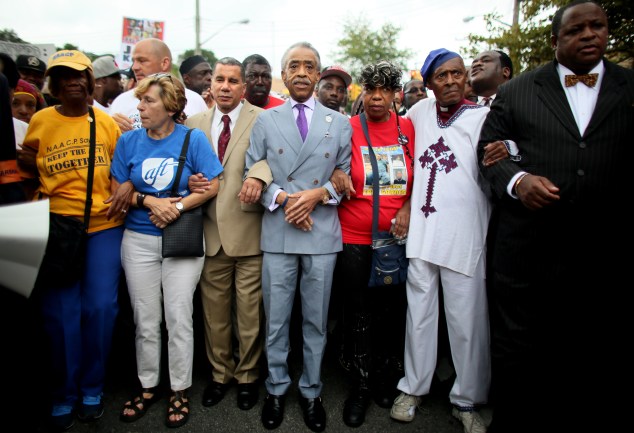 Helicopters droned over an otherwise normal Saturday morning in Bay Ridge, Brooklyn. On the ground, all that seemed out of place was the police officer posted to nearly every corner south of 86th Street. Gray clouds loomed over the Verrazano-Narrows Bridge–which buses would soon cross to deposit protesters in Staten Island, where Rev. Al Sharpton would lead his "We Will Not Go Back" march against police brutality.
At 92nd Street and Fort Hamilton Parkway dozens of protesters massed waiting to board vans and charter buses, briefly breaking out into a chant of  "no justice, no peace"–a refrain repeated many times through the day. Most ignored it when two women walked past carrying handmade signs reading "Bay Ridge Supports the NYPD."
Aboard one of the vans, a passenger told the Observer he had decided to attend the rally to help make sure it would not devolve into the kind of rioting that marred the protests over Michael Brown's death in Ferguson, Missouri.
"Sometimes you need other people around to stop other individuals from doing things that are stupid that they don't need to do," the passenger, Anthony David, said. "I just hope to see it's something collective and positive and people working for change."
Choppers hovered on the other side of the bridge too, as a hundreds-strong crowd swelled inside police barricades around Tompkinsville Park, across from where Officer Daniel Pantaleo placed Eric Garner in a fatal neck restraint last month. Dark-suited Nation of Islam members with "Marshal" armbands helped police corral the demonstrators.
Protesters raised their arms and chanted "hands up, don't shoot"–a callback to how eyewitnesses claim Brown died halfway across the country–and "I can't breathe," Garner's last words. Others recited "Am I next," "We want justice" and "Say it loud, I'm black and I'm proud," and wore shirts and carried signs recalling the shooting deaths of Bronx resident Ramarley Graham, Brooklynites Kimani Gray and Shantel Davis, and Florida native Trayvon Martin.
One woman claimed to have been a friend of Garner and criticized the treatment he received from local police.
"Every day I saw them crucify that man, stop that man," said Deborah Harrell, recalling that police had thrown Garner against a car a week before his death for allegedly selling her cigarettes. "I don't smoke!"
The crowd was filled with members of 1199 SEIU–which co-sponsored the event–many of them carrying signs reading "Respect Human Rights." Dell Smitherman, the union's former political coordinator and now a candidate for State Senate in Brooklyn, compared Garner's death to a non-fatal police chokehold incident involving a pregnant woman in his home borough in July.
"We're making sure that we get justice, showing support for the Garner family," Mr. Smitherman said. "We're wanting to improve the relations between the community and the police, but at the same time demanding justice."
The scene crawled with politicians–though none of them from Staten Island. Democratic Bronx Borough President Ruben Diaz, Jr., however, refused to criticize James Oddo, his Republican counterpart from the borough.
"Everybody has their way of showing support," Mr. Diaz said, noting Mr. Oddo had met with Garner's family. "We just felt it was important to show a strong presence from the Bronx."
Brooklyn Councilman Jumaane Williams said he thought more elected officials should have come out, though he would not say who. Staten Island Councilwoman Debi Rose, who represents the district where Garner died, is hospitalized and could not attend. Mayor Bill de Blasio and Comptroller Scott Stringer chose not to march.
"Everybody should be upset about people unarmed getting killed," said Mr. Williams. "How is that anti-police? It's absurd."
Several echoed Mr. Williams' sentiments, including United Federation of Teachers president Michael Mulgrew, a Staten Islander, who drew fire from Patrolmen's Benevolent Association head Patrick Lynch and several newspapers for aligning his union with the protest.
"I've been very clear, this is not anti-police. We're here to move this conversation forward," said Mr. Mulgrew. "The police do a great job, and they deserve to be respected. Everybody in the community deserves to be respected."
Zephyr Teachout, the long-shot Democratic challenger to Gov. Andrew Cuomo, also said she attended not to attack police but to show support for Garner's loved ones.
"I'm here for Eric Garner, justice for Eric Garner. At a very basic human level, it's important to show support for his family," said Ms. Teachout.
Council Speaker Melissa Mark-Viverito was on the scene, but declined to speak to the Observer. Also spotted were Bronx State Senator Gustavo Rivera, Manhattan Councilman Ydanis Rodriguez and Brooklyn Councilman Carlos Menchaca.
The crowd stood in place for more than an hour and a half, with union members mixing with liberal activist groups like Make the Road, New York City Communities for Change and the New York Civil Liberties Union–plus the standard protest assortment of mostly white drum-beaters, acoustic guitar players and pamphleteers from various far left factions. Several people carried signs comparing MGarner's and Mr. Brown's deaths to the Israeli-Palestinian conflict.
Mr. Sharpton finally arrived around 12:30, and–along with Manhattan State Senator Adriano Espaillat–held a short vigil with the Garner and Graham families behind the police barricades at the site of the July incident. The reverend then joined former Gov. David Paterson and Garner's mother behind a banner reading "We Will Not Go Back," and led the march up Bay Street onto Richmond Terrace, to a band shell in front of Staten Island Central Booking.
The public address system at the stage blasted the 1979 disco hit "Ain't No Stopping Us Now" as Mr. Sharpton and his retinue approached. Congressman José Serrano of the Bronx took the microphone first, followed by several members of the clergy and political activists. Finally, Mr. Sharpton spoke to huge applause.
"Blacks, whites, Latinos, we came down Bay Street together," Mr. Sharpton declared, vowing to lead a new movement on the nation's capital following his eulogy at Mr. Brown's funeral tomorrow. "We're going to combine, and we're going to Washington."
Mr. Paterson recalled a history of police violence against civilians, dating back to when his own father–Basil Paterson–was pistol-whipped by an officer in 1942.
"The department itself needs to condemn, because any agency needs to weed out its bad apples," said the ex-governor. "We will not stop until somebody goes to jail."
Garner's family members took their turns at the podium, followed by the mother of Amadou Diallo, the Haitian-American man who died in a hail of police bullets in 1999. Brooklyn Congressman Hakeem Jeffries, Brooklyn Councilwoman Laurie Cumbo, Working Families Party executive Director Dan Cantor, 1199 president George Gresham and Communication Workers of America District One political head Robert Master also spoke.
After the event was over, Staten Island NYPD borough commander Edward Delatorre reported no unlawful incidents.
"Community and police worked together," Mr. Delatorre said. "This was not a march against police. This was a march with the police."