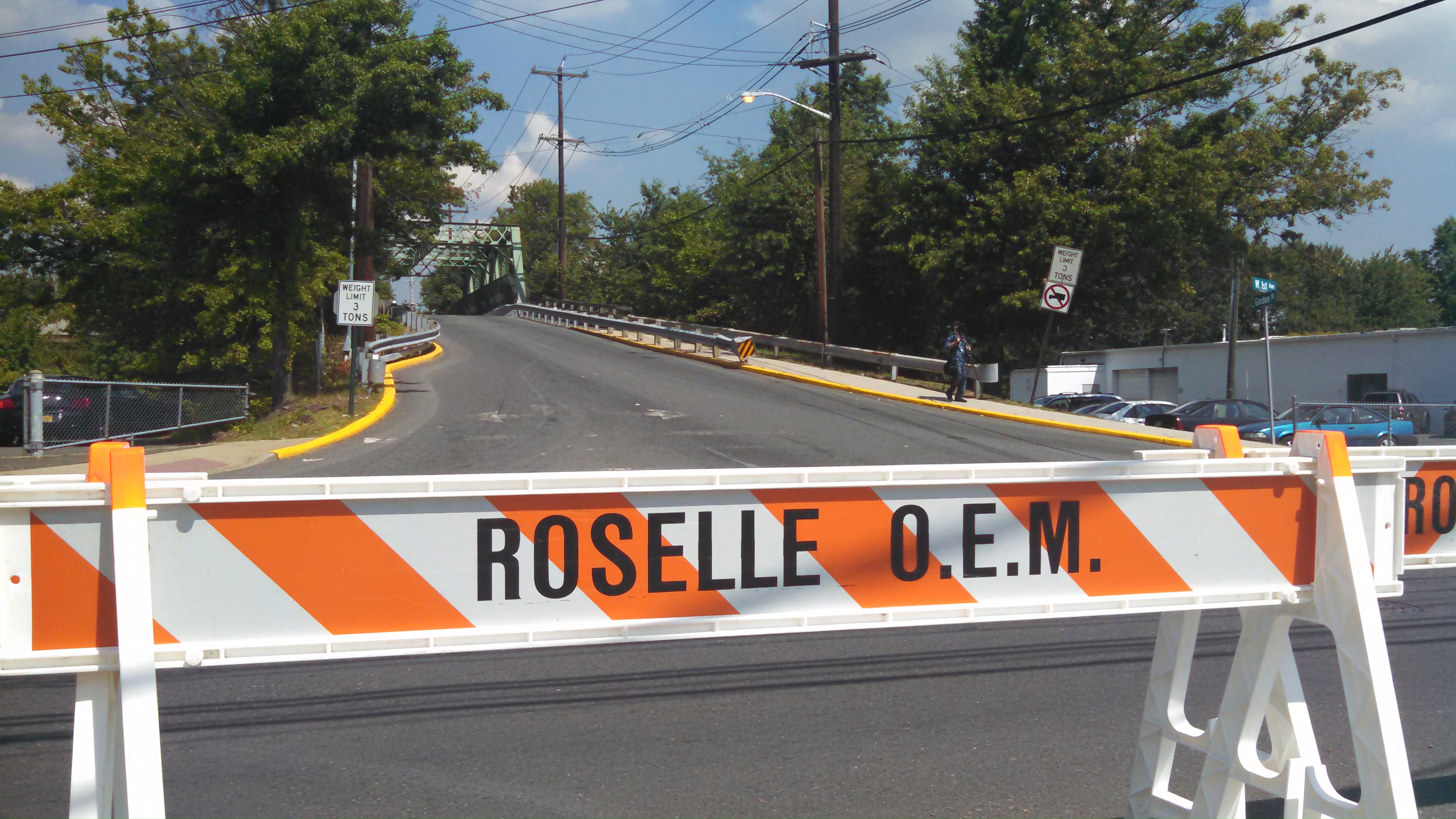 ROSELLE – The Gordon Street Bridge — a teetering, hundred-year old arch of rusted steel in Union County's Roselle township– has a sufficiency rating of 22.5 out of 100, making it structurally deficient, by most building standards. Yet it's still used by tens of thousands of commuters who traverse the bridge daily, making their way to and from work.
It's just one example of many deteriorating transportation infrastructure projects in the Garden State in desperate need of repair, according to Senate President Steve Sweeney, who appeared here today to continue his fight to find funding for the state's Transportation Trust Fund (TTF).
"These are the bridges we go over every single day, and we don't think anything of them because we expect the government to ensure our safety as we travel," said Sweeney. "These bridges aren't safe anymore. They need to be addressed."
Flanked by local Roselle mayor Jamel Holley and councilwomen Kim Shaw and Andrea Staten, Sweeney painted a dreary picture of New Jersey's transportation infrastructure, fraught with crumbling bridges, ailing highways, out-of-date railways — all under the jurisdiction of a state with no funds to fix them. The time to act is "way past due," he said.
Being careful not to excoriate the state's top executive too harshly — the senate president himself is eyeing a gubernatorial run in 2016, with this tour likely part of a strategy to put himself in the spotlight early — Sweeney again called on Gov. Chris Christie to come up with a plan to replenish the currently depleted TTF.
"This is not the first administration to deal with this, so I'm not laying blame solely on the Christie administration," Sweeney said. "It's been on Democrat and Republican administrations for a long time. The problem is when you kick the can down the road and there's no more road to kick it. We are at the end of the road; we are out of money."
Sweeney's visit today was the second of his TTF tour — though he lacked the entourage that accompained him in Lyndhurst earlier this month — to pressure the governor to move forward on the issue. Other lawmakers have offered their own proposals to raise money for the fund, including state Sen. Ray Lesniak (D-20), Assemblyman Joe Cryan (D-20), and Assembly Speaker Vinny Prieto (D-32), who has proposed increasing the gas tax and putting the revenue into the TTF.
But Christie has ignored those proposals, Sweeney said, offering only "crickets" on the subject.
"The governor needs to put a plan forward," Sweeney said. "He's been giving a lot of solutions, and he hasn't answered one of them. It's not like throwing a dart at a dart board and hoping to hit the right number."
Acknowledging that Christie might not go for a gas tax, Sweeney said the money must come from somewhere. But he cautioned against continuing the governor's trend of borrowing or reallocating resources from other projects, saying "there's not many more places we can take from — it's like picking up the cushions up and looking for loose change, there's no more."
"We're maxed out. [Christie's] done what other governors have done — they borrow, they use gimmicks of taking money from other places," Sweeney added, noting that Christie took money from the Port Authority to repair the Pulaski Skyway, a four-lane bridge in Hudson County, last year.