Just another face lift on Manhattan's tony East Side? Not quite.
On September 16, representatives of the United Nations' 193 member states will return to a completely renovated General Assembly Hall — and the famous Fernard Léger murals that flank its iconic green marble podium will be there, restored to their original glory.
"I just don't understand this. It looks to me to be scrambled eggs," Harry S. Truman reportedly declared in 1952 when he first laid eyes on the abstract larger-than-life murals. The organ-like blobs, an anonymous gift, have since greeted countless diplomats and foreign dignitaries over the last seven decades. But during the past year, the General Assembly building underwent renovation as part of a $2.2 billion, nine-year makeover for the 62-year-old U.N. headquarters.
As part of that renovation, the Légers were restored. The touch-up was paid for by the U.N., but the organization declines to say who was called in to handle it. "They didn't really need full restoration," explains Werner Schmidt, the public information officer of the capital master plan. "Just some patching up."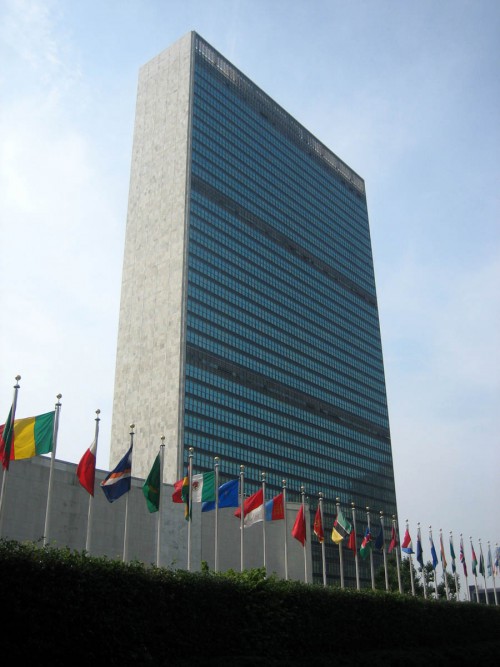 "We protected them during the renovation," adds Schmidt. The pieces were covered by thick plastic and encased in a wooden box that construction workers referred to as "the doghouse," so that the air that surrounded them could be climate-controlled during the time that the building was under construction. (Although he conceptualized them, Mr. Léger didn't paint his famous murals; he, like Damien Hirst and Jeff Koons do today, relied on an assistant, a student of his named Bruce Gregory, to do the work.)
Over its history, the United Nations has received numerous gifts of art from donors and its member countries, the most famous being a stained glass window by Marc Chagall, a sculpture by Henry Moore and a Henri Matisse collage that hangs in the Secretary-General's conference room. Much of the institution's enviable and international art collection is currently on display at the temporary North Lawn Building, which is also where the pop-up General Assembly Hall was built.
That move saved the U.N. the hassle of having to assess the values of the pieces had they been placed in an off-site storage facility. "We found this elegant solution," explains Mr. Schmidt.
"Let's keep the artwork on the compound, let's put it in this temporary building, let's protect it, it's air-conditioned." A few of the works, like Brazilian Neo-Realist painter Cândido Portinari's War and Peace, went back to the member states that donated it to be restored.
Everything will return to the General Assembly Building in stages, from mid-October to mid-December. And, they'll be some new artworks added to the collection, according to the U.N. Stay tuned.