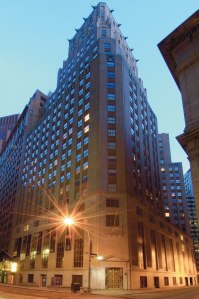 TOWN New Development (TND), through its leasing arm, TOWN Marketing and Leasing(TML), will handle marketing and leasing duties at the DTH Capital-owned buildings at 63 and 67 Wall Street, known respectively as the Crest and the Crest Lofts, the Observer has learned. The gig makes TOWN responsible for leasing more than 800 units—476 at 63 Wall and 331 at 67—and brings the total leasing portfolio of TND, which acquired new leadership in former Brown Harris Stevens managing director Shlomi Reuveni in April, to more than 1,600 units.
"With the consumer in mind, we have selected a blend of high end finishes, and thoughtful building amenities that add value while celebrating these iconic historical properties," said Anna Zarro, Director of Development Marketing and Leasing at TND, in a statement provided to the Observer.
Reached by phone, Ms. Zarro predicted that the buildings would—unsurprisingly—continue to be occupied largely by young professionals. But in keeping the the Financial District's lately elevated residential profile, they might also benefit from tenants increasingly loyal to the neighborhood. "I think we'll see a little bit less turnover than in the past," she said. "So we're definitely having an eye toward that. And we're also looking at refreshing some of the amenities, with respect to how people are looking to enjoy their lifestyle these days, as compared to when the buildings were first converted."
Underused common areas, like screening or conference rooms, might be transformed, for example, into shared work spaces. "We're considering things that are a little more community oriented," Ms. Zarro said. "And looking at generally increasing lifestyle programming."
Dating to the 1920s, both buildings have commercial pasts. Designed by Delano and Aldrich, 63 Wall Street was once the headquarters for Brown Brothers Harriman & Co. It was converted to apartments in 2004. The Crest Lofts, in turn, were at one time home base for the Munson Shipping Company. The buildings have studios and one and two-bedrooms, and rents will start at roughly $2,395, according to TOWN. (Streeteasy shows rentals this summer in both of buildings of two-bedrooms that exceed $4,000 a month.)
The apartments are luxurious, though not extravagantly so. Tenants will find granite and maple cabinetry in kitchens and Italian marble finishing in the bathrooms. The other usuals in buildings of this kind are right where you'd expect to find them: fitness center, bike room, laundry room, resident lounge, screening room, etc. The Lofts building also offers a number of private terraces and a communal sun deck.
TOWN New Development has been engaged for leasing and marketing of a third DTH Capital building in the Financial District, at 20 Exchange Place, which is expected to offer 220 freshly-converted units in the fall, and which to a great extent shares the specs of the Wall Street properties.