Often enough, these pages bear the names of corporate titans whose biographies are—at least for those of us who do not aspire to titan-hood—a little on the dry side, but who nevertheless attach themselves to real estate that is anything but. In New York, though, in this day and age, it is possible to sell property at fairly juicy prices and locales and to nonetheless deal in fairly nondescript merchandise. And so it was that the estate of cultural Anna Crouse, who died late last year at 97 came to sell her rather unremarkable co-op at 580 Park Avenue for $5.5 million.
The good news for all you artsy, or merely non titan-aspiring types, is that you, too, might have a chance at a three-bedroom Lennox Hill spread—though that chance looks admittedly slimmer when one considers the buyers: chairman emeritus of Young & Rubicam Peter Georgescu and his wife Barbara. Brown Harris Stevens brokers Ann Follis Jeffery and Daniel Kessler shared the listing.  
An original board member and eventual chairwoman and executive director of the Theater Development Fund, a group launched in the late 60s to bolster a then-foundering theater industry, Crouse was married to playwright and original Anything Goes adapter Russel Crouse, with whom she had two children—the actress Lindsay Crouse, perhaps best known for her role in the multiply Oscar-nominated The Insider, and journalist Timothy Crouse, of Boys on the Bus Fame. And as if all that wasn't enough, we all have Crouse to thank for the TKTS booth in Duffy Square, which she helped to establish to ensure that the young penny-pinching New Yorkers could attend Broadway shows, an issue about which she felt strongly. (There is now also a TKTS outlet in Brooklyn where a good deal of the artistically-inclined penny pinchers have, of course, migrated.)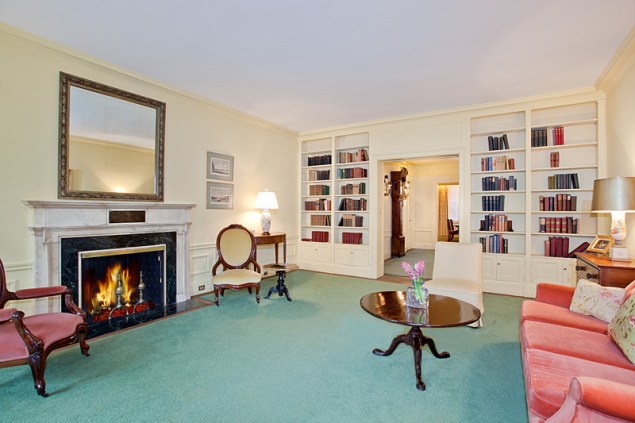 The apartment's former owner's sympathies for the city's more humbly situated seems, for better or worse, to have applied to its decoration. Large rugs in faded emerald and beige cover much of its area, and sparsely scattered furniture upholstered in washed-out pinks and corals suggest a tenant many, many years in residence. Walls sconces, chandeliers, built-ins—bathrooms and kitchen, too, no-doubt—are in need of update. Still, the space has high ceilings, paneled walls, staff quarters and lovely, open exposures.
Long before becoming an advertising honcho, the buyer, Mr. Georgescu, who was born in Romania shortly before World War Two, spent time during his childhood in a work camp run by a Communist regime. However rough around the edges the former Crouse home might be. We're pretty sure he's seen worse. (Though not recently.)